Danny Willett draws on 2016 Masters triumph to secure an emotional win in the DP World Tour Championship
Willet turned around a troubling spell of form to claim a memorable win in Dubai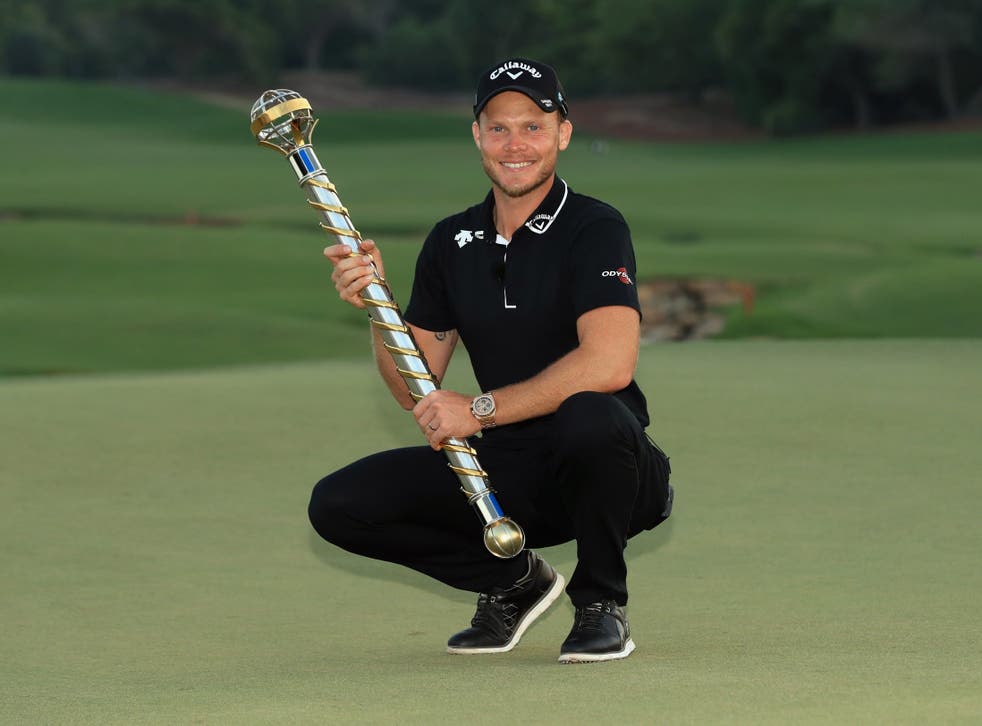 Danny Willett drew on the memories his memorable 2016 Masters triumph to secure an emotional victory in the DP World Tour Championship in Dubai.
It had been 953 long days since Willett won the Masters and – as he had not tasted victory since winning that first major title at Augusta National in April 2016 – he had slumped from a career-high of ninth to outside the world's top 450 earlier this season.
But after overcoming numerous injuries and a subsequent loss of form, the 31-year-old from Sheffield carded a final round of 68 at Jumeirah Golf Estates to finish 18 under par, two shots ahead of fellow Englishman Matt Wallace and current Masters champion Patrick Reed.
"Regardless of what would have happened, I'm in a much better place than where I was," said Willett, who will climb from 276th in the world to back inside the top 100.
"I knew that things were going the right way and I was doing all the work possible to give myself chances to do this.
"Winning's a rarity on Tour, really. I'm pleased to have won the tournaments that I've won over the last few years. I've won some pretty big ones and obviously Augusta is always going to be special.
"But this, coming back after everything that's happened is going to go down in the history books for myself as one of the most pleasing."
Willett credits coach Sean Foley – who formerly coached Tiger Woods – and fitness trainer Kev Duffy for his resurgence, first teaming up with Foley at last year's US PGA Championship when he admitted he was "pretty low and open to trying anything" to save his career.
"The back end of 2016 we were in prime position to win the Race to Dubai and picked up a couple of bad injuries, the golf game wasn't in a good place and I didn't really want to play golf," Willett added.
"I wasn't in a position to where I was enjoying what I was doing and I was in pain.
"Since working with Sean I knew pretty quick that things were going to be good body-wise. The moves felt horrendous and the ball flight was horrendous, but I wasn't in pain.
"We set out to be pain-free and we would then put the golf right after that."
Willett did so to such an extent that he qualified for the season-ending event in Dubai and, having started the final round in a share of the lead with Reed, he surged three clear with an eagle on the par-five second and a birdie on the seventh.
That lead was wiped out after bogeys on the 10th and 12th, but Willett responded brilliantly to birdie the 14th, 15th and 17th before a heart-stopping moment on the last, where his drive somehow finished inches short of the creek which runs the length of the hole.
"I always say if you are going to win golf tournaments you need to have a few breaks go your way," Willett added.
"We could still have dropped it back and made six, but that gave us the cushion to really enjoy it.
"But I am most proud of how I handled myself emotionally and finished out those last five, six holes, having not been in that position for a long time.
"You draw on a lot of things. You think of shots I hit around Augusta and how you felt there, how your hands were shaking, how your nerves were holing a few of them little slippery six-footers, and we had a few of them today."
Reed's share of second was enough to lift him above Tommy Fleetwood into second place on the Race to Dubai, which was won by Open champion Francesco Molinari.
India's Shubhankar Sharma finished 28th on the money list and was named rookie of the year.
PA
Register for free to continue reading
Registration is a free and easy way to support our truly independent journalism
By registering, you will also enjoy limited access to Premium articles, exclusive newsletters, commenting, and virtual events with our leading journalists
Already have an account? sign in
Register for free to continue reading
Registration is a free and easy way to support our truly independent journalism
By registering, you will also enjoy limited access to Premium articles, exclusive newsletters, commenting, and virtual events with our leading journalists
Already have an account? sign in
Join our new commenting forum
Join thought-provoking conversations, follow other Independent readers and see their replies