Dubai Desert Classic 2014: Even Tiger Woods acknowledges incredible round by Rory McIlroy
The Northern Irishman struck a 63 in the opening round to put him nine under par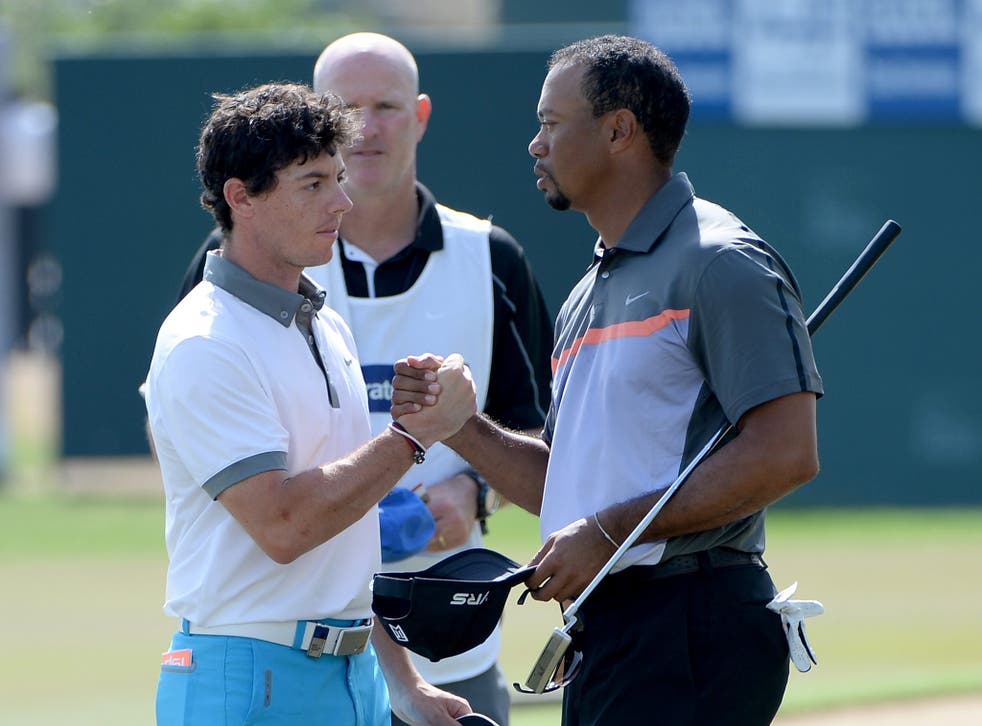 Sublime is how Stephen Gallacher described it. Tiger Woods gives diddly squat to an opponent. "Good round" was as far as he would go, delivered in clipped verse as Rory McIlroy removed his ball from the cup at the 18th after a sumptuous 63.
Reticence is high praise from Woods. It means he has clocked something special, and McIlroy was certainly that to lead on the opening day of the Dubai Desert Classic. That it took him three holes to register his first birdie was something of a shock so sweetly was he striking the ball. Once that disappeared it was a day of big hitting, pin drubbing, eagle dropping, turbo golf.
"It inspires you to play better yourself," said defending champion Gallacher, who played beautifully for his 66. McIlroy was five under at the turn and after an eagle at the third, his 12, lowering the course record of 61 was on. "That got me to eight under par. I guess I had six holes left and needed five birdies for the magical number (59). But no. I shot 62 last week, just a casual round of golf (at the Els course) so I wanted to shoot two 62s in a week. Wasn't quite possible."
This is the kind of failure McIlroy can tolerate. No-one is bothering to ask if he is back anymore. Three more days of this and he will be out on his own, if he is not already. Woods went through the same process not so long ago, rebuilding to a height of five wins last season.
He is nowhere near that form here. He barely found a fairway on his outward nine. Reaching the turn four under par was testimony to his iron will and the quality of his short game. He was in the desert on the first yet recovered thanks to a deadly wedge out of the rough to record an opening birdie. He drove back into the scrub on the third, after which he temporarily benched the driver in favour of the 3-wood.
No such travails for the reconstituted boy wonder, who striped drive after drive down the middle. Gallacher was very much the gooseberry in this company, despite playing pin sharp golf. He was on the opening tee box fully two minutes ahead of Woods and McIlroy, who approached side by side like duellists heading to the Bois de Boulogne on a misty Parisian morn. Anyone would think this stuff was scripted.
Though Woods struck the ball better on the back nine he failed to convert any of his chances, which was just about the converse of his front nine. After the 79 at Torrey Pines last week Woods was not complaining after a 68.
"I'm going to go work on a couple things here and there but I felt like it was a good day," he said. "I could have got a couple more out of it, just by making a couple putts from about ten feet or.so. I hit a lot of good putts which was nice. Last week I didn't do it."
His misses were consistently left, where he claimed he was aiming. Woods is forever locked in a compensation battle with his left knee, which has been rebuilt three times as a consequence of the forces he used to ram through it. Since he cannot deploy his left leg in quite the same way he is forced to compromise with the 'pull cut', a shot that aims left before drifting back on line.
When he gets it right "it goes forever". Yesterday he got the pull bit right but the cut was absent early on. It is a measure of the Woods psyche that no matter how fiendish the trouble, he is rarely out of the hole. His recoveries here were stupidly good, none more so than the par-5 10 – his first - which he birdied despite not visiting the fairway.
McIlroy put his recovery down to a renewed work ethic. When asked if it was easy, he said. "I don't think it's ever easy. These scores may look somewhat routine out there but there's a lot of hard work goes on behind the scenes to be able to shoot scores like this."
Join our new commenting forum
Join thought-provoking conversations, follow other Independent readers and see their replies