The Independent's journalism is supported by our readers. When you purchase through links on our site, we may earn commission.
In-form Woods ready to put on armour for War on the Shore II
Tiger unfazed by major drought as he looks to rediscover his aura at US PGA Championship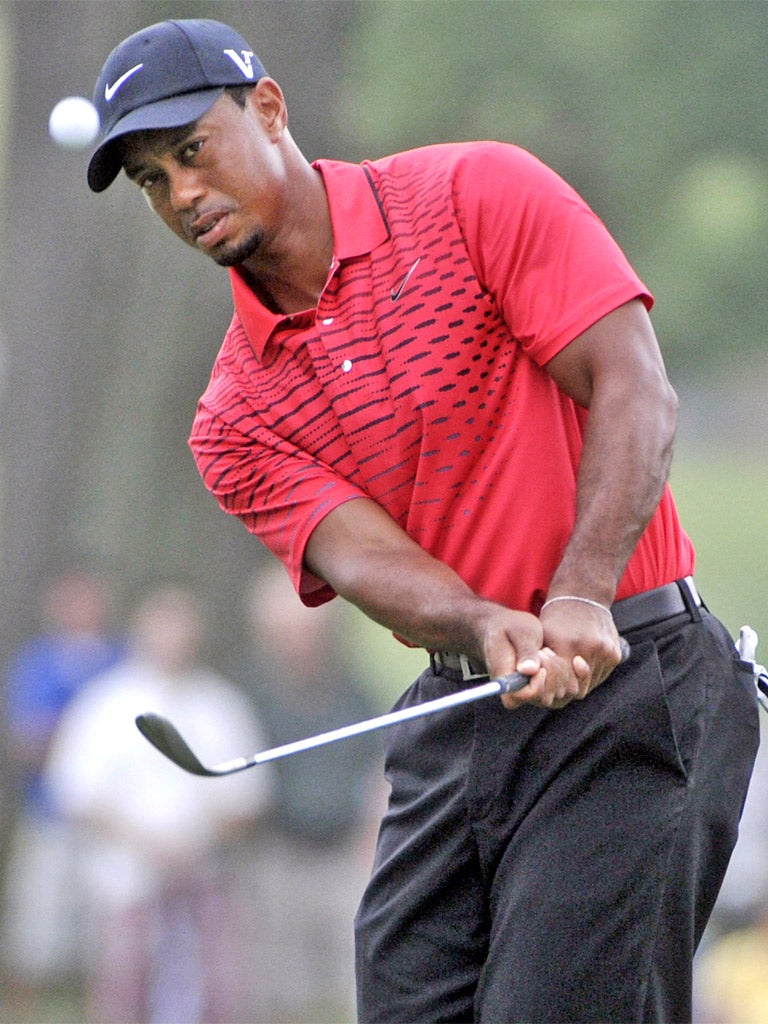 Meanwhile, in a strange land far, far away, where the Olympics aren't even being broadcast live on television, a golf tournament is taking place. The world's finest players have jetted in to Kiawah Island, which clings to the Atlantic coastline in South Carolina, for the 94th US PGA Championship, which tees off tomorrow. Glory's Last Shot, they like to call it here just an hour away from Charleston, where the American Civil War's first shot was fired in 1861, as South Carolina became the first state to leave the Union.
Rebellion and conflict are part of South Carolina's DNA. So golf's return to one of sport's most notorious battlegrounds revives memories of the 1991 Ryder Cup, the War on the Shore, held here over course architect Pete Dye's diabolically difficult Ocean Course. Weighing in at 7,676 yards, the Ocean Course muscles up as the longest ever major championship layout. With thunderstorms and gusting 20mph crosswinds lashing the course yesterday, and more biblical weather forecast for the week, the War on the Shore II is set up to be a sequel that could be just as bloody and memorable as the original.
The defending champion is Keegan Bradley, who won the prestigious World Golf Championship Bridgestone Invitational on Sunday. But all the talk, as ever, is centred on Tiger Woods as he tries to break a four-year drought at the majors stretching back to the 2008 US Open. A decade ago, Woods was notching up majors almost as fast as Team GB are winning gold medals. But the golfing landscape has changed. The last 16 majors have delivered 16 different champions and nine of them have won for the first time.
Woods has been stuck on 14 as the chases Jack Nicklaus's record haul of 18 and he admits it's harder to win now than it was 10 years ago. "There are so many guys with a chance now," he said. "If you just make the cut nowadays, you are within nine shots of the lead and that's easily doable on a weekend. That's wasn't always the case. It used to be 14 or 15 shots."
It was Woods' defeat to YE Yang at the 2007 US PGA Championship that ended his streak of winning from the front. It was the end of an aura. And then came the revelations of his sex scandal. That was the end of an error. Woods was an unstoppable frontrunner but he has never fought through the field to win a major from behind. Just a freak statistic or confirmation that his powers of intimidation are perhaps not as superhuman as his rivals once thought? "It's just one of those things where I haven't done it," Woods said. But just as that was beginning to sound like an acceptance of weakness, Woods ran his own flag up the pole. "But I also like having 14 of them, too," he said. "That's not a bad trade-off." He stopped short of sticking his tongue out and adding, "So there."
Such is the unrelenting spotlight that Woods endures, amid the constant questions about his continuing failure to close the gap on Nicklaus's 18 majors, it is easy to forget he has won three times this year. He's the only player on the US Tour have done so. Woods, who is back up to World No 2, said he has been growing in confidence and his tied-eighth finish in the tournament at Akron, Ohio, last Sunday was his first back-to-back top 10 on the US PGA Tour for three years. The message was, "Don't write me off," as he pointed to the long careers that golfers can enjoy. "Four more majors is a lot," he said. "I figure it's going to take a career. Jack didn't finish until he was 46 [winning the 1986 Masters]. So if you go by that timetable, I've got 10 more years."
World No 1 Luke Donald is still chasing his first major but has been inspired by watching Team GB's lung-busting successes in London. "Watching these Olympics certainly has inspired me in terms of having that wish to have the opportunity to win a gold medal," he said. Golf returns to the Olympics at Rio de Janeiro in 2016. "I've seen a lot of it tape-delayed, which takes the edge off when you know who's going to win," he said. "But Mo Farah's last lap was pretty special, and obviously Jessica Ennis, living up to the expectation that was put on her shoulders. Andy Murray's was the one I enjoyed the most," he said. "I got to watch that live."
The comparison between Donald and Murray is unavoidable. Murray could turn Olympic gold into grand slams. Donald will be hoping he has podiumed, as the Olympic saying goes, in one of golf's four majors before he chases gold in Rio.
Join our commenting forum
Join thought-provoking conversations, follow other Independent readers and see their replies