James Lawton: With a bit of luck, Westwood will claim that elusive major
He took stock of his situation and decided he needed something more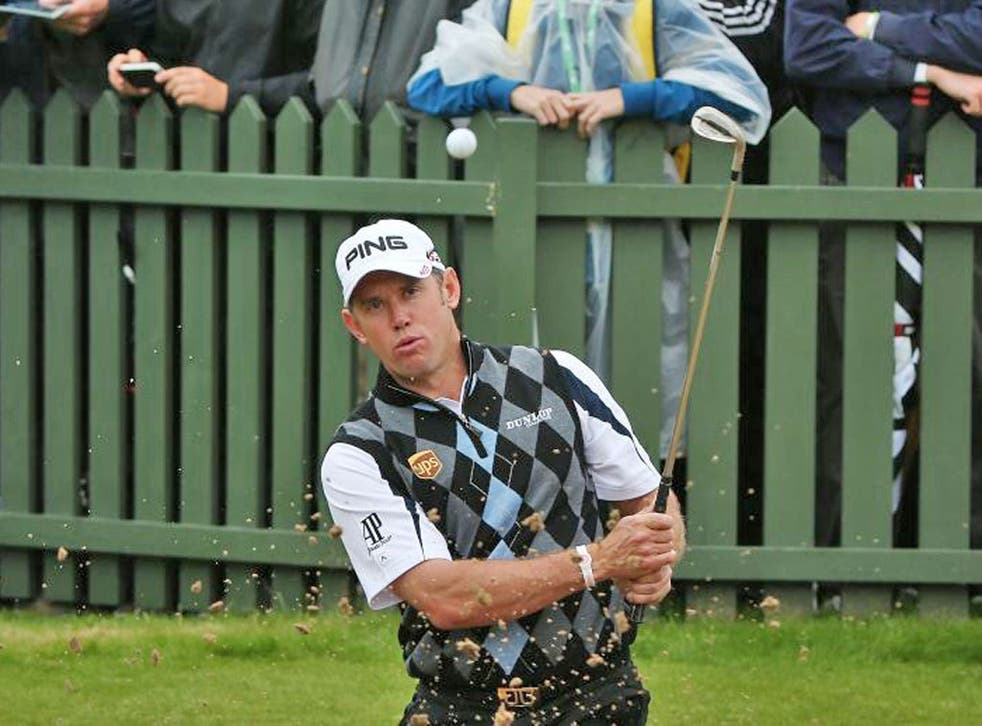 Bury my heart at Wounded Knee, said the mythic old warrior before trooping off to the tribal burial ground. That might sound somewhat melodramatic on the lips of the notably down-to-earth Lee Westwood as he seeks his first major title in 58 attempts at Royal Lytham & St Annes this week but he certainly isn't short of choice.
Three perfect locations would surely leap into his mind's eye if he ever contemplated the farewell ritual.
There is the 18th green at Turnberry where three years ago he was a shot away from a play-off with Tom Watson and Stewart Cink. Then, last month, he has the tree at the Olympic Club, San Francisco, in which Westwood's second shot at the fifth hole had the choice of lodging and destroying a US Open last round brimming with promise, or dropping down to his feet and, perhaps, changing the nature, indeed the entire perspective, of a brilliantly competitive professional life. Naturally, the ball stayed put.
Most poignant of all, though, is the stand of pines on the 13th at Augusta from which two years ago Phil Mickelson played the spookily miraculous career shot which cut dead the momentum of the man to whom he bequeathed the forlorn title of the best player never to win a major.
It is into such anguished recall that his Ryder Cup team-mate and friend Padraig Harrington marches with the declaration that time is still on Westwood's side and that when he wins his first major at least two or three more will follow quickly.
This is not so much a best case scenario as a statement of unbridled faith, but then in whom better to make such an emotional attachment?
Westwood, it seems here, deserves his first major for a variety of reasons, and not least for a marvellous consistency of performance which through his late thirties has seen him cement his position around the top of the world rankings after some dangerous years of drift.
Most compelling, though, is the picture of a man who one day took stock of his situation, considered all the wealth that had accrued in all his years as a most significant professional, all the advantages he had been able to bestow upon himself and his family, and then decided there was the need for something more.
It was for the fulfilment of the best of his talent, a sense that he had not been content to merely gather in the riches that come to a golfer who could achieve a certain standard of proficiency without ever bringing home a major trophy.
Westwood revealed the new imperative quite casually on a flight to Atlanta before the 2008 US Masters. Normally a prodigious eater, he had a few spoonfuls of carrot soup and a small bowl of pasta for his lunch and then he said: "If I am very honest, I have to say that it is beginning to get to me that after a lot of success, a lot of titles around the world, I'm still looking for my first major – it was so very close in Augusta in 1999 but I wasn't ready for it. I couldn't close in on the Green Jacket and it hurts me in a way that maybe I haven't acknowledged up to now."
Westwood, who at his lowest point slumped to 266th in the world rankings, also said: "Sometimes I think about something Arnold Palmer said to me when I came close to winning at his tournament at Bay Hill. Ernie Els won and we are good mates and we were enjoying a drink afterwards when Arnie came in. He said it was great that opponents could sit down and enjoy each other's company after the battle was over, he used to like doing that, but he also said that he had seen me smiling when I came off the course. 'Hell,' Arnie said, 'if that happened to me I would have been chewing the grass.' "
For Westwood that was a second harsh tutorial from one of the great players. When Tiger Woods made his dramatic entrance to the professional game in 1997 at Augusta, Gary Player compared his application to that of the British contenders, Westwood and Darren Clarke. "If I was controlling their careers," said Player, "they would be in the gym every day."
It is a long-ago lesson, truly absorbed, Westwood suggests as he strives for the fulfilment that Harrington insists is still within his powers when he says: "The good news for Lee is that he is a great player still going forward. I believe he is going to win a major and when he does it will make it easier for him to win three or four. It's all about winning the first."
Also required, of course, is the holding of the nerve in those moments of killing truth that stand, chasm-like, between the winners and the losers. So far, they have been consistently cruel to the golfer who has fought so hard to make the breakthrough that would change his life. Win or lose these next few days, however, it will no doubt remain a position of considerable honour.
Twitter turns into home of stray comment for footballers
If the eyes are the windows of the soul, what is a Twitter account in the hands of some of our leading footballers?
Increasingly, it is a self-harming device from which most of them, including the leader of the field, Rio Ferdinand, should be protected.
Ashley Cole, the object of Ferdinand's apparent agreement with the tweeted proposition that the Chelsea and England player is a choc-ice (or to give the racial slur its commonly understood application: brown outside, white inside) has been at considerable pains to soften the dispute which has come in the wake of his role as a witness in the John Terry case.
According to Cole's lawyer, his client still considers himself a friend of Ferdinand. He also "appreciates that tweeting is so quick it often results in off-hand and stray comments."
Off-hand and stray, did he say? It is one way of describing a Himalayan range of banality to which Ferdinand's latest contribution, if you just possibly missed it, was "I hear you fella! Choc ice is classic. Hahahahahaha!!"
In this case the alleged "choc-ice" responded, somewhat reluctantly, we are told, to give evidence in a court of the land. This is a place which has certain requirements, not the least of which is an understanding of the meaning of words.
Khan-Garcia fight pales in shadow of 1985 spectacular
In the spring of 1985, Marvin Hagler and Tommy Hearns, two of the greatest fighters of all time, went at each other in Las Vegas for slightly less than three rounds. It was the most staggering action ringsiders had ever seen, one of them, the fine novelist and fight aficionado Budd Schulberg, announcing, "I never expected to see anything so intense outside of war."
That ferocious desert night came to mind yesterday when it was reported that some American television hype specialists had compared what happened then with the fourth round of the weekend collision between Amir Khan and Danny Garcia.
This, in turn, brought back the conclusion by many in Kiev the other night that in the Spanish winners of the European Championship we had seen, beyond any argument, the greatest team in the history of football.
It is of course right that we celebrate the best of today. However, there is never a time when sacrilege is not a grievous offence.
Register for free to continue reading
Registration is a free and easy way to support our truly independent journalism
By registering, you will also enjoy limited access to Premium articles, exclusive newsletters, commenting, and virtual events with our leading journalists
Already have an account? sign in
Register for free to continue reading
Registration is a free and easy way to support our truly independent journalism
By registering, you will also enjoy limited access to Premium articles, exclusive newsletters, commenting, and virtual events with our leading journalists
Already have an account? sign in
Join our new commenting forum
Join thought-provoking conversations, follow other Independent readers and see their replies