Ludvig Aberg has two-shot lead as he bids to close out back-to-back victories
The Ryder Cup rookie carded a third round of 66 in the BMW PGA Championship at Wentworth.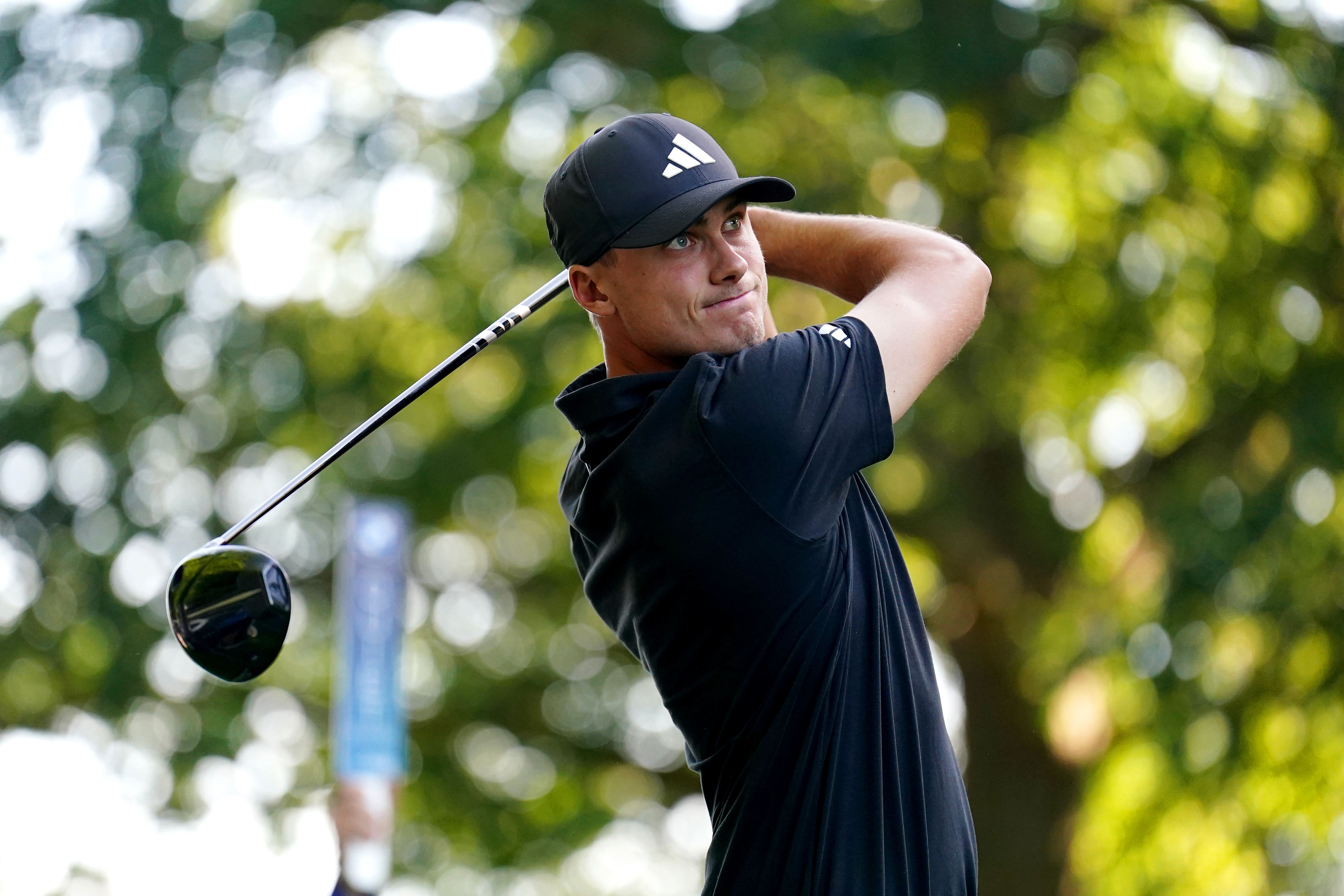 Ludvig Aberg's meteoric rise shows no signs of slowing down after the Ryder Cup rookie cruised into a two-shot lead in the BMW PGA Championship.
Playing just his 10th event since turning professional, Aberg carded a third round of 66 at Wentworth to reach 16 under par in pursuit of back-to-back victories on the DP World Tour.
England's Tommy Fleetwood delighted the large crowds with a 67 to share second place on 14 under with Scotland's Connor Syme, who covered the back nine in 31 in a superb 65.
Masters champion Jon Rahm, who was two over par for the tournament after 21 holes, is four shots off the pace following a 66 which included vital birdies on the 17th and 18th.
Aberg, whose victory in the European Masters earlier this month earned him a Ryder Cup wild card from Europe captain Luke Donald hours later, admitted winning the BMW PGA Championship was "very, very high" on his bucket list.
"It is one of the biggest events on the DP World Tour, it's been like that for a long time," the 23-year-old said.
"I've got memories of Alex (Noren) winning here when he hit an unbelievable shot into 18. It's really cool to see myself up there, I have to pinch myself in the arm every now and then but it's quite cool.
"I think expectations just changed after Switzerland in terms of knowing I can do it. Even though I've won in college quite a bit it is different, whether you like it or not, to win on the pro stage and it was pretty cool to do that.
"I could tell myself that I could do it and was good enough and hopefully I'll be able to do that tomorrow too."
Fleetwood is also targeting a significant victory in front of a home crowd which roared him on every step of the way, the 32-year-old kickstarting his recovery from a slow start with an eagle on the fourth courtesy of a lesson from Rory McIlroy.
"I had a lesson out of the rough from Rory on Monday when the Ryder Cup team were in Rome," Fleetwood said.
"I always struggle to get steep on it and I am always chopping out of the rough so he just helped me with a couple of things on how better to do it really.
"It worked a couple of times today. The one with an eight iron on number four was good, it came out perfect and it is a new shot in my locker."
Fleetwood has endured several near-misses this season, including losing a play-off in the Canadian Open when Nick Taylor holed from 70 feet for a winning eagle, but would love to taste victory in front of a "biased" home crowd.
"This event means a lot to pretty much all of us on the Tour and I have not had much joy here to be honest," Fleetwood added.
"But the crowds this week have been amazing, very biased in my direction which is great, and this event is one that everyone would love to tick off in their career."
Syme will play alongside Fleetwood and Aberg in the final group on Sunday and will have plenty of family support after revealing his father Stuart, who is also his coach, had missed a wedding to remain at Wentworth this weekend.
"He made the decision when I was making a few birdies yesterday (Friday) afternoon," Syme said.
"It's my mum's best friend's daughter's wedding. They spoke and my mum was happy to go on her own. My mum said that if my dad could help me even a little bit by staying down, that would be fine with her.
"I actually didn't make that decision, by the way, so I don't feel any pressure at all! I was expecting him to be heading home when I came off the course on Friday, but there he was."