Masters 2014: Matthew Fitzpatrick and Garrick Porteous live their Augusta dream in the land of opportunity
The US and British Amateur champion's will be aiming to become the first English winner since Nick Faldo 18 years ago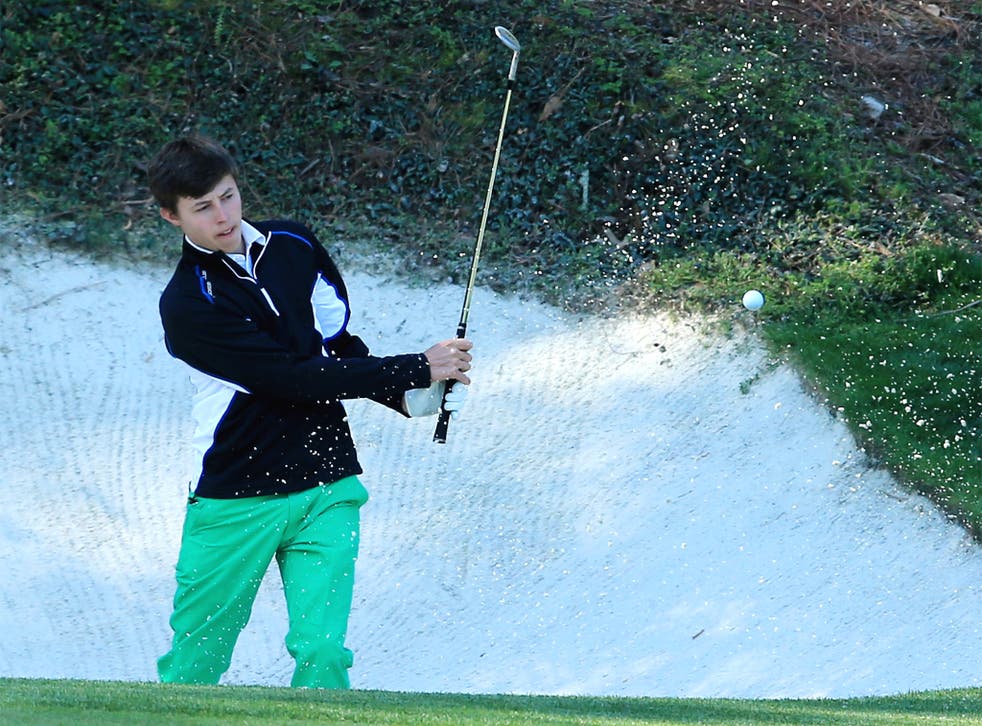 It is now 18 years since Nick Faldo was the last Englishman to don the Masters champion's Green Jacket. Tiger Woods was there to witness it as US Amateur champion, and still one year away from his epoch-announcing first major victory at Augusta.
History will be made again when, for the first time ever, England will have the two winners of the top amateur prizes teeing it up in the elite field of 97. Hats doffed to the British Amateur champion Garrick Porteous, aged 24, from Mere in Northumberland, and US Amateur champion Matthew Fitzpatrick, aged 19, from Sheffield.
Both have been walking around this hallowed arena with eyes on stalks as the realisation has hit them that this world of opportunity is about to be laid at their feet when they join the professional ranks. For Porteous, that journey begins next week when he jets off to Malaysia to make his professional debut.
Fitzpatrick dropped out of college in the United States to concentrate on his golf but has pledged to stay among the ranks of the unpaid until after the Walker Cup in 2015. Having sampled the royal treatment he has been afforded this week, his vow of abstinence from the riches golf has to offer has been sorely tested.
They have both been floating around in a dream world. On Monday at the traditional dinner hosted by the club for the amateurs, Porteous found himself sitting next to Condoleezza Rice, the former US Secretary of State. "It was unbelievable, pretty special," he said. "I was chatting to her about life. Not about politics. I am not into politics – I wasn't going to bring that up. She is lovely," he said.
He is determined to make the most of his week. "It will be good to go out on a high," he said. "I just feel I have done everything in the amateur game. Obviously, I could play in the US Open in two months' time – I would love to, don't get me wrong – but I just feel ready to turn pro. I am just aiming to make the cut. I would love to be low amateur – that is my goal."
Speaking of goals, or lack of goals, Porteous is a Newcastle United fan. "It is better than being a Sunderland fan at the moment," he said. Fitzpatrick's beloved Sheffield United still have something to play for this season, but he will miss their FA Cup semi-final on Sunday. "Obviously, I'm disappointed but, in all honesty, even if I miss the cut, I think I would rather be here," he said. "I've been invited to the final by Justin Rose if they make it through," he said.
Fitzpatrick's week got off to a perfect start by being invited to play a practice round with Rory McIlroy. The Northern Irishman was suitably impressed. "He's not overly long but he's very steady and has a tidy short game," McIlroy said. "And he doesn't seem to be in awe of the week or the venue. He seems very level-headed. I just told him to go out and have a ball.
"There are a lot of young guys coming through," he added. "Matthew seems to have the game to do well."
Fitzpatrick looks like he is 12 but speaks with maturity beyond his teenage years. "I can't say I'm looking to feel like I can win," he said with a smile. "My aim is to make the cut. I don't want to get too carried away with everything. It's just amazing to be here. The course and the place itself are fantastic. There's nowhere in the world like it."
Fitzpatrick named McIlroy and the defending champion Adam Scott among his heroes in a list that included his fellow countrymen Rose, Lee Westwood and Ian Poulter. Woods was noticeably absent – the world No 1 is an old geezer to this new generation of kids.
While Porteous will play alongside Jose Maria Olazabal and 2009 US Open champion Lucas Glover, Fitzpatrick will play with Scott and the 2013 US PGA Championship winner Jason Dufner. "I can imagine how good he [Fitzpatrick] must be feeling as a 19-year-old playing the Masters," Scott said. "I got to play my first two rounds ever with Fuzzy Zoeller [the 1979 champion]. He was whistling off the first tee. Unfortunately for Matthew, I'm not going to be whistling so he'll have to find another way to calm down."
Register for free to continue reading
Registration is a free and easy way to support our truly independent journalism
By registering, you will also enjoy limited access to Premium articles, exclusive newsletters, commenting, and virtual events with our leading journalists
Already have an account? sign in
Register for free to continue reading
Registration is a free and easy way to support our truly independent journalism
By registering, you will also enjoy limited access to Premium articles, exclusive newsletters, commenting, and virtual events with our leading journalists
Already have an account? sign in
Join our new commenting forum
Join thought-provoking conversations, follow other Independent readers and see their replies