Padraig Harrington talks up Open bid
After fighting back from loss of form, the garrulous Dubliner tells Kevin Garside why Royal Lytham is his chance to put his new swing and outlook to the test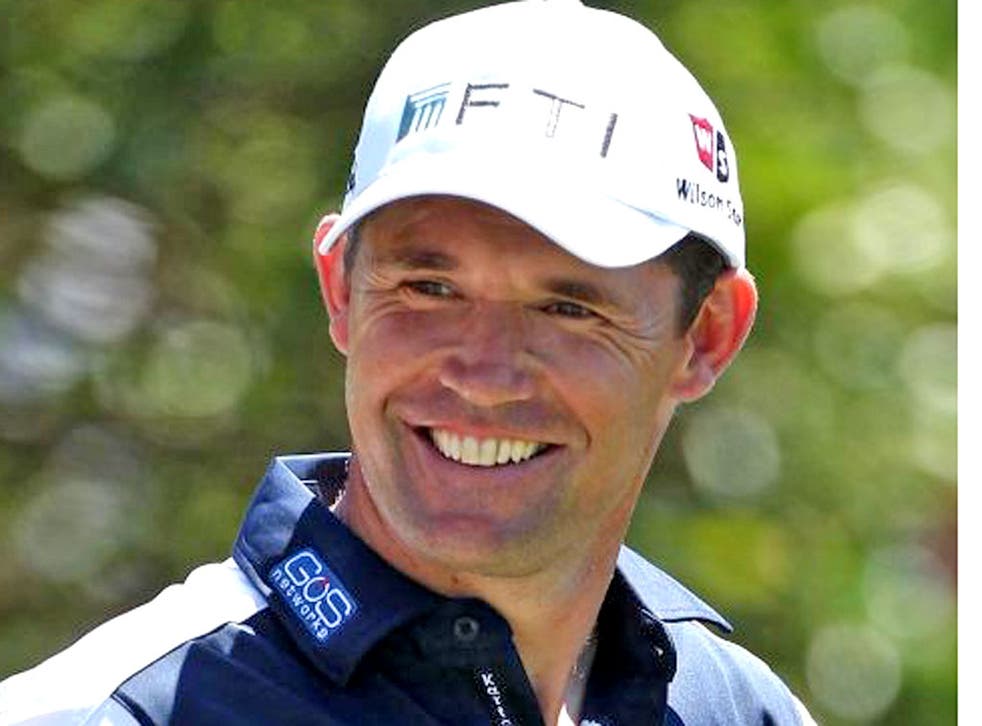 Among the subplots to this Open Championship, beneath the Tiger love-in, the Rory-fest, the hope that Lee Westwood or Luke Donald finally converts talent into major success, lurks a storyline that is equally compelling. To ask Padraig Harrington to account for his returning form is to risk the loss of half a day. Few deliver a soliloquy quite like him. Mercifully he inflicts the logorrhoea upon his audience with infectious charm.
Harrington's eighth-place finish at the Masters was followed by a fourth at the US Open and seventh at the Irish Open on a links terrain every bit as demanding as Royal Lytham. The pattern developing extended to the Scottish Open, where he again spent the weekend on the front page of the leaderboard to reinforce on the field of play his upbeat commentary off it. Golfers are forever on the verge of the discovery that will transform their game.
In Harrington's case, the decision to separate from long-time coach and confidant Bob Torrance, in favour of Pete Cowen, coupled with the appointment of sports psychologist Dave Alred, to help bring order to the chaos between his ears, proved inspired if sensitive moves.
"It's a difficult one, obviously. I hope that Bob is happy to see me playing well, but how does that reflect on him and how does it reflect on me? When it comes to the changes I've made, a lot of the changes, Pete has encouraged me to do things [to help] my shoulder injuries; to work within those things and to work within some of the stuff that I do in the gym to shorten my golf swing. Little things like that. It's a different perspective on things, and certainly has soothed me in terms of my neck and shoulder injuries, which seem to have greatly, greatly reduced," Harrington said.
"It's not that one man is right and one man is wrong. You need a different view on things. Bob would be a great believer that Mother Nature shortens your golf swing and that you shouldn't go down that road. Pete was quite happy to tighten up my golf swing in that sense. It's somewhere I've been thinking of going, and certainly with Bob, we've discussed it many times, and ultimately, maybe that's where I wanted to go. I needed to step away. I'm not somebody who does anything behind somebody's back. It's been difficult. Bob is like a father figure to me. I love his company. It's awkward, and I miss his company in that sense."
Harrington is an inveterate tinkerer. Cowen is a great listener and brings a surgeon's eye to the business of fixing a golf swing. Like Harrington, he will talk all day about the detail. Unlike Harrington, he gets to the meat of the matter quickly, which is apposite given the number of clients using his services on the range. The driver had become Harrington's enemy. Insecurity on the tee undermined confidence elsewhere. The return of something like consistent ball-striking has led to a commensurate improvement further up the pitch and a sense that the next victory is close. "A win would be very important for me. I believe it's coming. It doesn't have to happen next week or the week after. I believe it's coming. I'm in good shape."
Lytham is a track the players respect more than love. The degree of difficulty is not endearing but it does yield special moments, as it did for Harrington 16 years ago. "It's right up there as one of the top experiences. I played three Walker Cups so the R&A gave me a very generous draw. I was paired with Mark McCumber and Tom Lehman. It was a spectacular 36 holes. I played well, and on the 36th hole, I hit it in the green side trap. I holed the bunker shot. I got so excited, I took the putter out of the bag. I've never ever been as excited on the golf course. The hairs on the back of my neck stood up. It was just an unbelievable cheer that went up when I holed it."
This event would later transform Harrington's profile. His back-to-back Claret Jugs in 2007 and 2008, the latter followed three weeks later by the US PGA title, catapulted him into the first rank of golfer and returned European golf to global prominence. It also provided rich material for his career sideline as a raconteur. "I brought it [the Claret Jug] out to San Francisco and we took a tour of a few of the Irish pubs, the Bank and Foley's and things like that. At the end of the night, I was going back to my hotel and I had the Claret Jug in a steel box in a carrying case. Unbeknownst to me there was some whiskey left in it when I packed it up; so the whiskey was dripping out of the corner of the box into the taxi.
"I was trying to get out of the taxi as quick as I could, because obviously there was a bit of a smell of whiskey and that. The driver had a golf glove on. So I started talking about golfing, getting quite deep into golf but he had no idea that the Claret Jug was behind him. A couple of times he kept questioning: 'Well, what's in your box?' One of my friends was saying that it was an organ, because there was this reddish, brownish liquid coming out. But the man never actually found out that the Claret Jug was in it. If he had found out, I don't think he would have been able to drive because he was that much into his golf. I've told the story a few times, so hopefully he'll read the story and he'll go: 'That's what was in the box!' I didn't take it out purely because, as I said, I was trying not to make a mess."
All of this is delivered in the lilting brogue of the Dubin barrio. It was but a small part of a lingering monologue. This is what it must be like on the course. Were his caddie not his brother-in-law, he might not withstand the barrage. If there is none to hear it one suspects Harrington inflicts it on himself, head down ruminating on the juxtaposition of hip to shoulder, clubhead speed, etc. He is enjoying the feeling of contending once more. He turns 41 next month aiming to exploit a competitive peak he may not see again.
Experience has taught him how to attack the week of a major. Rejuvenated by Cowen's swing enhancements, augmented by Alred's focus techniques, buoyed by measurable improvements, the gap between theory and practice has narrowed, making Harrington the stealth pick at Lytham.
"Every player, no matter what the preparation is, they must feel when they get there that they are ready. You can't get to Wednesday evening and start panicking that you need to do more. You have to have a calmness about you, the feeling that what I have is good enough."
Harrington's return
2008 Retains Open Championship and wins PGA Championship
2009 Begins to lose form and is winless on the European and PGA Tours for the first time in 10 years
2010 Misses the cut in three of the four majors
2011 Drops outside the top 50 in the world for the first time since 1999
2012 Has improved this year from 96th in the rankings to two top-10 major finishes, including tied fourth at US Open last month
Register for free to continue reading
Registration is a free and easy way to support our truly independent journalism
By registering, you will also enjoy limited access to Premium articles, exclusive newsletters, commenting, and virtual events with our leading journalists
Already have an account? sign in
Register for free to continue reading
Registration is a free and easy way to support our truly independent journalism
By registering, you will also enjoy limited access to Premium articles, exclusive newsletters, commenting, and virtual events with our leading journalists
Already have an account? sign in
Join our new commenting forum
Join thought-provoking conversations, follow other Independent readers and see their replies