Rough times for golf as Britain's amateurs turn their backs on the sport
Despite 'the Rory effect', the game appears to be in decline. Kate Youde asks - is this a permanent downswing?
Kate Youde
Saturday 23 August 2014 23:30 Comments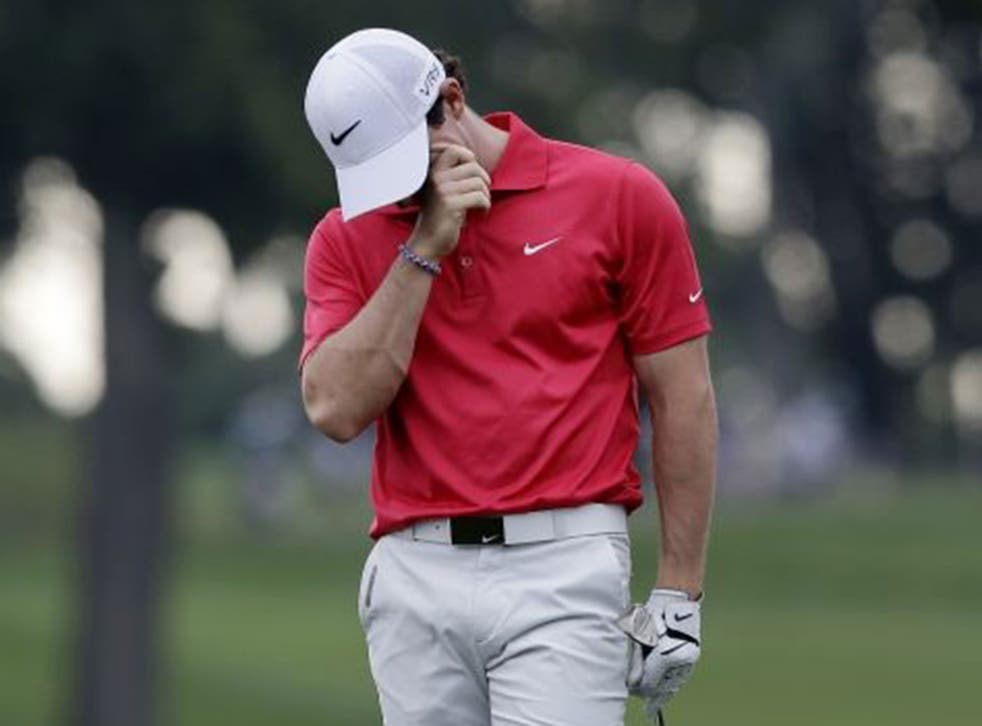 According to Winnie the Pooh author A A Milne, golf is popular "simply because it is the best game in the world at which to be bad". In spite of this and the inspirational efforts of home-grown talent such as Northern Ireland's Rory McIlroy on the world's finest greens, amateur golfers are turning their backs on the sport in the UK.
As Scotland prepares to host the Ryder Cup at Gleneagles next month, the country's 593 golf clubs are trying to hold on to their members. Figures from the Scottish Golf Union, the governing body, show club membership fell 14 per cent between 2004 and 2013 to 227,292.
Andy Salmon, SGU deputy chief executive, said this was partly due to a shift away from club membership to "pay and play" by "nomadic" golfers, but overall participation has also declined in recent years. Even so, the game in Scotland, which he says was second only to Iceland in having the largest number of golf clubs per head of population, is faring better than it is south of the border.
Club membership in England dropped 20 per cent between 2004 and 2013, from 882,184 to 707,424, according to England Golf, the amateur game's governing body. Following a payment-for-results review earlier this year, Sport England, which measures participation, took away £496,000 funding from England Golf Partnership, a partnership between England Golf and the Professional Golfers' Association, and asked them to act to stop the decline in people playing golf regularly, including tackling barriers such as time, cost and accessibility.
Nor is the game's decline confined to Britain. In the US last week a major sports equipment retailer announced it was pulling out of selling golfing goods altogether while other major golf brands such as Adidas and Nike also acknowledged their sales were down.
Recognising the sport faces "significant challenges", England Golf last month launched a strategic plan for 2014-2017, Raising Our Game. Its aims include increasing the number of people who play golf at least once a week from 750,000 to 910,000 over the three years and stabilising club membership at the July 2014 level of 675,000 members. The plan also acknowledges the need to change the game's image.
Golf world rankings

Show all 10
Ciara Morgan, of the British Golf Industry Association, which represents golf-product makers, said members' sales had fallen for the past three or four years because of the decline in players, and manufacturers were putting money into initiatives to grow the game. Among them is National Golf Month, a PR campaign launched in May. It had aimed to encourage 100,000 people to return to golf or take it up, but just 39,000 visited the website and fewer than 30,000 tried the sport.
Project manager Douglas Poole suggested one of the reasons for golf's decline was that leisure time was more restricted. He also pointed to the lack of coverage on terrestrial television of golf, which will be part of the Olympic Games in 2016 for the first time since 1904.
Jeremy Tomlinson, vice president of manufacturer Acushnet Europe, which owns golf brands Titleist and FootJoy, and supported National Golf Month, said its UK sales had not dropped but only because it was "working hard" to prevent that. "I am not convinced companies will fall beside the wayside but... it's very much survival of the fittest."
He predicted the sport would "bounce back of its accord". He added that it would benefit from the "Rory effect" and said English professional golfer Charley Hull, who joined golfers Darren Clarke, Sir Nick Faldo and Padraig Harrington in supporting National Golf Month, was "a star in the making". But he added there would be a time lag before their influence impacted on the amateur scene.
While the sport may be in the rough, research for England Golf Partnership found golf is worth £3.4bn to the country's economy and employs more than 48,500 people.
The sport's reputation also took a hit from the failure of the Royal & Ancient Golf Club of St Andrews to admit women. Following intense pressure the 260-year-old club announced in March that it was "strongly in favour" of changing the rule and its 2,400 members will vote on 18 September on whether to allow women to join.
Analysts say attracting women and young people to golf is crucial. Among ideas proposed in "Golf's 2020 Vision", an HSBC report into the game's financial future, is the suggestion that, in six years' time, six- and nine-hole formats will complement the 18-hole tradition, and clubs will have family rooms instead of bars and "certified women-friendly facilities".
Register for free to continue reading
Registration is a free and easy way to support our truly independent journalism
By registering, you will also enjoy limited access to Premium articles, exclusive newsletters, commenting, and virtual events with our leading journalists
Already have an account? sign in
Join our new commenting forum
Join thought-provoking conversations, follow other Independent readers and see their replies