Ryder Cup 2014: Rory McIlroy rested and raring to go after enjoying social whirl
McIlroy back on the range as he warms up for Ryder Cup curtain call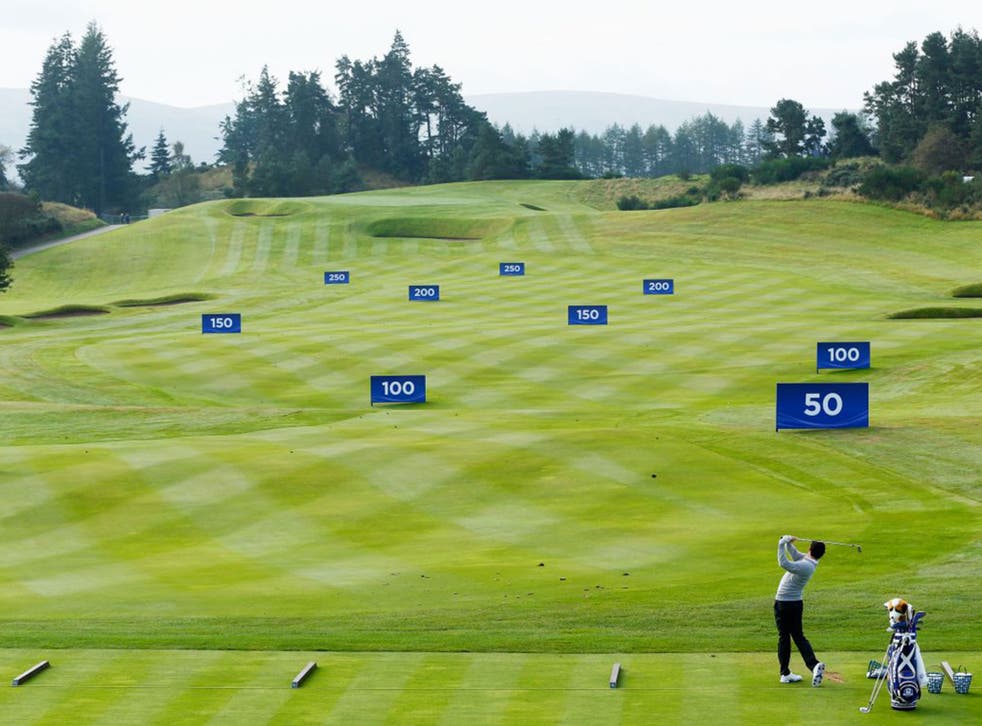 Last off the range on Sunday, first at the balls on Monday, Rory McIlroy gave his answer to those questioning the wisdom of golf-free downtime the week before the Ryder Cup.
The world's finest player declared himself rested and ready to go at Gleneagles after his social whirl either side of the Irish Sea. From nights out in Belfast and sponsor commitments in London to ringside seats at Wembley Arena and the Goals on Sunday sofa, McIlroy was as good as his word and left the clubs alone.
"I just wanted to take as much time as I could off and get away from the game a bit, but [I'm] obviously excited. It will be good to meet up with the team this evening and I think once that happens we will all get into the spirit of it and be really excited."
This being McIlroy, his every step ends up the subject of scrutiny, fuelled as much as anything by the ever unfolding picture book that accompanies his life on social media, much of it posted by himself. Happily for him, Europe's captain, Paul McGinley, is an enlightened soul, giving his blessing to McIlroy's rest and recuperation programme.
The Ryder Cup: The teams

Show all 24
"I don't have any concern. He hit balls yesterday and got a real good break away from golf. Resting doesn't necessarily mean lying in bed for the week or lying by the pool for the week. I think getting out and doing the different things he's been doing, having fun, like going to the boxing the other day, and doing that Goals on Sunday for Sky as well; those are things he enjoys doing.
"He arrived yesterday afternoon, had a nice session with his coach and again this morning, so he's fresh, he's ready."
McIlroy is way beyond justifying his behaviour or apologising for himself. He simply points to the win column. That is all the explanation required for the way he lives his life. After his stint with the football boys at Sky, he walked into the warm embrace of George O'Grady, the man who runs the European Tour.
You might say O'Grady was pleased to see him since McIlroy, through his eponymous foundation, has put his name to the Irish Open as joint promoter with the European Tour. That sort of munificence does not come cheap but McIlroy is happy to splash some cash in the cause of Irish golf. As he explained at Gleneagles, there are some things that cannot be measured in pound notes. The Ryder Cup experience would be another.
"The money doesn't matter to us any more, it doesn't matter if we're playing for millions of pounds all over the world. This means as much to us or even more than any other thing that we play for. It's a big deal to us, we want to play as well as we can and try to win. I arrived here yesterday evening and hit some balls last night, I just wanted to get here a bit early and make sure I am prepared for Friday."
The players are staying on site at the Gleneagles Hotel, an opulent spot that ensures there will not be a repeat of the dramas that snared McIlroy two years ago at Medinah, where he turned up late, requiring a lift in a police car from the team hotel to ensure he made his tee-off time for a match against Keegan Bradley.
McGinley is obviously pleased about the sleeping arrangements. "The good thing about this week is that if somebody is late, they can roll out of bed to the first tee within five minutes.
"We are on top of that. That was a big learning curve for everybody in Medinah, none more so than Rory, and certainly won't happen this year. We have procedures in place in order for that not to happen, and I'm sure Tom does, too."
Tom Watson, the American captain, looked every day of his 65 years after landing at Edinburgh from the United States on Monday, but staved off the afternoon nap long enough to quip: "You're going to knock on their doors at five o'clock in the morning?" To which, quick as a flash, McGinley chirped: "Every five minutes."
On a more serious note, McGinley echoed McIlroy's sentiments from the Sky sofa when the topic of who might partner the world No 1 in Friday morning's fourballs. McIlroy warned of a surprise or two, which led to the inference that he might not open with Graeme McDowell, with whom he is inadvertently in dispute as a result of the court case with the management company they once shared.
We might also infer that McIlroy and McGinley have spoken at length about it. "It's not been an issue for me in terms of the Ryder Cup captaincy since these court proceedings started," McGinley said. "Both of them have assured me all along that there are no issues. That's the way I've always seen it.
"Whether they come together or not is another story. Three or four months ago, I had a strong view that they would have been, but the more I look at their statistics I'm thinking there may be a value in not doing it.
"If I don't do it, it would be for tactical reasons. It won't be for any other reasons. They have played six Ryder Cup matches and they have only won two together. It's not like these guys are written in stone. They are not a formidable foursome or fourball pairing that's unbeatable.
"Having said that, when I was captain of the Seve Trophy I had them paired together and they played very well in that. So I've got lots of options."
Either way McIlroy is comfortable with his role as de facto leader in the field, which makes him the scalp of choice in the American team room as well as a talisman in his own.
"I like it. It gives me a bit more of a boost to go out there and try to play well," McIlroy said. "Any time the opposition starts to talk about you is a huge compliment and I don't mind that at all. They can come at me and, hopefully, I can play well enough to get a few points on the board. We all have one goal, which is to win the Ryder Cup."
Join our new commenting forum
Join thought-provoking conversations, follow other Independent readers and see their replies