Ryder Cup 2016: From Guinness-swilling cigar-smoker to gym bunny - how captain Darren Clarke reinvented himself...
Irishman has turned from Guinness-swilling, cigar-smoking member of the lads' club to groomed gym bunny. And he's been rewarded with Ryder Cup role, writes Kevin Garside
Kevin Garside
Wednesday 18 February 2015 23:04 Comments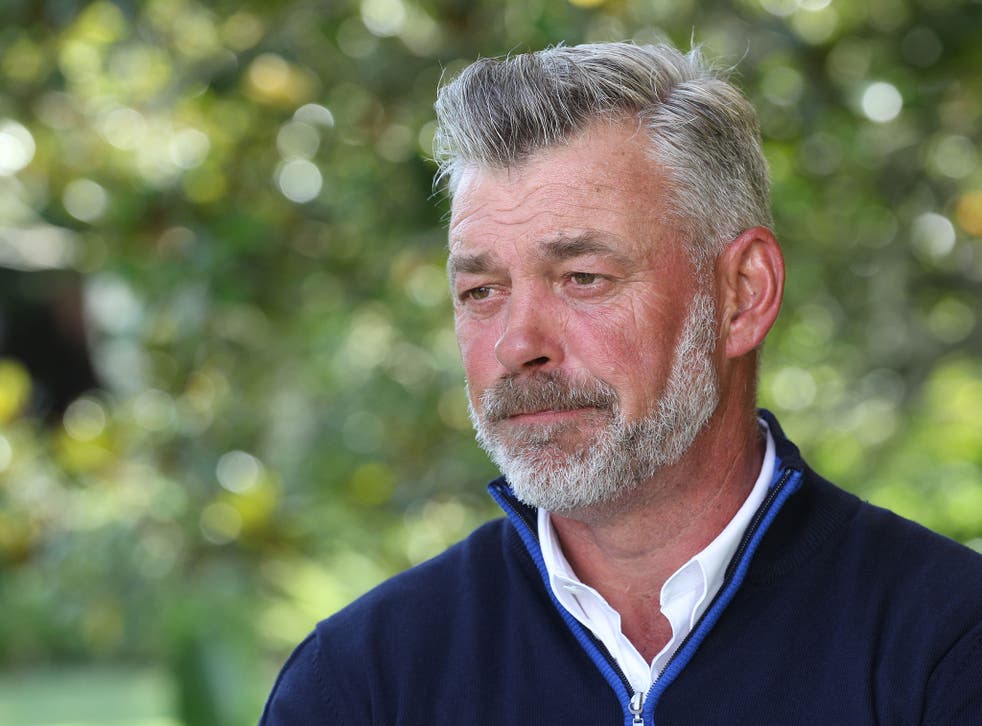 He was sitting nervously with wife Alison and son Tyrone when the news came. Not a Guinness in sight. This is, after all, the new Darren Clarke.
Though he was the overwhelming favourite to land the Ryder Cup captaincy, Clarke had not sought intelligence about the post and had been given none, so it was both relief and honour when his phone rang in South Africa and he was invited to lead Europe against America at Hazeltine National next year.
The trajectory of a fine career had been leading inexorably to this point. Both Miguel Angel Jimenez and late entry Thomas Bjorn have their merits but neither had a case as compelling as Clarke's.
A total of 22 career victories, including two world golf championships and the Open Championship in 2011, coupled with a profound association with an event he contested five times as a player and two as vice-captain, made him the outstanding candidate to take over from Paul McGinley.
"I played 18 holes quickly with Tyrone this morning and came back and was resting beside Alison and Tyrone, waiting for the news. It was a very long couple of hours," Clarke said. "Alison was as uptight as I was. Tyrone was just chilling. Obviously, I was over the moon, as they were. Was I expecting it? No, because I didn't know what way the committee was going to vote. Was I hoping it was going to me? Yes, obviously. I was delighted when the call came."
On the outside Clarke presents an utterly transformed figure from the one to whom the public were drawn for much of his career. The boy from the lads' club, who walked bleary eyed into the morning after the night before following his Open victory, and many before, is in abeyance.
Anyone familiar with Clarke's Twitter feed will recognise the buff profile, and groomed appearance that has emerged Ronaldo-like from an outline hitherto shaped by the black stuff that was a regular companion off the course.
There was a dark side too, to his temperament, one that would lead to bouts of melancholy and introspection when the form dipped. But in the team environment he has always been a powerful ally and bloody foe, and as he acknowledged, this event is not about him, the captain, but the players.
The transformed physique is part of a radical shift in attitude designed to arrest the slump that claimed him post his Open triumph. The booze intake has reduced dramatically and, the occasional cigar notwithstanding, the lifestyle change remains in top gear, fully supported by his new spouse, Alison, whom he married a year ago.
They are Northern Ireland's power couple, she a former model who now runs her own agency, he one of the most recognised sporting figures in Ulster, whose story continues to engage the populace. The form that made him a major winner may never return, but the role of Ryder Cup captain is some compensation for a golfer in his 47th year.
Asked if he would allow himself a tipple in celebration, Clarke demurred, pointing to the responsibilities to his pro-am partner sitting beside him. "No, no, no, I'm down here playing with Tyrone, so got to behave myself. My job starts straight away, so I'm going to try and figure out what's required of me. With being vice-captain, as I have been a couple of times, I'm not really familiar with what was required from the captaincy. That's all stuff that I need to get to grips with pretty quickly."
The decision, reached in the Ryder Cup room at Wentworth by a committee of five, including the three most recent captains Paul McGinley, Jose-Maria Olazabal and Colin Montgomerie, was unanimous.
"I am convinced [he] will retain the Ryder Cup and bring it home," Montgomerie said. "He will be a very good communicator with the players individually, which is most important as a captain."
Clarke has been on the winning side four times as a player, most memorably in 2006 when he returned three points for Europe in a landslide victory six weeks after losing his first wife Heather to cancer. One of those points came alongside Lee Westwood against Tiger Woods, a player the pair made their Ryder Cup bunny over the years, recording three wins together against him.
It was Clarke's victory in a Match Play final against a Woods at his peak in 2000 that established the Ulsterman as a significant player in the minds of American golfers. His popularity in the States was a considerable factor in his appointment, as was the backing of the majority of players who won at Gleneagles, led by Rory McIlroy, Westwood and Ian Poulter.
"I appreciated those guys supporting me. Without their help, would I be sitting here now? I don't know. But the fact that they did publicly support me means an awful lot to me."
Clarke said he would draw heavily on the experience of former captains, and does not envisage a change of approach as he seeks to achieve what no European has done before, lead Europe to a fourth consecutive victory.
Fate looks to have placed him against an old friend in Davis Love III, who is expected to be confirmed as the US captain next week. Love is a surprise choice after blowing the biggest lead, 10-6, by a home side at Medinah three years ago.
"Medinah was special," Clarke said. "But I would expect a very stern test from America, as always."
Register for free to continue reading
Registration is a free and easy way to support our truly independent journalism
By registering, you will also enjoy limited access to Premium articles, exclusive newsletters, commenting, and virtual events with our leading journalists
Already have an account? sign in
Join our new commenting forum
Join thought-provoking conversations, follow other Independent readers and see their replies