Sergio Garcia unable to snare Open Championship spot on happy hunting ground
Garcia came up three shots shy of extending his run at the major into a 26th successive year.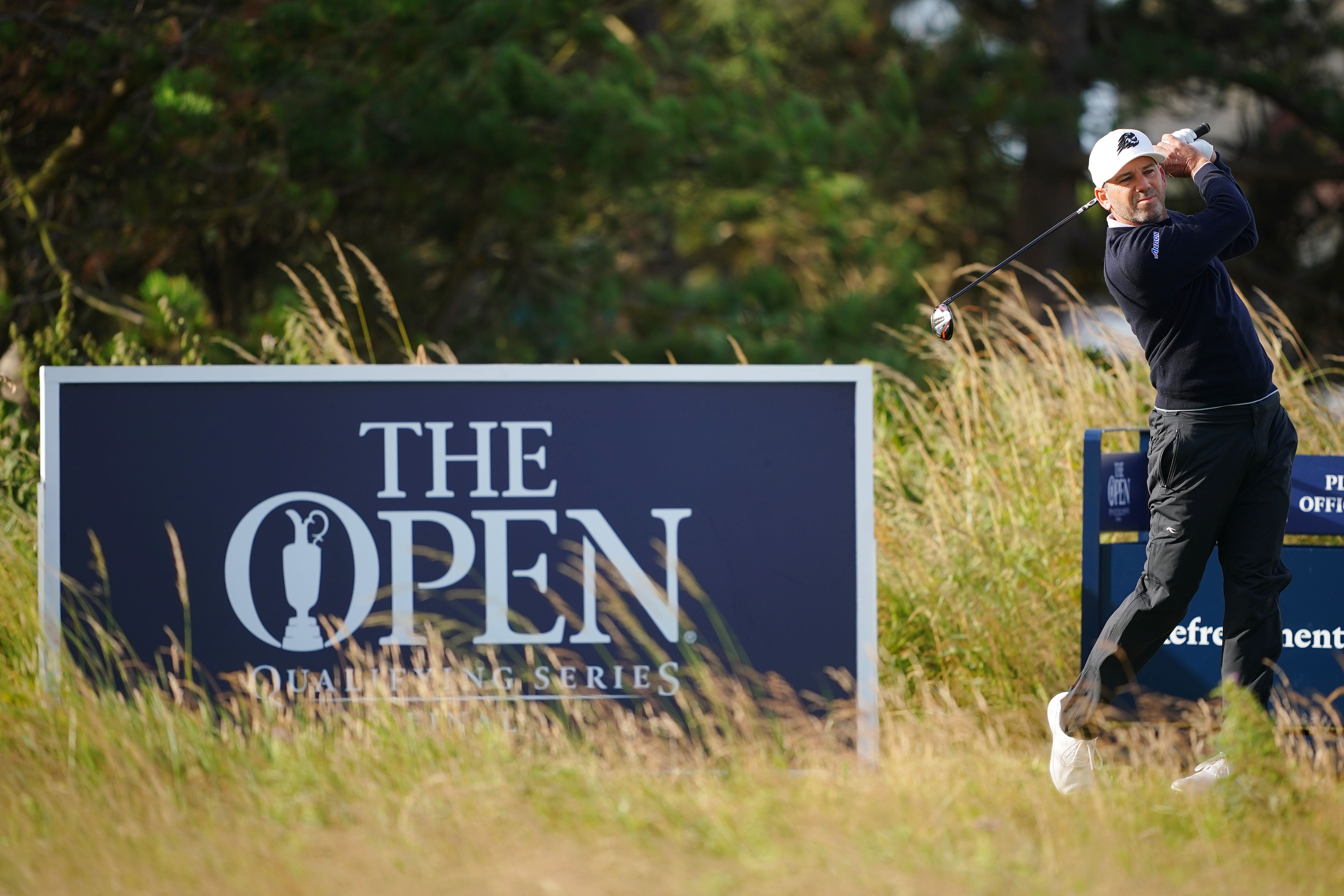 A sunny day in north-west England should have provided the ideal backdrop for Sergio Garcia's bid to qualify for the Open Championship but while the 43-year-old had a place at Hoylake in his hands for so long he eventually let it slip.
The Spaniard was followed by bumper crowds at West Lancashire Golf Club in Crosby near Liverpool – a part of the world which has proved a happy hunting ground for Garcia in the past – but came up three shots shy of extending his run at the major into a 26th successive year.
Having got to eight under through 24 holes, which at the time was good enough for one of the top five spots to qualify, one bad lie and poor chip cost him a shot and halted his momentum.
From there it was all a bit of a struggle as he appeared to run out of steam – as a LIV golfer Garcia is more used to playing 54 holes over three days rather than 36 in a little over 10 hours.
His frustrations boiled over at the par-five 16th where, having been pin-high on the right fringe in two, he backed off a five-foot birdie putt after being disturbed by a photographer and then when he missed he could not hold back any longer.
"D***! As if it's not frickin' hard enough" was the invective spilled at the unsuspecting bystander.
That was the point when Garcia knew he was probably not going to be successful in his quest and it was effectively confirmed when his ball rolled off the green into a hollow at the par-three next.
At six under he had already been passed by others to push him out of contention and even if he had holed his 12-foot birdie attempt at the last it would not have been enough.
"I was rolling nicely, I got a pretty bad break on seven in the afternoon and it stalled my momentum a little bit. Then it was tough to get going again but I gave it everything I had," he said afterwards.
"I was thinking probably eight might get to a play-off but I was trying to get to 10.
"If you come here you put yourself in that situation. I felt I had it close, in the grasp of my hand, but that's what it is.
"I was trying and unfortunately it just wasn't good enough."
The day began for Garcia at 7.20am off the 10th tee, where a crowd of about 200 had assembled under cloudy skies and windy conditions.
Such was the Ryder Cup star's draw there would probably have been a few local schools double-checking their attendance registers but those who turned up were given a rare treat.
With the freedom to roam the fairway behind their hero the public got much closer to Garcia then they ever would at an Open Championship.
Although it was slightly chaotic, it was all good-natured, with the players not bothered by fans as they made their way through the melee, but six holes in it had started to cause an issue for the group behind who were continually waiting for the landing area to clear.
More stewards with long pieces of rope were called for and the issue quickly subsided.
Three successive birdies from the 18th moved Garcia to three under and after finding a bunker at the 154-yard third saw him drop his first shot, birdies at the fifth, where he narrowly missed eagle, and ninth saw him sign for a five-under 67 and sit just one off the lead.
Just over an hour later he was back out off the first, with an enlarged gallery basking in the sun, and two birdies in his first six holes got him to eight under.
Everything seemed to be well in this part of north-west England where Garcia has a good record, with three of his 10 best Open finishes coming at Hoylake, in 2006 and 2014, and Royal Lytham in 2001.
But then things started to stutter when he left himself an impossible up-and-down after his short chip flew the green at the almost-drivable 355-yard seventh.
A three-putt from the front of the 10th, missing a five-footer for par, and suddenly he was back to six under and under pressure.
A free drop off a path at the par-five 11th resulted in a 15-footer for birdie which brought Garcia's first – and only – fist pump of the day but the frown was back again at the 363-yard 13th when his approach missed the green.
With holes running out the pressure was starting to build, resulting in his blow-up at the 16th, and while he was welcomed back by a large crowd in front of the clubhouse it was not the finish Garcia – or they – wanted.