Solheim Cup row: The spirit of Diego Costa is at large in women's golf, who would have thought it?
COMMENT: In golf victory is not worth the having if to gain it you have to cough during your opponent's backswing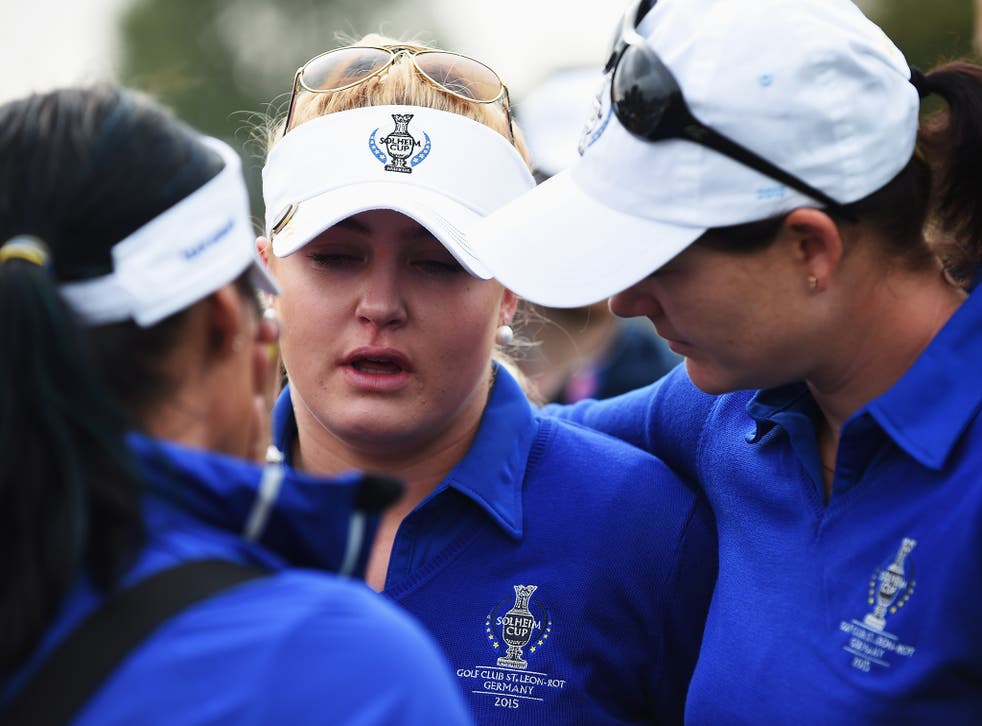 Who'd have thought it, the spirit of Diego Costa is at large in women's golf, trampling over all that we hold dear about the game? Golf has always been more than a sport, it is a life code, an arena where manners matter, where the opponent in held in higher regard than ourselves. Or at least that is how I understood it until Suzann Pettersen took a Costa-like clever to the integrity of the sport.
The French philosopher, novelist and goalkeeper with African Cup winners Racing Universitaire d'Alger, Albert Camus, said this of football. "After many years during which I saw many things, what I know most surely about morality and the duty of man I owe to sport and learned it in the RUA." Camus would be tearing up his season ticket were he a Chelsea fan after the twin attack on the game's moral fibre by Costa and his puerile apologist Jose Mourinho.
The idea that Costa plays the game in the 'right' way, as asserted by Mourinho, is anathema to the Corinthian values underpinning worthwhile competition, and to the teachings of every club coach dishing out bibs in junior football. As a former under eight coach myself I have no recollection of anyone in the Milton Keynes Junior League instructing a player to win by all means necessary, to pull a shirt, to elbow a cheekbone, to slap a face, to spit in the eye of civility.
Camus was expressing the sentiment that in its highest form sport shapes people as much as it develops players. Without respect, dignity and manners there is nowt worth having. This is particularly so in golf, a game that prides itself on its self-policing protocols, that gains it's authority from a commitment to doing the right thing. In golf victory is not worth the having if to gain it you have to cough during your opponent's backswing.
Costa would saw your putter in half if the caddie wasn't looking, leaving you to putt with a wedge on the greens. Into this murky world of performance advantage strides Pettersen, who used the rules of the game at St Leon-Rot Golf Club to gain an advantage she would never have had. And it stunk the place out.
Alison Lee's putt to win the 17th hole, and go one up in the crucial fourball held over from Saturday night, missed by 18 inches. She could have tapped it in with a knitting needle. Pettersen, who was already off the green, would never have asked her to putt in a month of Sundays, yet claimed she would.
Pettersen's playing partner, Charley Hull, turned on her heels conveying in her bold stride that the action was done and the hole halved. Crucially, neither player formally conceded. Lee claims she heard the words "that's good" and scooped up her ball. She turned to walk to the 18th tee but instead walked into a wall of Pettersen inspired gamesmanship.
Once Pettersen insisted that she would have made Lee putt, Hull was left in no choice but to support her team-mate, though her tears on the 18th green at the conclusion of the match told another story. The hole was awarded to Europe and the point was duly gained at the last, which the Americans conceded to Europe after both Lee's and Brittany Lincicome's birdie putts missed.
The point gained meant Europe took a four-point advantage into the singles needing only four more to retain the Solheim Cup. The gap might have been four anyway had Hull holed out at the last but that is not the point. That beautiful competitive thread that united both teams and had made this such a compelling contest was irrevocable broken. The victory was no longer worth the having.
The Costa-lovers out there will say Pettersen did nothing wrong. She simply played by the rules. And what is the point of rules if not to protect the integrity of the game? And then there are those like Laura Davies, a veteran of the women's game, who understand that golf is a game, not a contract, and how you play it matters just as much as winning.
"How Suzann can justify that I will never, ever know. We are all fierce competitors but ultimately it's unfair. We have to play week in, week out together and you do not do something like that to a fellow pro.
"Poor old Alison Lee has been wronged by one of the most senior players in golf and (who) used to be one of the most respected players. I know (Pettersen) is angry and justifying everything, but she has let herself down and she has certainly let her team down. I am so glad I am not on that team this time."
American captain Julie Inkster was just as unequivocal. "I don't care what anybody says, it was just wrong. You just don't do that to your peers. It's bulls*** as far as I'm concerned."
Well said girls.
Register for free to continue reading
Registration is a free and easy way to support our truly independent journalism
By registering, you will also enjoy limited access to Premium articles, exclusive newsletters, commenting, and virtual events with our leading journalists
Already have an account? sign in
Register for free to continue reading
Registration is a free and easy way to support our truly independent journalism
By registering, you will also enjoy limited access to Premium articles, exclusive newsletters, commenting, and virtual events with our leading journalists
Already have an account? sign in
Join our new commenting forum
Join thought-provoking conversations, follow other Independent readers and see their replies