Stars shun chance to stake a Ryder claim in memory of Seve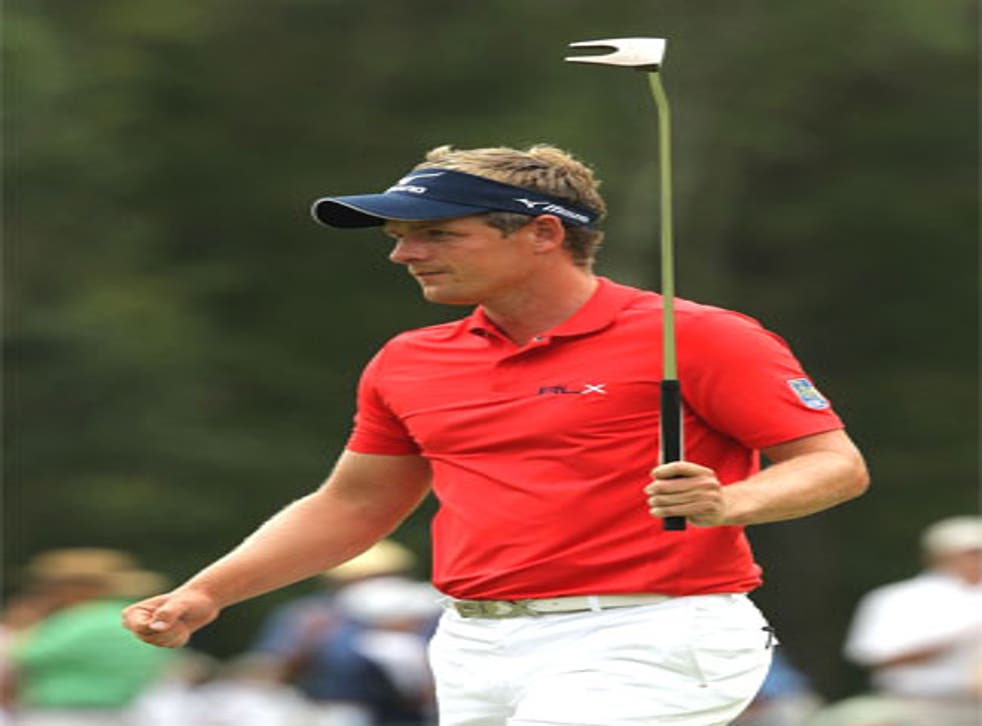 The tears will flow freely at the opening ceremony of the Seve Trophy here this morning and will doubtless continue when Ballesteros's friend and countryman Miguel Angel Jimenez so aptly hits the opening drive. Yet the emotion will be tinged with "disappointment" at the high-profile stay-aways.
This supposed dress rehearsal for the Ryder Cup has been running since 2000, but there is obvious resonance in this, the year the great Spaniard died of cancer. On his passing, aged just 54, the modern superstars all spoke of the necessity to honour Ballesteros. But now, just four months later, three of the four top-ranked European players aren't here in Versailles to do any honouring.
Lee Westwood is the sole representative of that quartet. Luke Donald is, quite understandably, in Chicago trying to win the FedEx Cup, while Rory McIlroy and Martin Kaymer are both "resting". The latter is presumably true of Graeme McDowell and Paul Casey, who also opted out despite not featuring in the penultimate leg of the US play-offs.
"I didn't get involved in cajoling the players to play," said Paul McGinley, chosen by Jose Maria Olazabal as the Great Britain and Ireland captain. "Ollie's overseeing everything this week. He wrote to all the players and spoke to them personally."
Olazabal, the Ryder Cup captain who made a speech to the two teams here on Tuesday evening, has expressed that he is "saddened" by the absentees and McGinley echoed that sentiment. "Of course I'm disappointed they aren't here," he said. "I would love for them to be here. I want the strongest teams possible. But, you know, it is what it is, and we move on."
McGinley was more keen to discuss the merits of the heavyweights who have turned up. "I can't thank Ian [Poulter], Darren [Clarke] and Lee [Westwood] enough," said the Dubliner, whose candidature as a future Ryder Cup captain will once again be under scrutiny. "Wearing my hat for the future of the Seve Trophy, the legacy that Seve wants left behind, I can't speak highly enough for them committing. It was a huge thing for them to play and it's a huge boost for the European Tour and the future of this tournament."
Indeed, the fear is what happens in two years' time. Who will play then? The presence of the garlanded trio at least lends the biennial event, which pits Great Britain and Ireland against Continental Europe, some lustre. While they will inevitably command the attention in the four-day match which starts today with five fourballs, the Continental team led by France's Jean van de Velde actually boasts more strength in depth. And in Matteo Manassero there is an 18-year-old many acclaim as heir proper to the Ballesteros legend.
The Italian is the Seve Trophy's youngest ever player, with all the panache worthy of the title. "It's great to be here," he said. "It's an honour to be in an event named after Seve."
Match schedule
Today Fourballs: 10.35am (BST): M A Jimenez (Sp) & P Larrazabal (Sp) v S Dyson (Eng) & J Donaldson (Wal). 10.50am: P Hanson (Swe) & R Jacquelin (Fr) v S Jamieson (Scot) & R Fisher (Eng). 11.05am: A Hansen (Den) & F Molinari (It) v M Foster (Eng) & L Westwood (Eng); 11.20am: N Colsaerts (Bel) & M Manassero (It) v D Clarke (N Irl) & D Horsey (Eng); 11.35am T Bjorn (Den) & A Noren (Swe) v R Rock (Eng) & I Poulter (Eng).
Tomorrow Five fourballs.
Saturday Four foursomes, four fourballs.
Sunday 10 singles.
Register for free to continue reading
Registration is a free and easy way to support our truly independent journalism
By registering, you will also enjoy limited access to Premium articles, exclusive newsletters, commenting, and virtual events with our leading journalists
Already have an account? sign in
Register for free to continue reading
Registration is a free and easy way to support our truly independent journalism
By registering, you will also enjoy limited access to Premium articles, exclusive newsletters, commenting, and virtual events with our leading journalists
Already have an account? sign in
Join our new commenting forum
Join thought-provoking conversations, follow other Independent readers and see their replies