'Tee Amigos' set for major boost from home support
Three Emerald Isle treasures – Clarke, McIlroy and McDowell – will be cheered round the Irish Open which starts today after their recent triumphs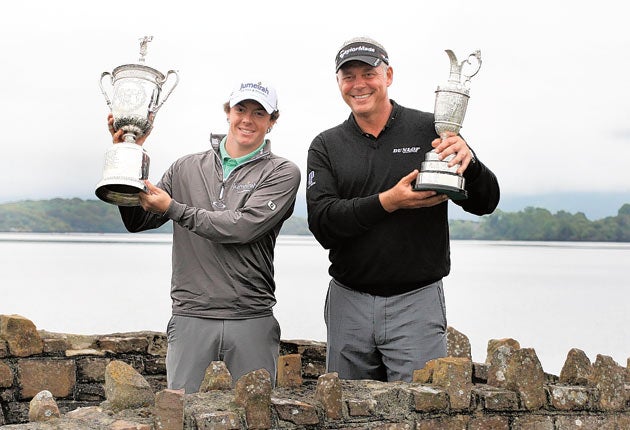 More than 100,000 are expected here at the Irish Open these next four days as a golf-worshipping public turns out to salute their major champions of this remarkable last 13 months. Darren Clarke, Rory McIlroy and Graeme McDowell have already been nicknamed "The Tee Amigos" and as far as the first name is concerned they will never become "The Tea Amigos".
"I drink a little bit too much, smoke a little bit too much and enjoy myself a little bit too much at times," declared Clarke yesterday. "It's the way I relax and I don't intend to change that in any way shape or form."
Thank goodness for that; or so will say all those who admired this Everyman's waddle to destiny at Royal St George's two weekends ago, lifting the Claret Jug at the 20th time of trying. Yet while Clarke's euphoric receipt of a long written-off major was toasted in Britain, on his home island the reaction to his excess has triggered a debate. Indeed, the negativity which greeted his marathon celebrations was the one thing which surprised him in the aftermath.
"There's been a little bit of chat about – 'he shouldn't have had a drink', 'he shouldn't have done this', 'he shouldn't have done that'," said Clarke. "I don't know, people need to get real. Look what happened in Norway over the weekend. I won a golf tournament and people are concerned about whether or not I had one pint too many?I mean, get a life. It's just sport."
Clarke's bemusement is understandable. "There's been phone-ins, radio shows, newspaper articles," he said, perplexity ringing out from every tone. "I think it would be very poor of me if I was to change the way that I am because of a few people's opinions. And that's not going to happen."
Why should he change? After all as the old joke down WeightWatchers goes: "He's a fully overgrown man". Clarke has always done things his own way and has come to accept you can't please anyone all of the time. It is advice he has doubtless shared with McIlroy, the US Open winner who McDowell referred to yesterday as "young Darren". "Their personality traits are very similar in many ways," said the 31-year-old who started Ulster's annexation of a sport at Pebble Beach in June last year. "They are both kind of flashy and flamboyant and like the finer things in life. And, of course, they are both extremely talented."
McDowell, who belied size and reputation to actually beat Clarke in a pint-drinking competition last week, could also comment that they both are wont to say exactly what they think. Certainly that was the case at Sandwich where McIlroy witnessed his honeymoon period reach a sudden halt. After finishing 25th, the overwhelming pre-Open favourite told reporters he didn't like the conditions and "will have to wait until it's nice weather to win an Open". McIlroy's claims to greatness – which he didn't make – were now in question.
"They build you up, build you up and can't wait to pull you back down again," so McIlroy said yesterday. "If I'd had a little more time to think about it I would have said something different. But I was very frustrated and was just being honest. Those conditions didn't suit me or my game and I'm going to have to learn to play in those conditions going forwards."
At 22, he has just received a crash course in celebrity. In three weeks he went from the boy champion who won by eights shots to the man with an interesting love life. If Clarke was depicted as having "one too many" then so, too, was McIlroy. Only his were girlfriends. As the Open's final cheers were still drifting across Pegwell Bay so a hazy picture caught on an opportunistic mobile phone went around the globe showing McIlroy in a passionate clinch with the tennis world No 1 Caroline Wozniacki. Having professed his "special" feelings for long-time girlfriend, Holly Sweeney, in a BBC documentary aired that very week, McIlroy's halo was in danger.
His management company moved quickly to release a statement saying that McIlroy and Ms Sweeney had "amicably" split. Behind the scenes, they admitted there was something between McIlroy and Wozniacki. The word is last week, he holidayed with the Dane in Monte Carlo. The subject was only broached in the media room yesterday when a journalist said to him: "I notice you have a couple of plasters on your fingers. What are they from? Tennis perhaps?" "Very funny," replied McIlroy with a grin.
Later he dismissed the assumption that the break-up on the eve of the Open distracted him from his historic purpose. "It didn't affect me at all," he said, before he touched on the inevitability of his new liaison being revealed. "I will try to keep [my life] as private as possible," he said. "Sometimes it won't be possible. I'll just have to handle it the best I can."
McIlroy is still learning; as, more interestingly, is Clarke. The next lesson may be life-defining. "I'm fortunate in that I've done almost everything there is to do in the game," he said. "I've won a major, I've played Ryder Cups, I've won big tournaments around the world – America, everywhere. I need to sit down, reassess and figure out new goals."
Obviously, the first will be to achieve the Open double, coveted by every Irish golfer, north or south. And despite his "flu" – caused, he admits by "being a little bit run down" – his chance should not be ignored and neither will it by galleries determined to haul patriotism to a new level. The only three members of the world's top 50 here happen to be the Tee Amigos, while one of the next highest-ranked is Padraig Harrington, the Dubliner credited by all three yesterday as beginning this astonishing run with his three majors in 13 months from July 2007. Never will a top-flight event in a country so small hold so many local aces.
The punter who invested €50,000 at 5-1 on McIlroy will definitely hope the conviction is proven correct. On a parkland course which should suit, he has every right to be favourite for the win which would hurtle him into the final major of the season, the USPGA, in two weeks' time. It only adds to the expectation here in Co Kerry.
"The people are very excited," said McDowell. "It's funny, there was a hell of a buzz at this tournament after I won the US Open last year – but this will be a whole new level. It's going to be nuts out there and hopefully on a beautiful golf course in glorious sunshine we can get a home winner." If they do, the Temperance Society will have a field day.
Graeme McDowell describes Ulster's three major winners
Rory McIlroy: the young talent
"The games come a hell of a lot easier to Rory than me. He's like a young Darren many ways. Certainly he has all the natural talent in the world to win the best tournaments."
Darren Clarke: the old master
"If Rory's the young talent, then Darren looked like he was the old, finished talent. He's always been a phonenomal striker of the golf ball. That was an amazing performance and it was great to see."
On himself: the grinder
"I suppose I am the grinder. I don't think i was blessed with the same sort of talent as Rory and Darren. I've had to work hard for what I've achieved in the game."
Ulster's major winners
Rory McIlroy
From: Holywood, Northern Ireland
Age: 22
Majors: 1 (US Open 2011)
Tournament wins: 3
Total prize money: £7.2m
Best Irish Open finish: 7 (2008)
Current world ranking: 4
Best world ranking: 3 (June 2011)
Darren Clarke
From: Dungannon, Northern Ireland
Age: 42
Majors: 1 (The Open 2011)
Tournament wins: 22
Total prize money: £17m
Best Irish Open finish: 2 (2001)
Current world ranking: 31
Best world ranking: 8 (July 2001)
Graeme McDowell
From: Portrush, Northern Ireland
Age: 31
Majors: 1 (US Open 2010)
Tournament wins: 8
Total prize money: £9.9m
Best Irish Open finish: 11 (2004)
Current world ranking: 12
Best world ranking: 4 (Jan 2011)
Join our commenting forum
Join thought-provoking conversations, follow other Independent readers and see their replies