The Masters 2021
'A kind, generous and very loyal cat': Meet the real Dustin Johnson
Defending champion spent 13 years as a professional concealing his emotions until the tears rolled at Augusta. As his coach and trainer tell Tom Kershaw, there is much more to him than meets the eye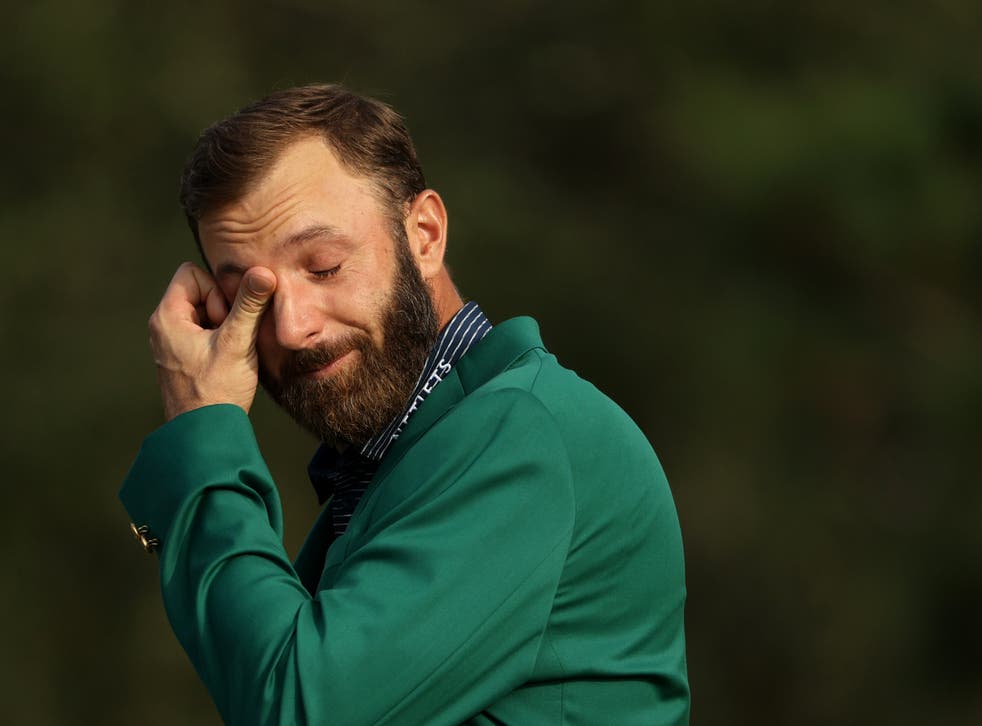 For many years Dustin Johnson built an anodyne wall to the outside world. After a desperate collapse at Pebble Beach in 2010, when he was still a rising star on the PGA Tour in search of an elusive first major, he hardly flinched as his hopes washed onto the sand. A few months later, when a two-shot penalty at Whistling Straits robbed him of a certain victory at the PGA Championship, he fronted up to the media in a disassociated daze. And even as he and his team drove away from Chambers Bay in 2015, having just thrown away the US Open with a three-putt from 12ft on the final hole, it was Johnson who broke the deathly silence and said: "Lighten up, guys. It's just golf".
Johnson's placid demeanour became a stigma but never an involuntary burden, not something he intended to fight but used as a defence mechanism. "I always jokingly use the phrase he was dipped in Teflon at birth," David Winkle, Johnson's agent, likes to say. But as he made his champion's speech at Augusta last November, after his record-breaking Masters victory, Johnson's island of emotion was finally breached, the tears welled up, and he choked on his words. For the vast majority, it was a side to the world No 1 they had never seen in the 13 years since he'd turned professional. "That one was special. I know how much it meant to him," says Allen Terrell, Johnson's long-time coach. "For a southern boy, there's no other tournament. [When he showed that emotion] people got to see him better, his kindness, his generous heart. I don't think he's changed. He's always been that guy."
Beyond his own family, there are few people who know Johnson quite like Terrell, who recruited him to Coastal Carolina University in 2003. "It's embarrassing to say now but I wasn't able to get him a scholarship in his first year," he laughs. "It's weird saying that about the No 1 player in the world but it was late in the process." Having moved between school districts due to his parent's divorce, Johnson was initially missing two classes required to attend college and spent the majority of his time in competitive gambling matches against older players or fishing with his friends. If it weren't for the belated intervention of his grandmother, who persuaded him to commit to a college career, Johnson might well have slipped through the net.
"He was just a skinny kid with a big swing," says Terrell. "He struggled at first with the structure and being on time. You're not asking a kid not to party, that's ridiculous. You're just asking him to prioritise. I was trying everything I could to get him through that first year. I think there was a faction of people at Coastal who weren't supportive of us giving him a chance. I was trying to motivate him with that, saying lots of people don't think you're going to make it, let's prove them wrong. I was worried he'd put me in a situation when I couldn't help him. That was my biggest concern."
What was always clear was that Johnson had an immense talent, a "freak" anatomy – in the words of his own trainer, Joey Diovisalvi – and a ceiling potentially without limits. The doubts, though, remained over whether Johnson would impede his own growth. "The most upset I've ever been with Dustin was in Hawaii in his freshman year," says Terrell. "He shoots 71 in the morning and 85 in the afternoon. He just didn't keep his focus level. I wouldn't say he quit but it's kind of the same thing if you're just blowing through your routine. I never learnt to handle that situation well as a coach. It burnt me and, unfortunately, afterwards he got into the elevator at the wrong time and I let him know how I felt. I could be a little tougher on him because I knew he could take it."
Terrell is reluctant to call that exact moment a turning point, but after his freshman year, Johnson returned with a renewed intent. "Eventually, he was always the first one at practice, always the first one there to work out. He was never, ever late." One time, Terrell even found Johnson asleep in his car outside the gym as he'd arrived so early.
Dedicated and reaping the rewards of his practice, Johnson set on the path to becoming a two-time major champion. "I could lie and say I saw him becoming No 1 in the world but nobody can predict the success he's had," says Terrell. "We all take too much damn credit for Dustin. I was his coach, I still coach him now, but it makes me laugh. His skill and his ability, I've seen him do stuff nobody can coach. I was just lucky. Was he a pain in my ass? Absolutely. And I was a pain in his. Somehow we made it through and we're good buddies and he still keeps me around, that's probably more the miracle. He's a very loyal cat. It's more family with DJ. He knows I care more about what he does off the course. The golf will take care of itself."
In a sense, it always has. Johnson might not have won as many majors as expected – "no one in his team talks about that. He knows he should've won more," admits Terrell – but his position at golf's pinnacle has been stable for approaching a decade. In all, he has spent 124 weeks as world No 1, won 27 professional events and earned over $70million in tournament prize money alone. It is a testament to his willpower that he has only become more intent on improving with age, with his wedge play dramatically improved while his physical fitness, at 36 years old, hasn't waned at all. "We train six days a week minimum," says Diovisalvi. "It's never changed. He's moved into a rarefied air in sport where he's been on top for a while and he's still motivated."
Read more
Diovisalvi first began working with Johnson when he graduated from college onto the PGA Tour. Their relationship, too, is "sort of like brothers". "Dustin is big on trust and people in his closest circle don't change often," he says. If Terrell was responsible for shaping Johnson's early years, Diovisalvi is the trainer charged with making them last for as long as possible. "I see him more like a Tom Brady," he says, in reference to the legendary NFL quarterback, who won a seventh Super Bowl in February aged 43. "Dustin is still getting better, stronger and faster. You don't see that a lot. At 35, most athletes start to peak but he still hasn't. He's more powerful than most guys will ever be."
The eternal and unfair gripe against Johnson has been that, for all his success, he lacks intelligence, in part fuelled by the circumstances that led to him taking a six-month leave of absence in 2014, allegedly after he tested positive for cocaine – Johnson denied having a cocaine problem but admitted to excessive "drinking and partying". It was also that height of negative publicity that caused him to become somewhat introverted and rely solely on his circle of trust: his family, including his brother, Austin, who is Johnson's caddie; his wife, Paulina, daughter of the hockey great Wayne Gretzky; and the closest members of his team. "Athletes are guarded when they're out there but other players feel at ease around Dustin," says Diovisalvi. "There's a lot of people who don't understand what a sensitive person he is because he doesn't show emotion on the golf course. It's not a hobby, it's a profession and he's very notorious for looking calm and cool all the time.
"There's a unique side to his generosity, he's a kind person, but people don't get to see that. I've watched him become a father and raise his boys. I have a very different perspective of who he is off the course as Dustin the human being, the father, the friend, who's willing to give more of himself as a person, not a player."
Last November, the world finally started to see that side of Johnson, too, and the "southern charm that still exists in a grown man" began to pour out.
Register for free to continue reading
Registration is a free and easy way to support our truly independent journalism
By registering, you will also enjoy limited access to Premium articles, exclusive newsletters, commenting, and virtual events with our leading journalists
Already have an account? sign in
Register for free to continue reading
Registration is a free and easy way to support our truly independent journalism
By registering, you will also enjoy limited access to Premium articles, exclusive newsletters, commenting, and virtual events with our leading journalists
Already have an account? sign in
Join our new commenting forum
Join thought-provoking conversations, follow other Independent readers and see their replies