Rory McIlroy determined to look on the bright side after coming up just short at The Open
In the end McIlroy had too much ground to make up on eventual champion Jordan Spieth, but the Northern Irishman says he pleased with his game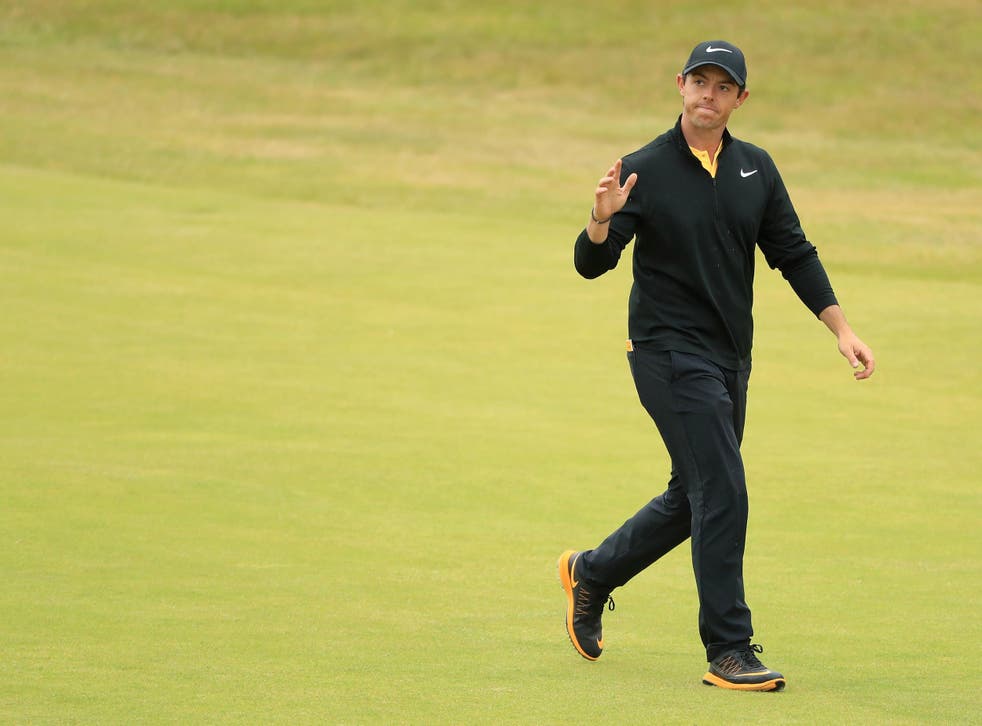 A record crowd of 235,000 came out to support the home players at Royal Birkdale. Only St Andrews has seen more. Rory McIlroy began the final round nine shots adrift of Jordan Spieth's 11 under par lead.
But by the 11th he was just four behind as Spieth and Kuchar struggled. But any chance of catching them ended on the par five 15th when McIlroy smashed his ball off the tee into a gorse ball. Lost ball. He teased the fans with an eagle at the 17th but five under par was only good enough for fourth and top Brit.
"The US PGA Championship is only three weeks away so I'm happy that's coming quickly on the back of this," McIlroy said.
"You look at Jack Nicklaus, he went through a stretch where he didn't win a major in three years. I'm not comparing myself to Jack. It's hard to win them," he said. "It's the reason, especially in this generation, excluding Tiger, no one's got above five."
Matthew Southgate from Southend shot a final round five-under-par 65 to finish sixth at four under. Southgate, who was inspired to take up golf after watching Seve Ballesteros winning the Open at St Andrews in 1984, fought back well over the weekend but it pails into insignificance compared with his battle with cancer in 2015.
"I just love the Open," he said. "What a special day that was. Dad will be crying his eyes out."
The 146th Open Championship - in pictures

Show all 21
The only other British players under par were Paul Casey at three under, and Ian Poulter and Chris Wood at two under. Alfie Plant, the 25-year-old Millwall fan from Bexley Heath, won the silver medal for best amateur. The European Amateur champion finished the Open at six over par. "It sent shivers down my spine walking up the last," he said.
Plant beat 2015 Masters champion Danny Willett by three shots. Willett has endured a torrid season wrecked by a back injury and loss of confidence. He started the final round last and hence out first on his own finishing nine over par beating just one player.
A despondent Willett was brutal describing how far he is from getting back to his Masters-winning best. "F***ing miles," he said.
"Golf shots are a long way away. Mental is a long way away. Scoring is a long way away. He could not even draw hope or inspiration from his Masters victory. "That was 13 months ago. I'm still the same person but the golf's not in the same place," he said.
"If I got the game somewhere near I could maybe draw on that and use it because I've been there and done it but when you are playing at 7.55 on a Sunday morning – regardless of what beautiful memories I have from April 2016 – they can't somehow enhance you to play brilliantly."
Register for free to continue reading
Registration is a free and easy way to support our truly independent journalism
By registering, you will also enjoy limited access to Premium articles, exclusive newsletters, commenting, and virtual events with our leading journalists
Already have an account? sign in
Register for free to continue reading
Registration is a free and easy way to support our truly independent journalism
By registering, you will also enjoy limited access to Premium articles, exclusive newsletters, commenting, and virtual events with our leading journalists
Already have an account? sign in
Join our new commenting forum
Join thought-provoking conversations, follow other Independent readers and see their replies