Tiger Woods: Sergio Garcia's 'fried chicken' remark wasn't silly, it was 'wrong, hurtful and inappropriate'
World No. One takes to Twitter to express his hurt after Garcia made the comment at an award ceremony on Tuesday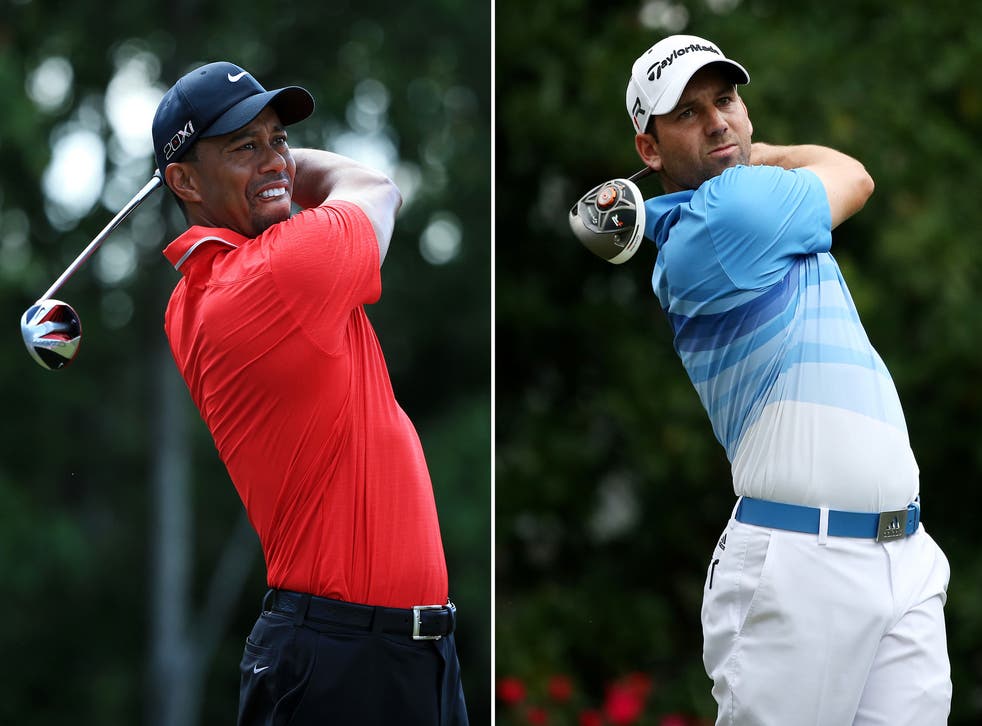 Tiger Woods today hit back in his latest spat with Sergio Garcia, desribing the Spaniard's "fried chicken" jibe as "wrong, hurtful and inappropriate" .
Woods reacted on Twitter after Garcia had earlier apologised for a comment he made at yesterday's European Tour awards dinner when he was asked on stage whether he would be inviting Woods for dinner during next month's US Open in Merion.
"We will have him round every night. We will serve fried chicken," Garcia was heard to say.
Fried chicken has become a racial stereotype in the United States when referring to African-Americans — a reference to the days before the abolition of slavery when chicken was believed to be a staple part of the diet.
Garcia moved quickly to explain his remark, issuing an apology through the European Tour.
"I apologise for any offence that may have been caused by my comment on stage during The European Tour Players' Awards dinner," the Spaniard said.
"I answered a question that was clearly made towards me as a joke with a silly remark, but in no way was the comment meant in a racist manner."
"I want to send out an unreserved apology, I did not mean to offend anyone," added the four-time Ryder Cup winner. "I was caught off guard by the question but don't get me wrong, I understand my answer was totally stupid and out of place.
"I can't say sorry enough. I would also like to say sorry to the European Tour and my Ryder Cup team-mates for taking the shine away from a wonderful dinner that we all enjoyed to that point.
"Finally and most importantly I want to apologise to Tiger and anyone that I could have offended. I feel sick about it and truly, truly sorry. Hopefully we can settle things down and move on."
Woods, whose relationship with Garcia is frosty at best, was in unforgiving mood, though, and took to Twitter to express his annoyance at the comment.
"The comment that was made wasn't silly. It was wrong, hurtful and clearly inappropriate," the American said.
Garcia's comments echoed those made by former Masters winner Fuzzy Zoeller in 1997. After Woods's record victory at the Masters, Zoeller said: "You pat him on the back and say congratulations and enjoy it and tell him not to serve fried chicken next year. Got it? Or collard greens or whatever the hell they serve."
Zoeller apologised, just like Garcia, claiming his remarks had been misconstrued. Earlier yesterday, Garcia said there was no end in sight to his spat with Woods, which resurfaced after they played together at Sawgrass. Garcia felt he had been disturbed on his approach to the second when spectators cheered Woods for taking a fairway wood out of his bag, indicating he would try to reach the green from his position in the trees.
"He's not my favourite guy to play with," the Spaniard said. "He's not the nicest guy on Tour. We don't like each other. It doesn't take a rocket engineer to figure that out. He is who he is. I am who I am. It's best we're not playing together again."
Asked on Monday if he would call the Spaniard to clear the air, Woods simply said: "No."
And Garcia added yesterday: "Obviously you can't like everybody. I think there's people that you connect with and there's people that you don't. It's pretty much as simple as that.
"He doesn't need me in his life, I don't need him in mine, let's move on and keep doing what we're doing. It's never really been a true connection like I would have with maybe Luke [Donald] or Lee [Westwood] or some of the other guys that I get along with well.
"It doesn't mean that I cannot play with him. It's just another player, a good player. It's just when I'm playing with someone I enjoy, there's a bit more talking going round and when you're playing with someone that you don't fancy as much you're just a little bit quiet."
Lee Westwood said Woods would not be "particularly bothered" by the comment but added: "It's an awkward situation where they just don't get on. It's in the public and you guys [the media] will stoke it up and you don't need to.
"I have no interest of getting in the middle of that relationship."
Graeme McDowell tweeted: "Private humor-filled environment but he shouldn't have let it slip."
The row also has echoes of the incident involving Woods's former caddie, Steve Williams, in 2011. Williams, who had earlier split with Woods, received an award from his fellow caddies for celebration of the year after he won the Bridgestone Invitational with his new employer, Adam Scott.
Asked to explain his notorious gloating celebration at Akron, he said, in reference to Woods: "My aim was to shove it right up that black a*******."
Williams's remark caused a storm and he was forced to say sorry. That apology was accepted by Woods, who said his ex-caddie "was certainly not a racist".
Whether Woods will be so forgiving this time, given the obvious bad blood with Garcia, remains to be seen. But whatever his reaction, the incident is another example of a Spanish sport being caught up in a racism storm.
Lewis Hamilton was targeted by racists on a Spanish website in 2008, with some issuing death threats, while the following year, fans painted their faces black. And ex-Spain boss Luis Aragones caused controversy in 2004 when he called Thierry Henry a "black s***".
Register for free to continue reading
Registration is a free and easy way to support our truly independent journalism
By registering, you will also enjoy limited access to Premium articles, exclusive newsletters, commenting, and virtual events with our leading journalists
Already have an account? sign in
Register for free to continue reading
Registration is a free and easy way to support our truly independent journalism
By registering, you will also enjoy limited access to Premium articles, exclusive newsletters, commenting, and virtual events with our leading journalists
Already have an account? sign in
Join our new commenting forum
Join thought-provoking conversations, follow other Independent readers and see their replies