US PGA Championship 2014: Who can challenge Rory McIlroy?
He may be the heir apparent to Tiger Woods, but one major player is determined not to be intimidated by the new No 1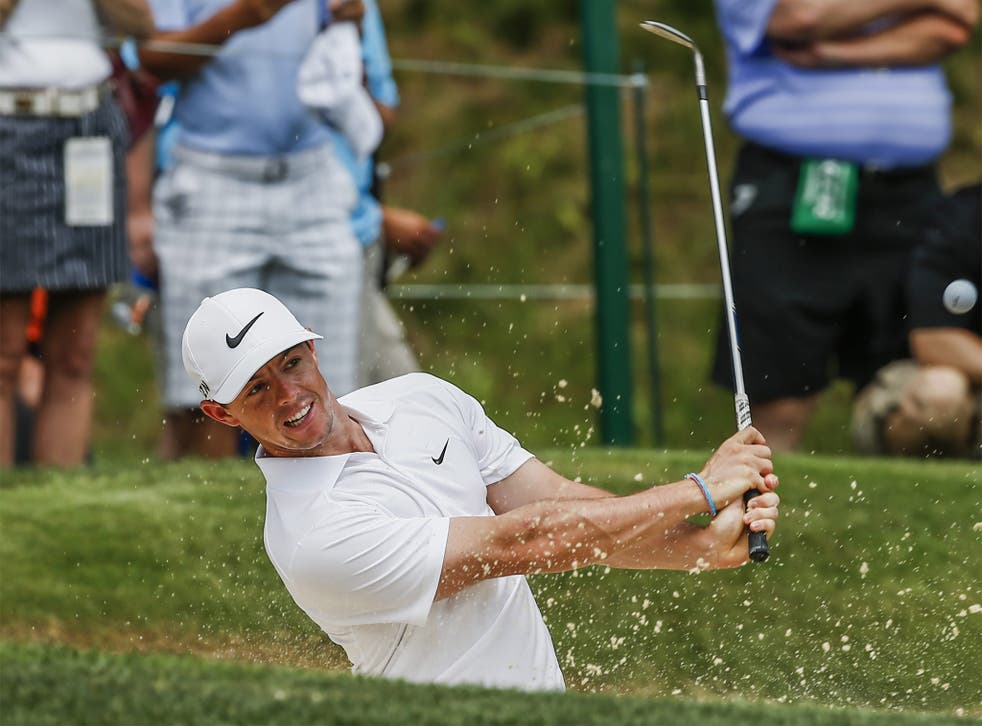 There is respect but no fear of the new world No 1 from the man who surrendered the post. Adam Scott will resume his former address should he win here this weekend and, though hyperbole has already paid out on a Rory McIlroy triumph, Scott is among a cluster of the world's top golfers ganging up on the man of the hour at the US PGA Championship.
Since winning the Crowne Plaza Invitational at Colonial in May, Scott has yet to be placed outside the top 10. In two of those events, the Memorial Tournament and the Open, he posted top-five finishes. At the WGC-Bridgestone Invitational last week he was tied eighth. That is big data by any measure from a golfer capable of rendering absurd golf's rush to acclaim McIlroy as the dominant figure in the game.
Scott recognises McIlroy's talent, acknowledges his right to the No 1 spot but believes he has the means to beat him at Valhalla this week should all aspects of his game come together. "You never know how this game can go," Scott said. "It's always on a knife's edge, winning and losing, and having some momentum or not, and performing consistently well to struggling. It's not that big a difference.
"My goal is to contend and, hopefully, to win this tournament, and to do that would keep some great momentum going in the great scheme of things. It's only motivating to see Rory play so well but I've said a lot that I feel this is my time, so I've got to beat whatever Rory is trying out there, and I believe I can."
Gunning for Rory: the men to take on McIlroy

Show all 5
When Scott won the Players Championship a decade ago aged 23, it seemed the spectacular early success claimed by McIlroy might have been his, too. His game had the same rhythmic splendour and his physique ripples with the muscularity of Apollo. But Tiger Woods was not done. The second coming of the era's defining golfer was about to yield a further six majors in four seasons. There was no contending with that for the superpowers in the game, let alone a callow youth from the other side of the world.
"The dominance of Tiger's play over a 10-year period is unmatched and, I'd have to say, was quite incredible," Scott said. "I didn't have the belief, through lack of experience or whatever it might be. Probably most guys felt like we were beaten before we got out there. And that's different now for tons of reasons."
His victory at the Bridgestone three years ago marked the turning point in Scott's career, completing sea changes made to his approach and to scheduling. Gone went the weekly grind from event to event, replaced by a pared-down scheme that left plenty of time to ramp up practice at his home in the Bahamas. He also introduced the long-handled putter, which transformed outcomes at the business end of the discipline.
He was denied a first Masters crown only by the incredible four-birdie finish of Charl Schwartzel in 2011. And in 2012 he surrendered a four-hole lead with four to play to gift the Open to Ernie Els at Royal Lytham. Some saw that as a classic choke. Scott saw it as affirmation, proof that he could take a major by the throat and dominate the best players in the world. Nirvana finally welcomed him last year with victory at Augusta to claim a first major at the age of 32, the mean age for success at the Masters.
That experience purged him of the need to justify his talent, and of any sense of panic when a golfing phenomenon like McIlroy presents itself every now and again. "It's hard to keep intensity for extended periods of time, so you have to balance that with good routines and process so that intensity can waiver. Mentally and physically you can get a break, but then still compete at a high level when you need to.
"Everything's a balance, and I think the last couple of years I've done a better job of balancing how to perform at a high level more often, even though I still would like to perform better again. It's a constantly evolving process of trying to get better.
"Seeing a guy like Rory really stamp his authority these last two weeks, you know, he's played well the whole summer since he won over in Europe. I believe I'm a better player and I can play at that level. Ten or 15 years ago, I didn't have that belief.
"I've had lots of good finishes in majors," he added. "I felt I played really well at the Open [at Royal Liverpool] and finished fifth. There are lots of good things to take from that. I still didn't get to lift the trophy, and that's why I'm working hard and putting in so much. I would like to get the result."
Justin Rose, two wins in his last four outings, Sergio Garcia, second in each of his last three PGA Tour events and third in two of the previous four, also represent a substantial threat to McIlroy's chances of winning three in a row. Rose, who arrived at Hoylake in the midst of a similar back-to-back adventure, went around Valhalla in the company of his Ryder Cup chum Ian Poulter today and spoke with some confidence about his prospects.
If Garcia is ever going to cross the line at a major the feeling is it must be now. He is playing the best golf of his career, fearless and straight off the tee, laser sharp with an iron in his hand and at last revelling in a method he can trust with the putter. Though heavy rains robbed him of his feel on the greens last Sunday, he was right to explain away a second successive runner-up spot to McIlroy in terms of what the Ulsterman did right rather than what he did wrong.
This course is set up to attack, the generous width of the fairways inviting the big hitters to reach for the sky and those with needle-sharp irons to pepper the flags. You would not have given tuppence for Phil Mickelson's chances but even he fancies it after shooting a 62 from nowhere on the last day in Akron.
"It's a really good thing for me to get that kind of momentum from one round. You don't want to put too much emphasis on just one round. But the way the pieces fell together, I started to roll the ball well and wedge play started to get good, short irons got better. Two days prior, it was just horrific. So it was an important day for me," Mickelson said.
Join our new commenting forum
Join thought-provoking conversations, follow other Independent readers and see their replies