World No2 turns up heat in pursuit of 'Mickelslam'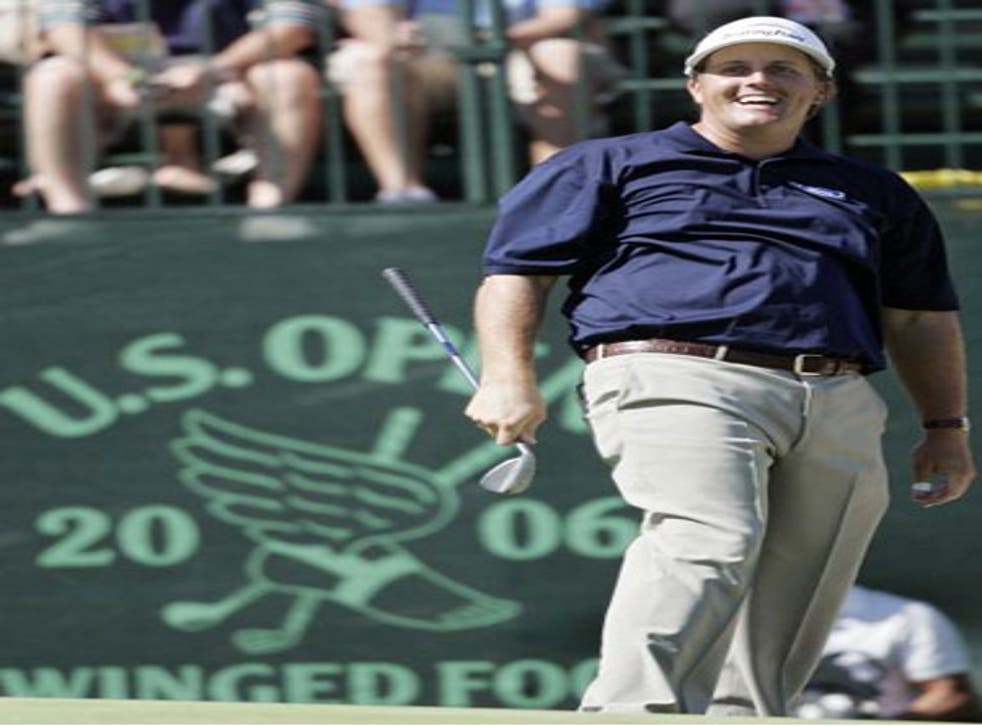 Phil Mickelson knows just what victory in this US Open, which begins here at Winged Foot today, would mean to him. "If Tiger is the best player of all time," he says, "and I start beating him regularly, what does that make me?" Mickelson's question is obviously rhetorical. He really does not need immortality explained.
And, at the very least, a place in the golfing thereafter awaits if he can join Woods and Ben Hogan on Sunday as the only golfers to hold three major titles at the same time. It would also set him up for a shot at the already-named "Mickelslam" at next month's Open at Hoylake.
But more than any of this it would signify that Woods at last has a rival worthy of his ambitions, at the same time as making the undisputed world No 1 acknowledge that the undisputed world No 2 is not "just on a run" as the former implied he might be yesterday. "It would be some run," said Mickelson with a smile.
Inevitably, this slightest of slurs cued a reopening of all the personal rivalry between the pair, that has at the best been tetchy and at the worst childlessly pathetic. But the recent death of his father has given Tiger a new perspective and even if it had not then Winged Foot presents a challenge intense enough to demand an undivided focus.
"This course is set up for pristine conditions, zero wind, 80 degrees and warm," explained Mickelson. "And if they don't get it, this course will be almost unplayable. The greens are going to be way too fast, the rough is going to be way too thick, and the fairways way too tight for anybody to sniff par. Suddenly everything will change."
In that eventuality, the old Mickelson would have joined the exodus of the also-rans; in contrast, the new Mickelson will perhaps be the best prepared. His nemesis's two-month absence from competition and Team Mickelson's by now traditional meticulous reconnaissance missions certainly suggest he should be.
Together with his coaching team of Dave Pelz and Rick Smith and his redoubtable caddie Jim "Bones" McKay, Mickelson has recently visited this New York commuter town "nine or 10 times for eight, nine, 10-hour preparation days". On these expeditions, secrets were unlocked, strategies drawn up and the upshot is that he will replace his revolutionary "two-driver" policy that won him the Masters with a "four-wedge" gameplan here.
Incredibly, Mickelson will still neglect to carry a sand-wedge as he employs a pitching wedge, gap wedge, lob wedge and a 64-degree wedge. "That's a lot of wedge," quipped Jeff Sluman yesterday. "Even for someone of his means." The rest of the professionals were not so cheerful as they considered the advantage Mickelson has given himself and it does not bode well for Europe's attempt to fill the 36-year void to Tony Jacklin's win in Hazeltine in 1970. At least England can boast more participants than ever before with nine teeing it up here.
Three in particular catch the eye. There is Luke Donald, the most suited to the "toughest test in golf" with his plodding style; there is David Howell, the most in-form with his new top-10 ranking and the realisation that "for the first time I believe I can win a major"; and there is Paul Casey with such determination to play he has actually stuck a nasty wound back together with superglue.
"My hand had a fight with a pencil, believe it or not," he said. "I cleaned it out and glued it together, and as long as it doesn't split open I'll be OK. Whatever, I wasn't going to miss this at any cost." He and golf both, although to all but the competitors and the intensely parochial there are only two contenders in town. And, to many, only one champion.
For despite winning three of the last nine majors and beating Woods in six of the last 12 tournaments they have both played in, the majority still maintain that Mickelson has got something to prove, having never faced down the golfer who steadfastly refuses to lose face.
Johnny Miller, the former Open champion turned TV analyst, is no friend of Woods's but still defends his peerless honour. "Phil hasn't proven yet that he can beat Tiger in his presence," Miller said, alluding to the oft-stated fact that Mickelson's three majors have come when Woods has largely been a non-factor. "It would be huge to have them playing in the last group here on Sunday. Mickelson has waltzed around Tiger but can he waltz with him?"
Join our new commenting forum
Join thought-provoking conversations, follow other Independent readers and see their replies