Long Read
What it's like to set up a new sport franchise: building on home ground, breaking boundaries abroad and winning over the fans
From ice hockey to rugby union, basketball to cycling, brand new franchises are being found every year. Alan Dymock speaks to those behind the start-ups in what it really takes to be a success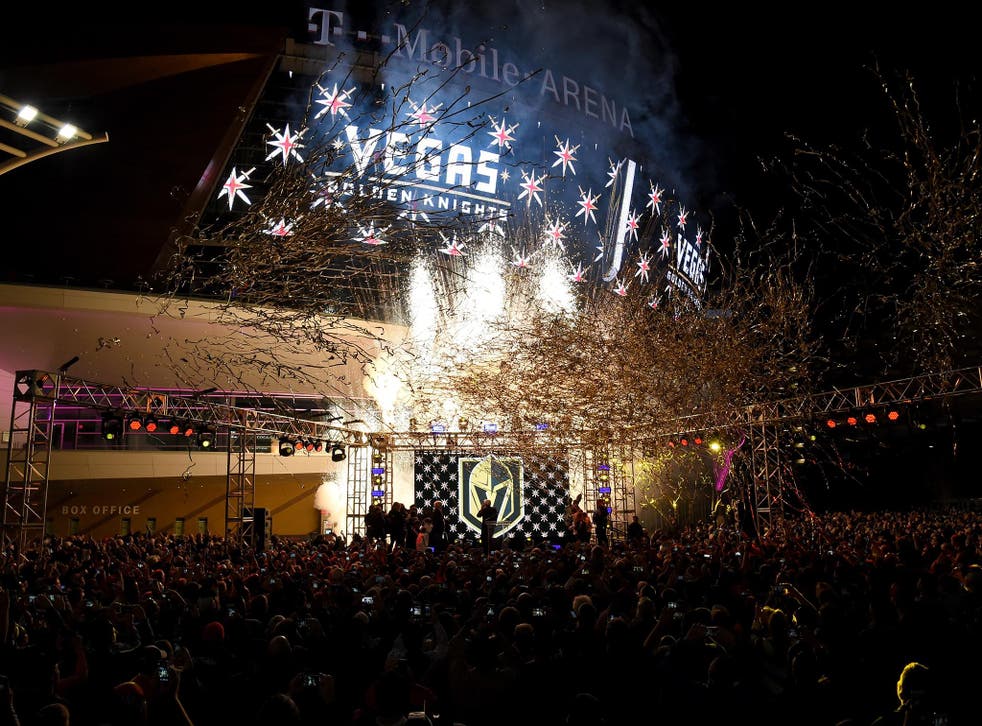 S
tarting a new major sporting franchise, joining global empires from a standing start – it ain't easy. It can be exhilarating, frustrating and confusing, but at the heart of it all is the drive to give sports fans something to adore.
So what is it genuinely like digging in to create a brand new entity that is meant to compete on the world stage? Below are a handful of stories about setting up the new guard...
Fresh frontiers at home
"We were really comfortable with our process and we had a clear vision, but I don't think anyone expected the rate it happened," says Kelly McCrimmon, assistant general manager of the Vegas Golden Knights.
In 2016, the ownership caste of the NHL voted to have their first league expansion for 17 years. Coming in were the Golden Knights, an ice hockey team from the desert. They had one year to put everything together, doing all of the HR and logistical work from scratch before an expansion draft allowed them to pick available players from all the other NHL teams, before the entry draft. The puck dropped for their first league tie on 6 October 2017, against the Dallas Stars.
This was the NHL skating out into the unknown but at the end of it something mystical happened: the Golden Knights competed for the Stanley Cup in their very first season. They lost to the Washington Capitals.
Hockey is inherently combative and dealing with pressure in any elite sport can be draining. However when things got hard this new outfit pushed on. Vegas went unbeaten through December. By the end of the regular season they had 51 wins and 109 points, bursting records as they went.
"I'd describe it as a great story," McCrimmon tells The Independent of creating something different out in the dust. "With regards to how it happened, we had good people, good player selection, with players having more opportunity than where they came from. They had been pushed around; had something to prove. Here, there was no hierarchy because everybody was brand new. The coaching staff did a great job.
"It was also an opportunity very few executives in the game have. It was uncharted. There were no players, no staff – you could create your very own culture. You needed to have the right people who have to stand for the right things."
It all could have melted out there in Nevada, but McCrimmon gives his bosses and the NHL credit for seeing the opportunity and creating a product that fits in with Vegas's unique charms. However there are some things you cannot plan for.
On 1 October 2017, just as the Golden Knights were wrapping up their pre-season schedules, 64-year-old Stephen Paddock opened fire on the Vegas Strip, murdering 58 people.
With a city in mourning, the Golden Knights felt duty bound to help with the healing process. McCrimmon says that he saw the best of people during a harrowing time and that the Knights "connected with Las Vegas in a very meaningful way." The side went on their run after, but never forgot the tragedy. They retired the number 58 jersey at the end of the season, in honour of the victims.
The Knights could not give their fans ultimate glory in that first season. Yet sporting start-ups around the globe will want to know if they caught lightning in a bottle. For David Beckham's Inter Miami soccer project to the NHL's Seattle-based expansion franchise for 2021, maybe there are lessons in Nevada.
Making your mark abroad
Sometimes you have to boldly market beyond your borders. While there are opportunities on home shores, as with Vegas, there are those who see potential abroad.
In 2018, the NFL's executive vice president of international and events, Mark Waller, told Forbes of any London franchise: "We feel very good about the progress. Ultimately, it's our owners who decide whether they want to move a team. It's tough to put a linear timescale on the question 'how close are you?' So the answer I try to give is: the market is definitely ready."
You cannot be gung-ho about pushing into foreign markets, which is why so many US sports have staged ties in London but no owner has taken the plunge yet.
In the absence of a grass-roots movement, there may only be a certain few megacities capable of supporting an ostensibly American franchise. Though some leagues will try to get the best of both.
In December 2018, Orlando Magic played two NBA regular season games, against the Chicago Bulls and Utah Jazz, in Mexico City. It was the 27th and 28th NBA match-ups hosted in Mexico. The year before, the NBA opened an NBA Academy in Mexico City – a method the league has used in China, India and certain areas of Africa.
In a conference there, NBA commissioner Adam Silver was asked about founding a Mexico City side in the NBA's second-tier, development competition.
"Our goal is to have a G League (NBA's minor league) team planting a flag here in Mexico City next season," Silver replied. "I think that's a bit of a bold proclamation, and it would be our first G League team that would no longer be associated directly with an NBA team."
Asked later to expand on the need for a presence south of the border, Silver went on: "Number one, Mexico City is the largest market in the western hemisphere, and if you're a North American sports league, it's hard not to very much focus on this city, given that 22 million people are in the Metropolitan area.
"Number two, there's 120 million people in Mexico. Obviously it's a country (in proximity) to the United States. We have a team in Canada. It would make logical sense to next look south, to potentially have a team in Mexico.
"And number three, when you look at the enormous Mexican-American and Hispanic population in the United States, we believe, if we had a team in Mexico City, many of those fans in the United States would identify with a team in this market. It's one of the reasons we're thinking so much about bringing a G League team here, because we think it would be an important next step to learn more about what it would take to operate an NBA team here."
For some sports – basketball included – there is an enormous presence on televisions around the globe. But sometimes it is an imperative to be on the ground. Even if it means clocking up the air miles.
Crossing continental divides
"Placing a full-time squad into a new location is a huge undertaking as we have effectively implanted a whole professional rugby set-up into Singapore from scratch," says Jon Phelps, founder and co-owner of the Asia Pacific Dragons.
The Dragons are one of the foundation sides in the new Global Rapid Rugby competition set to compete across the Asia-Pacific region – it was due to kick off in 2019, but will begin with a 'showcase series' in the first year as logistics are ironed out for a promised eight-to-ten team league in 2020.
The Dragons were ready to rock this year, alongside Perth's Western Force, Hong Kong-based South China Tigers and a Fijian side.
The Dragons are familiar with Singapore, as Phelps adds: "We had previous experience in Singapore when we bid for the 18th Super Rugby license back in 2014." However, they have only been sanctioned to play there for the first showcase outings.
The landscape up ahead is unpredictable. The Singapore Rugby Union have a partnership with Japan, hosting Super Rugby's Sunwolves, but that side will now cease to exist from 2021.
The SRU also have a pre-existing relationship with the Dragons – who have a strong Pacific Islands identity too – and believe the regular presence of Global Rapid Rugby will not only help rugby bloom in Asia's consciousness, but offer a more realistic path for ambitious Singaporean players than Super Rugby. At this stage, different parties in the region are waiting to see what tomorrow brings.
An open Phelps appreciates this: "There is always some skeptism behind new ventures. When you do something completely new – and we have discussed this with the competition organisers – that if the commercial viability is not in Singapore then we have the option to take the franchise elsewhere. This is the major risk for any professional team.
"The biggest speed bump to date was actually the postponement (of GRR) as it has impacted how we launch the team in Singapore and then approach sponsors. It obviously also caused a lot of uncertainty for the squad, and ultimately disappointment that the (originally proposed) $1m prize-money is no longer on offer."
However, Phelps is delighted with the progress made locally, and both Phelps's Carinat Sports Marketing and the SRU see the potential.
"Asia is a huge area and rugby will always struggle to get a footing due to the sports itself and not being culturally compatible," Phelps says. "However Singapore does actually have a rugby culture as it is played in schools, this means that for generations Singaporeans have played and loved playing rugby. Rugby has always been a sport that stays in ones DNA whatever level you played.
"A study conducted showed that 15 per cent of the population was interested in rugby – this is circa 650,000 people. But what they haven't had is a team to support playing at the highest level. The Dragons can fill this gap now and we will see if it does create the interest. 'People never learn anything by being told, they have to experience it for themselves.'
"This is certainly an ethos we believe to be absolutely the case nowadays and we hope that the APDs being based there will enable Singapore's rugby and sports fans to have that experience."
New teams need to consider the fans.
Belonging to the fans
Cycling teams rise and fall. This is the nature of a venture where there are no season tickets, no home grounds. Sponsorship is the lifeblood.
Resurrections do happen – look at how Ineos has stepped in to rebrand Team Sky – but getting an elite team off the ground can be dastardly.
In Early March, Gazzetta dello Sport ran an interview with business leader Valerio De Molli that suggested the future of elite team cycling in Italy needs an unconventional funding model.
Asked where he would start, De Molli said: "From crowdfunding, from popular shareholding, which mobilises our (upper classes). There are 5.5 million cycling enthusiasts in Italy – if everyone put 10 euros, we would have 50 million, the basis for a great team. And it (creates) a public, political push to take the lead."
There are those who believe that interest in a new Italian WorldTour team has dwindled and so tax breaks for investors and new champions will be needed to attract attention again, as well as the means to fund things.
On crowdfunding, Gazetta writer Ciro Scognamiglio says: "It can be interesting for sure ­– it could be good for Italian cycling. It's good that there's a discussion about this. But it's difficult to imagine a new, big Italian team – a team like Sky or at the level of QuickStep."
Identity is such a big part of any new elite sports side. Within each new company there is the chance to create a new culture, a way of operating. But with all of the examples given, the success of such a project depends on whether the fans buy in. Metaphorically, or otherwise.
Join our new commenting forum
Join thought-provoking conversations, follow other Independent readers and see their replies