Leicester City win the Premier League title after Tottenham fail to beat Chelsea at Stamford Bridge
Title rivals' draw seals fairy-tale triumph for 5000-1 outsiders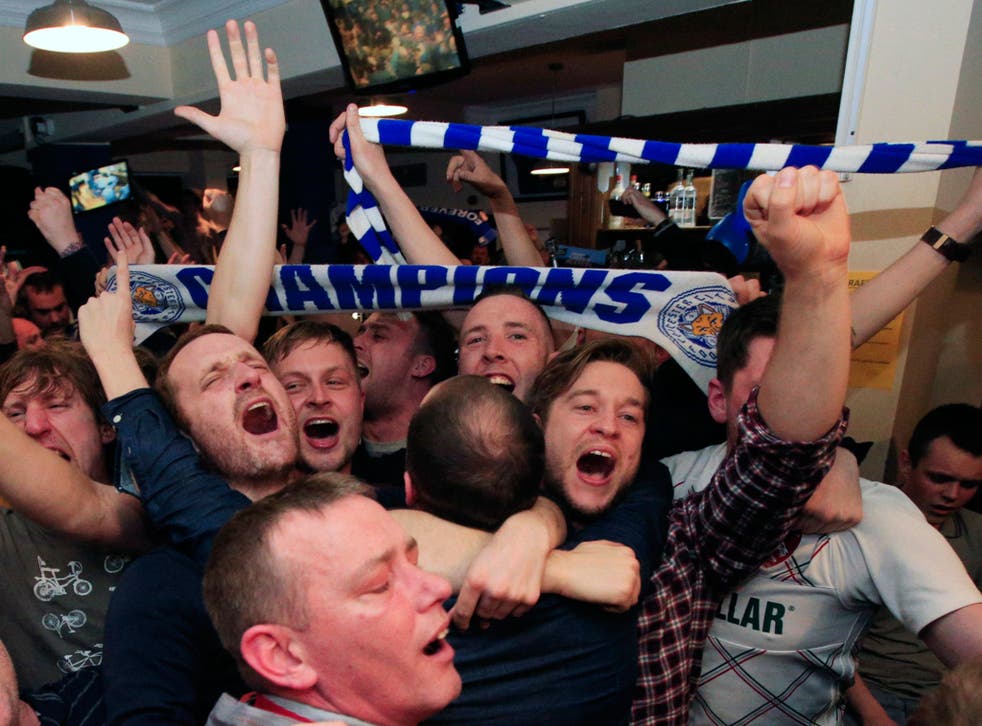 Leicester City have been crowned Premier League champions in one of the most remarkable upsets in sporting history after Tottenham Hotspur failed to beat Chelsea at Stamford Bridge.
The two sides drew 2-2 this evening, giving a remarkable victory to the Foxes after they started out as 5,000-1 outsiders for the Premiership title. Many experts predicted Leicester would be relegated this year.
The Foxes could have clinched the title on Sunday at Old Trafford but could only manage a 1-1 draw with Manchester United, meaning their hopes were pinned on Tottenham's performance this evening.
But Tottenham's draw mean the Foxes now have an incontestable lead in the league with two games remaining.
Tottenham raced into a first-half lead, before Gary Cahill scored to give Chelsea, and Leicester, hope. Eden Hazard equalised for the west London club with eight minutes remaining.
Leicester spent last season languishing at the bottom of the table, leading their victory to be described as a "fairytale" win and "the most unlikely triumph in the history of team sport".
The Foxes budget has also lagged behind that of its rivals. According to Sporting Intelligence, Manchester United have spent more on new players in the last two years under their current manager than Leicester City have in their 132-year existence.
Former England and Leicester striker Gary Lineker called the result, "The biggest sporting shock of my lifetime", while Leicester South's Labour MP Jonathan Ashworth said: "What a team, what a manager, what a way to make history".
The Leicester City team gathered to watch the match at Jamie Vardy's house, which saw chaotic celebrations after the win with the players piling on top of each other chanting: "Championes! Championes!"
Leicester players celebrate winning the Premier League
The Prime Minister has also offered his congratulations to Leicester, saying: "An extraordinary, thoroughly deserved, Premier League title."
Singer Adele, who comes from Tottenham, said: "Proud of you Spurs! But Leicester... What an inspiration, the best f***** story ever! Congratulations!!!! X"
Leicester City Premier League title celebrations

Show all 10
The title was secured as the final whistle blew as Chelsea held Spurs to a 2-2 draw, sparking messages of congratulations on Twitter.
Former Top Gear presenter Jeremy Clarkson said: "So rare as a Chelsea fan to have everyone (nearly) on our side. Joyous evening. Well done Leicester. Well done."
Ex-Liverpool striker Robbie Fowler said: "It's been on the cards for a while... just let that sink in for a sec, But ...WOW.. Leicester are champions... Absolutely superb. Well done."
Fans packed into the Local Hero pub in Leicester's Aylestone Road, near the club's King Power Stadium and erupted into cheers as soon as the title was confirmed.
Curtis Leal, 27, of Leicester, said: "I'm in tears, I just can't believe it. What a moment!"
Jake Ion, 19, said: "It's been an amazing season - we'll never see anything like it."
Gary Clarke, 51, a fan of Leicester City's rivals Nottingham Forest, said: "It's football, it's magic. It reminds me of Brian Clough in the 1970s and 80s for Forest."
In a further victory for the city, Leicester-born Mark Selby won the snooker world championship just minutes after his team celebrated their success.
Mr Selby said: "I'd just like to say a big thank you and a big congratulations to Claudio and all the boys at Leicester."
Join our new commenting forum
Join thought-provoking conversations, follow other Independent readers and see their replies