Abu Dhabi Grand Prix 2014: 'Incredible race' is fine by Felipe Massa while Jenson Button makes his point
'I didn't expect to have that pace, but Lewis was Too far ahead,' said Massa
David Tremayne
Sunday 23 November 2014 20:58 Comments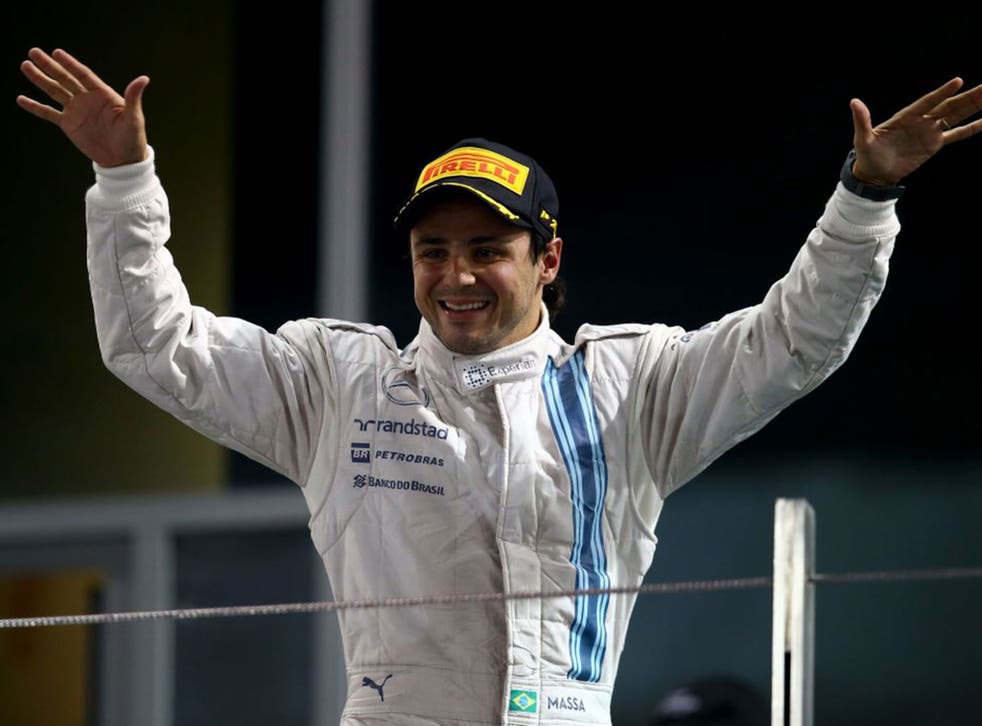 While Lewis Hamilton had the greatest day of his life and Nico Rosberg, most likely, the worst of his, the Abu Dhabi Grand Prix smiled on four more of the sport's good guys.
Felipe Massa, whom Hamilton had deprived of the world championship on his home ground at Interlagos in 2008, drove the best race of his career since his accident in Hungary in 2009, and came within 2.5 seconds of Williams's first victory since Barcelona 2012 with 12 dramatic final laps on Pirelli's supersoft tyres.
"Congratulations to Lewis, he deserved it," the Brazilian said. "This was an incredible race for us. I didn't expect to have that pace, but I was able to keep the tyres almost to the end and I talked to the team about trying to finish on the supersoft rubber. Why not, because we had a big gap to [team-mate] Valtteri [Bottas] in third place. So we tried it, but unfortunately Lewis was a little bit too far ahead.
"I so much wanted that victory. I was more than a second a lap quicker, and if the tyres had stayed like that I figured I could win. But then they started degrading and over the last four laps I didn't have enough grip." Bottas agreed. "My start was compromised by clutch slip, which we never get," he said, "but after that I was able to push really hard. It's always good to be on the podium, and the higher the step the better. But second and third will do for now."
F1 Abu Dhabi Grand Prix 2014 - in pictures

Show all 34
Fourth place was like a victory for smiling Daniel Ricciardo, who started his Red Bull from the pit lane after front-wing irregularities cost him fifth place on the grid. He drove another storming race to thread his way through.
"I think it was pretty much a faultless race from all sides, from the strategy, to myself and the pit stops; everything was good so we did everything we needed to," he said. "I had fun passing, it wasn't boring out there, so it was pretty much what I asked for. One spot better would have been nice, but fourth is really cool from the pit lane. It's been pretty much a perfect season, as perfect as it can be without holding a world title, so no real regrets, no complaints."
In what could have been his last grand prix, Jenson Button staked a valid claim once more to a 2015 seat as fifth place again comprehensively overshadowed his rookie team-mate Kevin Magnussen, who was only 11th.
"That was tough!" Button said. "I think we made the best of what we had this evening. In terms of strategy, we did the right thing, but we never really had enough pace to attack the cars in front. So fifth was as good as it was going to be. Getting the maximum from the car is all that can be asked of a racing driver, and I think I've proved this year that I'm still at the top of my game.
"It's been a good day for me, but a much better day for my old team buddy Lewis. Winning two world titles is an absolutely amazing achievement. Congratulations to him – he deserves it."
It was less satisfactory for Sebastian Vettel or Fernando Alonso, whose last races with Red Bull and Ferrari respectively yielded only eighth and ninth places. But at least the world learned from an impeccable source where the Spaniard will race in 2015.
Driven away on a golf cart by the former champion, ex-King Juan Carlos of Spain asked him where he was headed and, when Alonso confided in him, he turned to live television cameras and proclaimed: "He's going to McLaren."
Oops.
Register for free to continue reading
Registration is a free and easy way to support our truly independent journalism
By registering, you will also enjoy limited access to Premium articles, exclusive newsletters, commenting, and virtual events with our leading journalists
Already have an account? sign in
Join our new commenting forum
Join thought-provoking conversations, follow other Independent readers and see their replies