Abu Dhabi Grand Prix: Seven races that led to Nico Rosberg beating Lewis Hamilton to the F1 world championship
Rosberg led the championship by 43 points early on before trailing by 19 points in the summer, but in the end he held on to seal a first title by a slender five points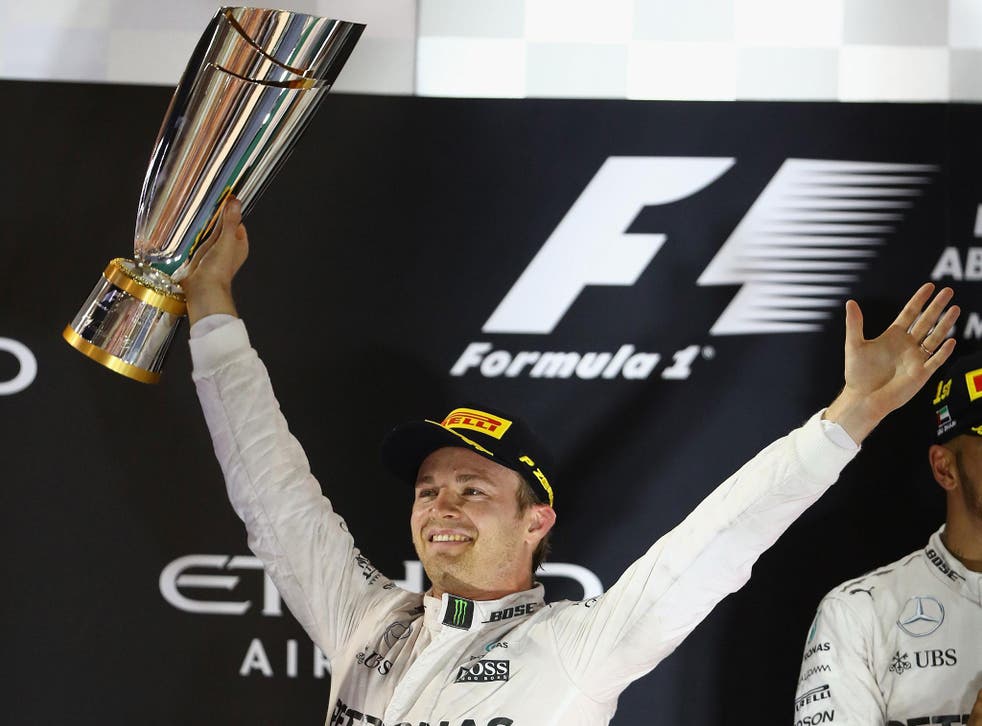 Nico Rosberg has been crowned the new Formula One champion after he finished second at the season-ending Abu Dhabi Grand Prix.
Here, we look at seven key moments in the battle with Lewis Hamilton for this year's title.
1. Rosberg takes control in China
Hamilton arrived on the back foot in China following successive victories for Rosberg in Australia and Bahrain. The Briton then faced a five-place penalty following a gearbox change before an engine failure in qualifying consigned him to the back of the grid.
Hamilton lost his front wing in a first-corner incident and recovered to finish only seventh. Rosberg started from pole position and landed a third consecutive win to take a commanding lead in the title race.
Points: Rosberg 75, Hamilton 39
2. Both bow out early in Spain
Another victory for Rosberg in Russia saw him head to Spain with a 43-point lead over Hamilton. Rosberg, who was bidding to become only the second driver in the modern era to claim eight straight wins, passed pole-sitter Hamilton on the run down to turn one, but an engine setting, incorrectly deployed by the German, enabled Hamilton to decrease the gap to his team-mate at a greater speed.
In defending his lead, Rosberg moved to block his team-mate, Hamilton took to the grass, spun, and then sensationally collided with Rosberg. Both Mercedes cars were out of the race after just four corners.
Points: Rosberg 100, Hamilton 57
3. Hamilton ends losing streak in Monaco
Surprisingly the fall-out from the Barcelona crash was rather amicable, with both Hamilton, Rosberg and their Mercedes team prepared to file the crash under 'R' for racing incident. Monaco played host to the next round and Hamilton finally ended his eight-race losing streak after he pulled off a tactical masterstroke in the rain, as well as benefiting from a disastrous pit-stop gaffe by Daniel Ricciardo's Red Bull team. Rosberg, who was ordered by Mercedes to move out of Hamilton's way in the opening phase of the race, crossed the line only seventh.
Points: Rosberg 106, Hamilton 82
Abu Dhabi Grand Prix in pictures

Show all 15
4. Hamilton in command at summer break
Hamilton and Rosberg then traded victories in Canada and Azerbaijan before heading to Austria for round nine. Rosberg appeared on course to extend his lead in the title race, but dramatically crashed into Hamilton as the Briton attempted to pass him around the outside of turn two for the lead on the final lap. Hamilton emerged unscathed to win, but Rosberg, who was dealt a 10-second retrospective penalty for his part in the crash, limped home only in fourth. Hamilton then went on a stellar run, winning at Silverstone, Hungary and Germany to take a 19-point lead into the sport's summer break.
Points: Hamilton 217, Rosberg 198
5. Engine woes for Hamilton in Malaysia
Wins for Rosberg followed in Belgium and Italy which moved the German back into the championship lead. A crushing display over Hamilton in Singapore saw the title protagonists head to Malaysia with Rosberg leading by eight points.
Hamilton appeared on course to take back control of the championship as he led in Malaysia, only for his engine to blow up with just 15 laps left. Third place for Rosberg stretched his lead.
Points: Rosberg 288, Hamilton 265
6. Rosberg 33 points clear
Hamilton struggled, both on and off the track, in Japan. He fooled around on his phone during a televised press conference, before refusing to take questions from the written media, and then slumped to eighth on the opening lap after a terrible start. While he recovered to finish third, Rosberg led from start to finish to claim his ninth victory of the season to move 33 points clear.
Points: Rosberg 313, Hamilton 280
7. Four in a row not enough for Hamilton
Hamilton looked like a beaten man following his drubbing in Japan, but the Briton returned to his scintillating best at the ensuing double-header in the United States and Mexico to deliver two imperious victories over Rosberg.
Hamilton then turned in a wet-weather masterclass in Brazil to seal a third consecutive triumph. But despite Hamilton winning for a fourth successive time in Abu Dhabi, Rosberg took the title after crossing the line in second place.
Points: Rosberg 385 Hamilton 380
PA
Register for free to continue reading
Registration is a free and easy way to support our truly independent journalism
By registering, you will also enjoy limited access to Premium articles, exclusive newsletters, commenting, and virtual events with our leading journalists
Already have an account? sign in
Register for free to continue reading
Registration is a free and easy way to support our truly independent journalism
By registering, you will also enjoy limited access to Premium articles, exclusive newsletters, commenting, and virtual events with our leading journalists
Already have an account? sign in
Join our new commenting forum
Join thought-provoking conversations, follow other Independent readers and see their replies