Australian Grand Prix: Nico Rosberg beats Lewis Hamilton amid chaos of Fernando Alonso crash
Sebastian Vettel finished third in Melbourne
David Tremayne
Albert Park
Sunday 20 March 2016 12:32 Comments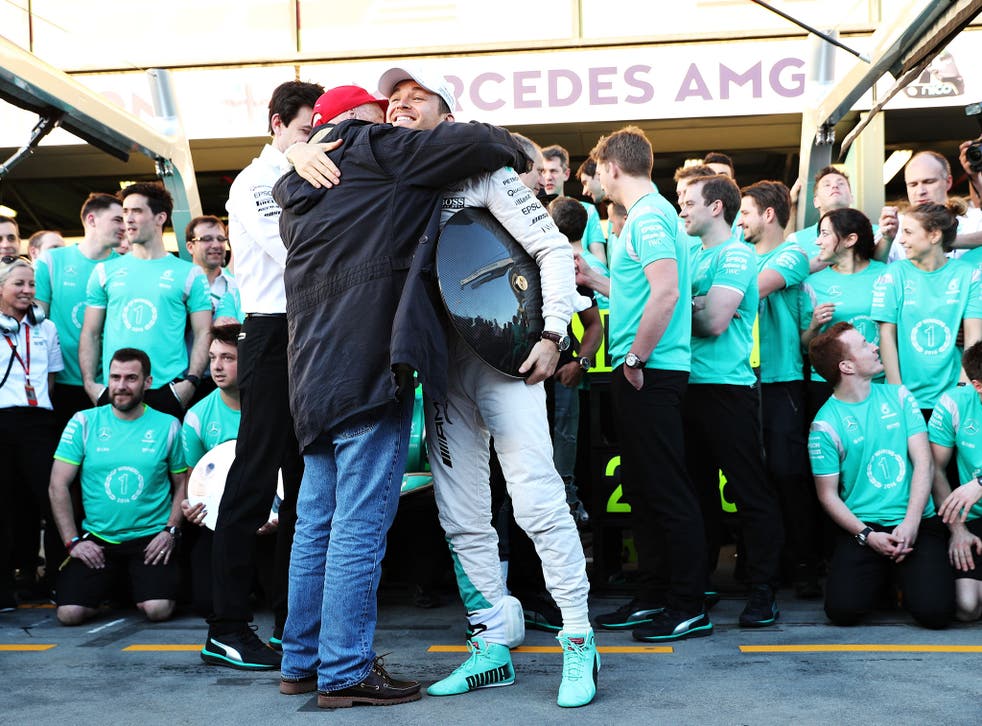 A wild race ultimately delivered a Mercedes one-two in the Australian Grand Prix yesterday as Nico Rosberg led home Lewis Hamilton, but the day was notable for Sebastian Vettel beating them away at the start, and then Fernando Alonso escaping unharmed from a spectacular crash.
The Spaniard's accident occurred on the 17th lap when he ran into the back of Esteban Gutierrez's Haas under braking in turn three, and the race was red-flagged on the 18th so the copious debris could be cleared away. Happily both drivers were unharmed, but it led to a 20-minute delay.
On the grid, the Mercedes drivers struggled when the race had to be restarted following an aborted effort due to Daniil Kvyat's Red Bull breaking down before it reached the line. As they were slow away, Vettel pounced gratefully.
"My clutch bit exactly the same as Nico's," Hamilton said. "But at the second stage of release I just got too much wheelspin."
Vettel beamed: "It reminded me of Hungary last year, when I overtook both of them going down to the first corner." But whereas he won then, this time he had to settle for third place after Mercedes' strategy surprised the Ferrari team.
Vettel began with a set of supersoft Pirelli tyres, took another on the 13th lap, stayed with them after the race was temporarily stopped, then switched to softs on the 35th lap before running hard to the chequered flag.
Mercedes, too, started on supersofts, switched Rosberg to softs on lap 12, then to mediums during the Alonso stoppage. Hamilton went to mediums on the 16th lap and another set of them on the 18th. Thereafter the two silver cars ran to the finish without the need for an extra stop.
Initially Vettel looked comfortable leading as team-mate Kimi Raikkonen rode shotgun and Rosberg settled down in third place. Hamilton, however, got hung out to dry in the first corner and became trapped in sixth place behind Max Verstappen's Toro Rosso and Felipe Massa's Williams.
After Alonso's crash it was soon clear Vettel was not going to open up the gap he needed for a final stop, and he lost his cushion when Raikkonen's car expired in the pits on the 21st lap, flames coming out of its engine's airbox after suspected turbocharger failure.
When Vettel pitted for his final tyre change on the 35th lap Rosberg went ahead, and Vettel was also overtaken by local hero Daniel Ricciardo and Hamilton. The Australian then stopped for some supersoft tyres on the 42nd lap, leaving Hamilton a clear run at last at his team-mate.
He began to lower the gap as Vettel was coming at him on his fresher and faster compound tyres. Ricciardo, meanwhile, was closing in, but too far back to be in contention. On his worn tyres Hamilton made a small error going into turn one on the 51st lap, and the Ferrari seemed ready to pounce. But then Vettel ran wide onto the grass in turn 15 four laps later, leaving Rosberg to lead Hamilton home by eight seconds, with the Ferrari 1.5sec further back.
"The strategy was crucial today," Rosberg said. "We're strong in nearly all areas, but that did it today. We got the tyre choice right during the red flag. I was glad to see that Ferrari were still on the supersoft. I wasn't sure that was going to be the case. I was a bit concerned about the restart with the mediums, that the tyre temperature would be too cold, but it worked out OK."
Hamilton enjoyed a great race. "I think it was really exciting," he said. "Obviously it's always great when you get away in the lead, especially with all the work we did in the past days, but it doesn't always go your way. Having to fight back from behind, it's very, very hard to follow as we all know from the history here.
"Ferrari obviously are there in the battle, so hopefully there are some exciting races coming up ahead of us. I did the best I could after a difficult start. It was damage limitation, really, because Nico could have had a lot more points than me today."
Vettel said: "I think we were a lot closer. Last year this was one of our worst tracks so there's plenty of positives. We went for the aggressive route – maybe with hindsight we could have done something else. But today we won 15 points."
Ricciardo held on for a strong fourth with Massa having an uneventful run to fifth. But one of the other stories of an eventful race was a superb drive by Romain Grosjean which earned the new American Haas team eight valuable points on their F1 debut after a single-stop strategy.
There was also the flashpoint between the Toro Rosso drivers. Verstappen was angered when the team brought Carlos Sainz in for his final pit stop before him even though he was running ahead, and when he did make his own stop they weren't ready for him. As they fought to pass impressive rookie Jolyon Palmer's Renault, Sainz was told to switch places but refused to do so. Eventually they touched briefly in turn 15 on the 52nd lap, and Verstappen spun.

Register for free to continue reading
Registration is a free and easy way to support our truly independent journalism
By registering, you will also enjoy limited access to Premium articles, exclusive newsletters, commenting, and virtual events with our leading journalists
Already have an account? sign in
Join our new commenting forum
Join thought-provoking conversations, follow other Independent readers and see their replies