All smiles in Bahrain as Valtteri Bottas beats Lewis Hamilton to secure first pole position of his career
Hamilton embraced his new team-mate warmly and offered genuine congratulations despite being pipped to pole position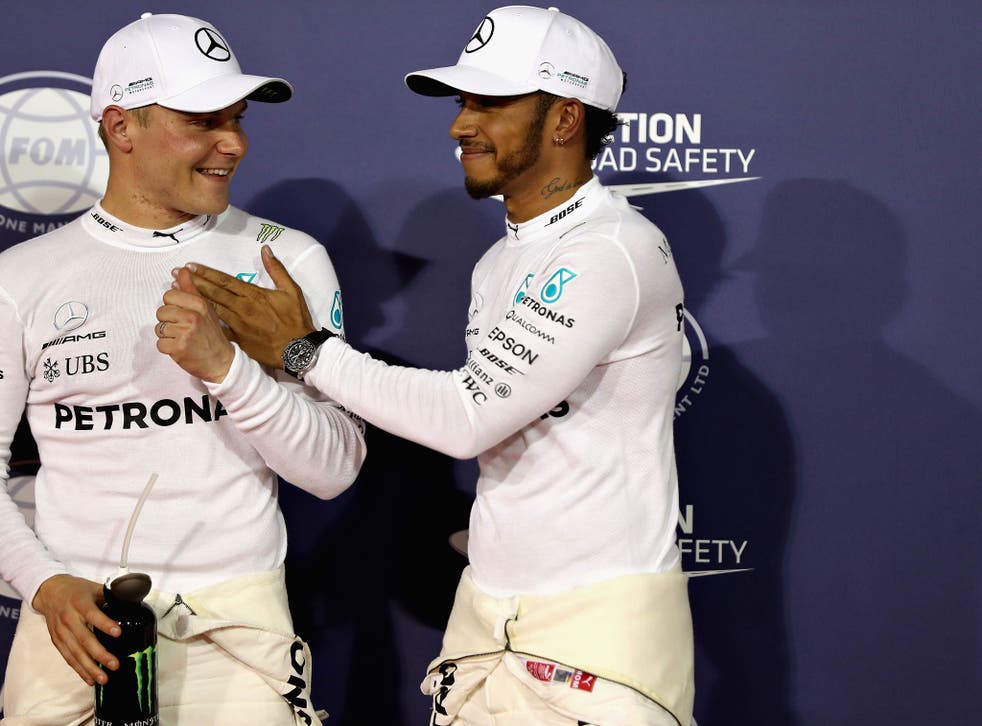 At Mercedes they have been making much of the lightness in the atmosphere within the garage, now that Valtteri Bottas has replaced 2016 world champion Nico Rosberg.
The German had a lifelong rivalry with Lewis Hamilton, which created many intra-team tensions during their battles for the championship since 2014. The relationship with the Finn is easier, and that showed when he beat Hamilton to pole position for the Bahrain Grand Prix this evening.
"Valtteri's arrival has lightened the mood completely," team boss Toto Wolff said. "There was a lot of baggage from the lifelong fight Lewis and Nico had been waging. Now it's much better."
Bottas, who is slightly more animated than countryman Kimi Raikkonen, but not a lot, smiled happily but looked almost embarrassed by all the attention. And it was Hamilton who showed greater emotion. Had he taken his customary pole he would have been on target to equal his idol Ayrton Senna's eight in a row; now he had been stymied. But he embraced his new team-mate warmly and offered genuine congratulations. So did third fastest Sebastian Vettel, who slapped his back as he offered his own kind words of encouragement in one of the most good-natured press conferences in recent F1 history.
Practice here had been a frustratingly slow-burn process, with Hamilton's 2016 pole position time of 1m 29.423s appearing impregnable as drivers and teams battled to set-up their potentially much faster cars in horrible track and ambient temperatures as high as of 47 and 36 degrees C respectively. At one stage Hamilton called the daylight sessions "pointless."
But when qualifying began at 16.00 under the dark Bahraini sky, the temperatures had fallen to 31 and 29 degrees. Not much, but a huge amount to a beast as sensitive as an F1 car. Not much had changed when Hamilton headed Q1 with 1m 30.814s, but from Q2 onwards, it was war.
He headed that session with 1m 29.535s to Bottas's 1m 29.555s and Vettel's 1m 29.596s – six hundredths covering the three of them.
It couldn't last, of course. Mercedes always turn up the wick for Q3. But that only meant that Vettel dropped back. Bottas stayed glued to Hamilton.
Hamilton ruled the first runs, displacing Bottas' 1m 28.844s best with 1m 28.792s, as they at last smashed last year's figure. But the triple champion's second effort fell short, with 1m 29.012s. Bottas's did not. As he stopped the clocks with 1m 28.769s he became the first Finn in 168 races to sit on pole position for a grand prix. The last was Hamilton's team-mate Heikki Kovalainen at McLaren, at Silverstone back in 2008.
"First, congratulations to Valtteri," Hamilton said. "He's been working so hard, and today he was just quicker and he did a better job. My first run was okay, but already our times were close, and when I saw them I thought, 'Wow!' Then I lost quite a bit of time on my second run and he found some great pace. It was a great battle, like qualifying should be."
Shyly, Bottas acknowledged that, yes, the first pole of his career made him feel pretty good. "I'm very happy," he said. "It took a few races but I got it, and I hope it's the first of many. My first front row, my first pole. Big thanks to the team for giving me this great car to drive.
"This is not an easy track on which to get everything right. It's quite technical and there are difficult braking points; it's easy to lock up or miss an apex slightly, and you need to get the car well balanced. I'm feeling a bit more comfortable with the car now and how it's behaving, I got in some good laps, and I felt I could pretty much extract the maximum from it. The more time you spend driving it, the more you get to be at one with it. It feels good to be making that progress."
Hamilton said that he relished the fights he's having this year, but when it was suggested that Bottas's performance had made it a three-horse race, he replied: "Valtteri has always been there. I love this, and when you have this level of competition, when you find that somebody else does a better job, it really brings out the best in you. I'm really happy that there are more than two of us in the mix. I'm thoroughly happy for Valtteri today, he really deserved it."
Now Bottas will be aiming to apply his own tweak to an old adage voiced initially by legendary US team owner Roger Penske: 'In order to finish first, first you have to be Finnish.'
"Tomorrow could be his first grand prix win, though I'll be trying my hardest to win," Hamilton added. "But if not tomorrow, he is going to win races this year."
Register for free to continue reading
Registration is a free and easy way to support our truly independent journalism
By registering, you will also enjoy limited access to Premium articles, exclusive newsletters, commenting, and virtual events with our leading journalists
Already have an account? sign in
Register for free to continue reading
Registration is a free and easy way to support our truly independent journalism
By registering, you will also enjoy limited access to Premium articles, exclusive newsletters, commenting, and virtual events with our leading journalists
Already have an account? sign in
Join our new commenting forum
Join thought-provoking conversations, follow other Independent readers and see their replies