Belgian GP: Red Bull door surprisingly reopens for Kimi Raikkonen
Team principal says nothing should be ruled out in search for new driver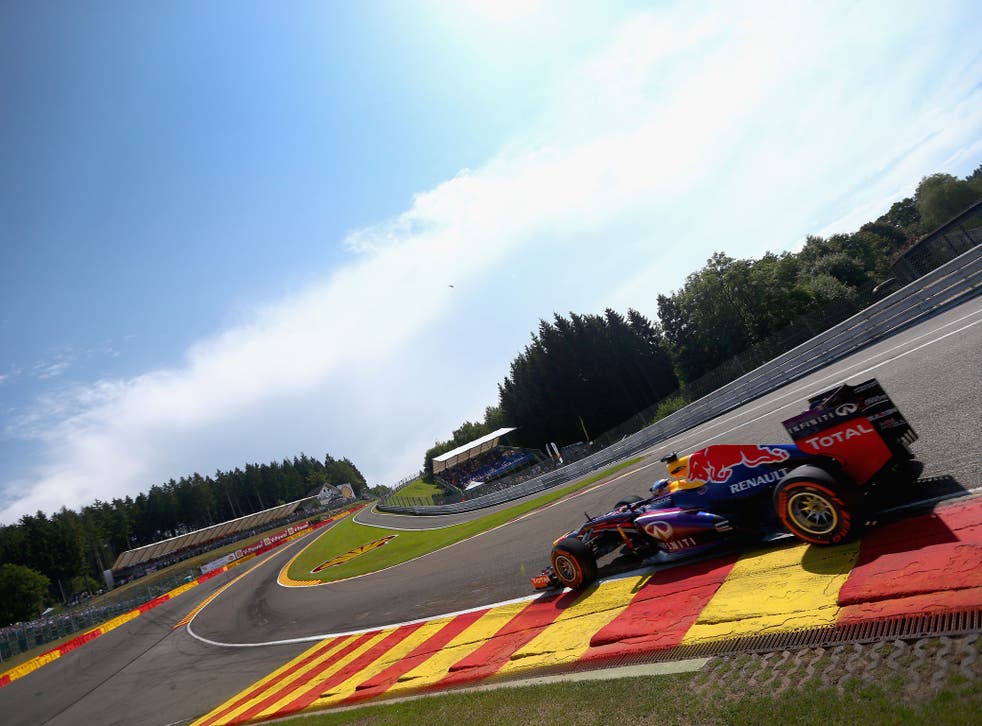 As practice got under way for this weekend's Belgian Grand Prix yesterday, Red Bull intriguingly left the door open for Kimi Raikkonen to join the team next season despite the Finn's manager saying earlier this week that after talks between the two parties a deal could not be done.
Red Bull's search for a driver to replace the retiring Mark Webber and partner world champion Sebastian Vettel has sparked a whirl of speculation, including the more fanciful idea that Fernando Alonso might even go there.
However, yesterday the Red Bull team principal, Christian Horner, stirred things up further by suggesting that the Finn, currently with Lotus, was still on Red Bull's radar for 2014 despite comments by the former world champion's manager, Steve Robertson, that "Kimi will not be driving for Red Bull in 2014. We held some talks but a deal will not be happening."
However, Horner was not so certain. "I wouldn't rule anything out at the moment," he said. "Nothing is fixed. We said we would take the summer to mull things over, but there is no commitment yet. We haven't made any commitment to our second seat. Kimi is very much his own man and I am sure that he will do what is best for him. It's up to him. We want to make the right decision and we will take the appropriate time to make that decision."
This could be why the Milton Keynes outfit are not, as some had expected, this weekend confirming Daniel Ricciardo of Red Bull's B team Toro Rosso as Webber's replacement.
Indeed, Horner appeared to distance himself from Ricciardo when he added: "Daniel has done a very good job in the test he has done for us, and the recent races he has done for Toro Rosso. But that doesn't mean it is a foregone conclusion."
After yesterday's morning practice had been rendered academic when the track refused to dry fully following a pre-session shower, Webber set the pace on both the hard and medium compound Pirelli tyres before Vettel beat his time of 1min 49.390sec by a mere 0.059sec. That left them eight-tenths of a second ahead of Lotus's Romain Grosjean.
Vettel's running was interrupted when his right rear Pirelli tyre punctured, and Alonso later said his Ferrari had also suffered a blowout. Since the Silverstone fiasco, Pirelli had mandated strict camber-angle and tyre-pressure settings, and banned teams from running uni-directional tyres the wrong way round to diminish wear.
That worked in Germany and Hungary, but yesterday's incidents inevitably reraised questions because Vettel's failure came at the end of a long run. "We don't know what happened," Vettel said. "We lost the rear right very suddenly, so we need to have a look. Pirelli are working on finding out why it happened."
Lewis Hamilton finished only 12th, struggling for grip, when Mercedes had expected to challenge the Red Bulls following his success in Hungary. "I'm struggling," he admitted. "The car doesn't feel as good as it did in the last race, with lower down-force levels here, but I'm still hopeful. I don't think the car is bad, I just think we need to refine the set-up. The Red Bulls are obviously very quick, but I don't think they're unbeatable."
Jenson Button was disappointed with 15th as team-mate Sergio Perez got more from his improved McLaren to set the eighth-fastest time. Button is still awaiting confirmation from McLaren that they will take up their option on him for 2014. "I think I have a contract for next year, but I don't think it has a signature on it yet, though," he said. "I really want to be here next year, because we'll be a much stronger team then."
Join our new commenting forum
Join thought-provoking conversations, follow other Independent readers and see their replies