Billy Monger wants to race again despite losing both his legs in Formula 4 crash, says team boss
The 17-year-old racer had his legs amputated after last weekend's crash but has already set his sights on a return to the sport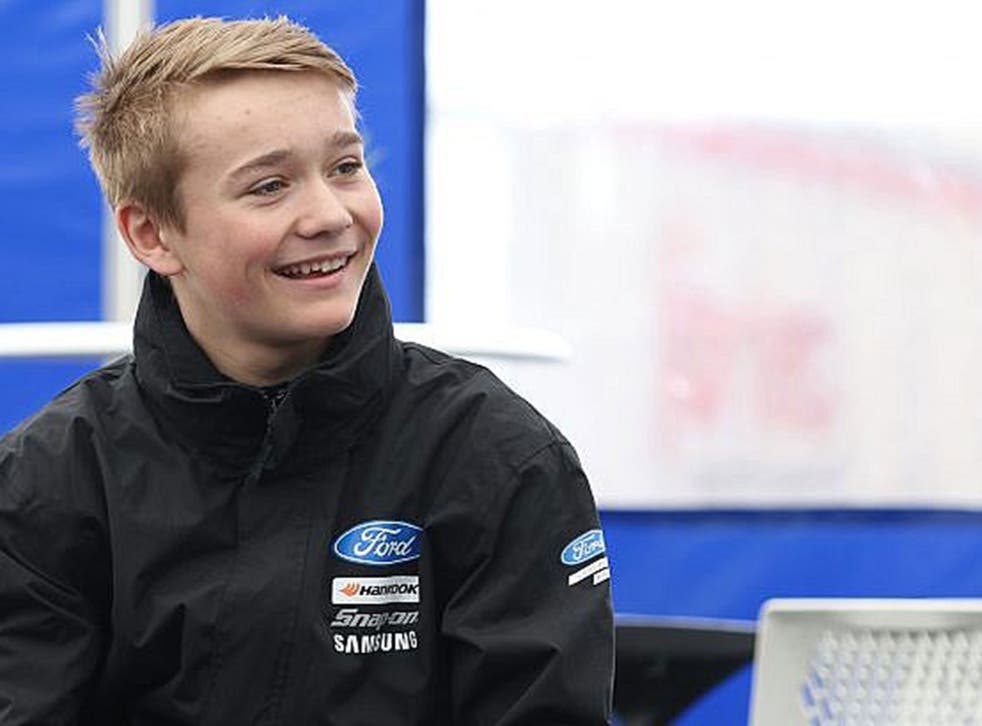 Billy Monger, the 17-year-old Formula 4 driver who lost both his legs following a high-speed crash at Donington Park on Sunday, has already said he wants to race again.
After colliding with another car which appeared to have stopped on the racetrack, Billy, from Charlwood, Surrey, was trapped for 90 minutes before being airlifted to Nottingham.
The teenager underwent a series of operations and has had both his legs amputated.
Despite this, Billy has already set his sights on returning to Formula 4.
Steven Hunter, head of Billy's JHR Developments team, said the 17-year-old was "a very, very positive young lad".
"He is aware of what's happened, I approached it with him, we all approached it with him at the time," he told BBC Radio 5.
"His answer to it was, 'we'll sort that', it was as simple as that.
"He's a very, very positive young lad. The first thing he started to do was work out how he would use a clutch with his hands."
Mr Hunter added that it has been a "heart-wrenching" time for everyone involved.
"He is an outstanding driver and a big part of what we do here. Yesterday we lined everyone up and just took some time to wish him well."
Mr Hunter said the moments after the crash were the worst.
"We saw the crash and our fears were as low as they could be, but all credit to the medical staff at the track and at the hospital, they have worked miracles.
"It has been heart-wrenching but from where we were after the crash to where we are now, everything has been in the right direction since.
"The pipes are out of his mouth and he spoke. He was hoarse but he just about spoke."
When the nature of Billy's injuries became clear on Wednesday, a JustGiving page was launched to raise funds for the young racer and has so far reached £575,000, exceeding its target of £260,000 in a matter of hours.
Formula 1 world champions Lewis Hamilton and Jenson Button have both thrown their support behind the cause.
Mercedes driver Hamilton, who has 4.32 million followers on Twitter, tweeted about Billy: "I have only just seen the news of this tragic incident."
He later added: "Thoughts and prayers are with you and your family, @BillyMonger".
Button, who donated £15,000, wrote on his Instagram account: "Hey guys, this fellow racer Billy Monger had a big shunt this past weekend at Donington and sadly Billy has had amputations to both legs.
"This guy needs our help so if you can please donate, I will be doing as much as I can to help this dude out."
Mr Hunter praised the motor sport community for coming together at such a difficult time as well as social media which has helped raise awareness with the hashtag #billywhizz.
"Motor sport is a very close community," he said. "We all are aware of the dangers as much as we're very good as putting it to the back of our heads as drivers.
"It's great to have Jenson Button, Lewis Hamilton, Felipe Massa, all the Formula 1 racers getting on board with it. Every single one of those drivers started in these series, so they don't forget what they've gone through to get where they are. It's great to see the whole motor sport community come together."
Billy's JustGiving page can be found here.
Register for free to continue reading
Registration is a free and easy way to support our truly independent journalism
By registering, you will also enjoy limited access to Premium articles, exclusive newsletters, commenting, and virtual events with our leading journalists
Already have an account? sign in
Register for free to continue reading
Registration is a free and easy way to support our truly independent journalism
By registering, you will also enjoy limited access to Premium articles, exclusive newsletters, commenting, and virtual events with our leading journalists
Already have an account? sign in
Join our new commenting forum
Join thought-provoking conversations, follow other Independent readers and see their replies