British Grand Prix 2016: Lewis Hamilton overcomes track limits setback to snatch pole from Nico Rosberg
Hamilton saw his opening time in Q3 deleted but signalled his dominance over Rosberg at Silverstone to seal his fourth pole around his home circuit for the British Grand Prix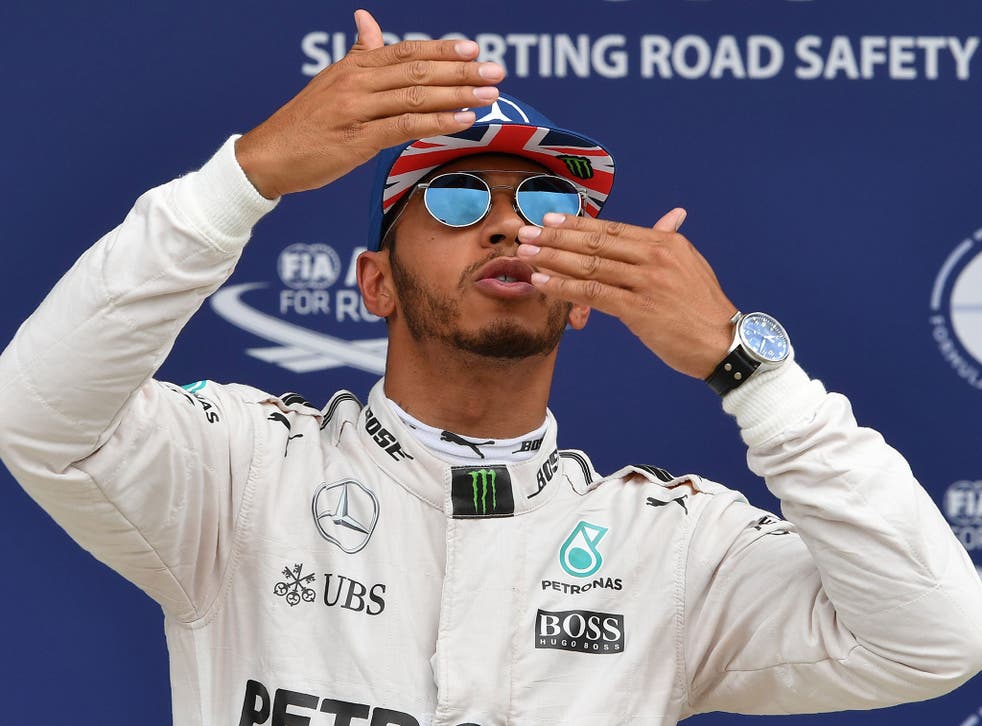 Lewis Hamilton took his fourth pole position at Silverstone to ensure he will start Sunday's British Grand Prix from the front after emerging unscathed from a difficult session that saw him have pole taken away by the race stewards before setting a second fastest lap.
Hamilton looked to be on provisional pole in Q3, only for the stewards to delete his time after running wide at Copse. This wasn't the first time track limits would come into question.
The three-time world champion would not be denied though, and as he returned to the track for his second and final run, Hamilton took pole ahead of Rosberg with a 1:29.287, over three tenths faster than the German could manage in his opening run that he failed to improve upon.
"There was a lot of pressure on that last lap but I knew I couldn't let those guys down," Hamilton said afterwards. "Thank you to the team for the amazing job we have done this weekend."
"The last lap was sensational, but very close once again," Mercedes non-executive chairman Niki Lauda told Sky Sports afterwards.
"Lewis here at Silverstone with all the crowd behind him is maybe [worth] one tenth."
British Grand Prix in pictures

Show all 11
The Mercedes pair lead the two Red Bulls on row two, with 18-year-old Max Verstappen out-qualifying Daniel Ricciardo for the first time this season, while a disappointing session for the Ferraris sees Kimi Raikkonen line up fifth ahead of Sebastian Vettel in sixth, the Finn recovering from a difficult Q2 to pip his teammate.
Valterri Bottas, Carlos Sainz, Nico Hulkenberg and Fernando Alonso round out the top 10, though two-time world champion Alonso saw his best time deleted that would have saw him start in eighth while Hulkenberg was relegated from eighth to ninth.
Hamilton's first run of Q2 proved to be not only the fastest lap around the revamped Silverstone circuit, but also the first time throughout the weekend where he had significant distance between himself and Rosberg. His 1 minute 29.243 second lap was nearly three-quarters of a second faster than Rosberg, while the two Red Bulls of Max Verstappen and Daniel Ricciardo were the best part of 1.5 and two seconds respectively off the pace.
It proved much more dramatic for Ferrari's Kimi Raikkonen, who spun on his opening lap as he exited the Club Chicane right at the start before running off at Village on his next attempt. Raikkonen would go on to make the top 10 with his final effort, although there were questions about his lap time after he went off the track with all four wheels on the exit of Luffied after lighting up his rear tyres.
The second phase of qualifying started in a state of confusion, with 2009 world champion Jenson Button sprinting down the pit lane to his car moments after being eliminated from qualifying. Button suffered damage to the rear wing on his McLaren during Q1 that prevented the home favourite from setting a genuine flying lap and also meant that he was sat in the pits while the second runs were being carried out, and the problem allowed both Daniil Kvyat and Kevin Magnussen to set faster lap times and relegate Button to 17th.
Believing he was out of qualifying, Button left the garage, only to be told that Magnussen may have exceeded track limits on his flying lap, and could have his time deleted. A decision from the stewards did not come before the start of Q2, and while Button climbed back into the cockpit just in case he was promoted up the order, the green light to start the session signalled the end of Button's hopes.
Button's teammate Fernando Alonso enjoyed a much stronger afternoon though as he made the final session of qualifying, although the same could not be said for the Williams of Felipe Massa, who could only manage 11th much to the disappointment of the Oxfordshire outfit. Both Massa and Button could well be fighting for a spot at Williams next season, but it was an afternoon to forget in the battle for 2017 selection.
The only driver not to compete in qualifying was Sauber's Marcus Ericsson, who missed the session after he was required to undergo medical tests at hospital following a high-speed accident in the morning's practice session.
Ericsson ran onto the astroturf on the exit of Stowe that resulted in the rear end stepping out and spearing him straight into the inside barrier in a frightening accident, his steering wheel coming off in the process as a result of the force of the accident lifting his knees up to release it.
Ericsson gave fans the thumbs up as he climbed out of the cockpit, but with extensive damage to his Sauber, it's questionable whether he would have made it out for qualifying without the necessary medical checks.
A post-qualifying investigation led to Rosberg being summoned to the race stewards, but he was soon cleared of any misdemeanour to avoid the risk of a grid penalty. Rosberg was investigated for driving "unnecessarily slowly" back to the pit lane, but it was soon cleared up that he was not returning to the pits on the lap in question and his supposed breah of article 27.5 did not apply as in only refers to in-laps.
Register for free to continue reading
Registration is a free and easy way to support our truly independent journalism
By registering, you will also enjoy limited access to Premium articles, exclusive newsletters, commenting, and virtual events with our leading journalists
Already have an account? sign in
Register for free to continue reading
Registration is a free and easy way to support our truly independent journalism
By registering, you will also enjoy limited access to Premium articles, exclusive newsletters, commenting, and virtual events with our leading journalists
Already have an account? sign in
Join our new commenting forum
Join thought-provoking conversations, follow other Independent readers and see their replies