British Grand Prix 2016: Murray Walker believes 'deep down Nico Rosberg may realise Lewis Hamilton is a bit better'
Mercedes teammates head into the British Grand Prix after their latest collision in Austria, but as Walker tells Jack de Menezes, something must give when two drivers are so desperate to win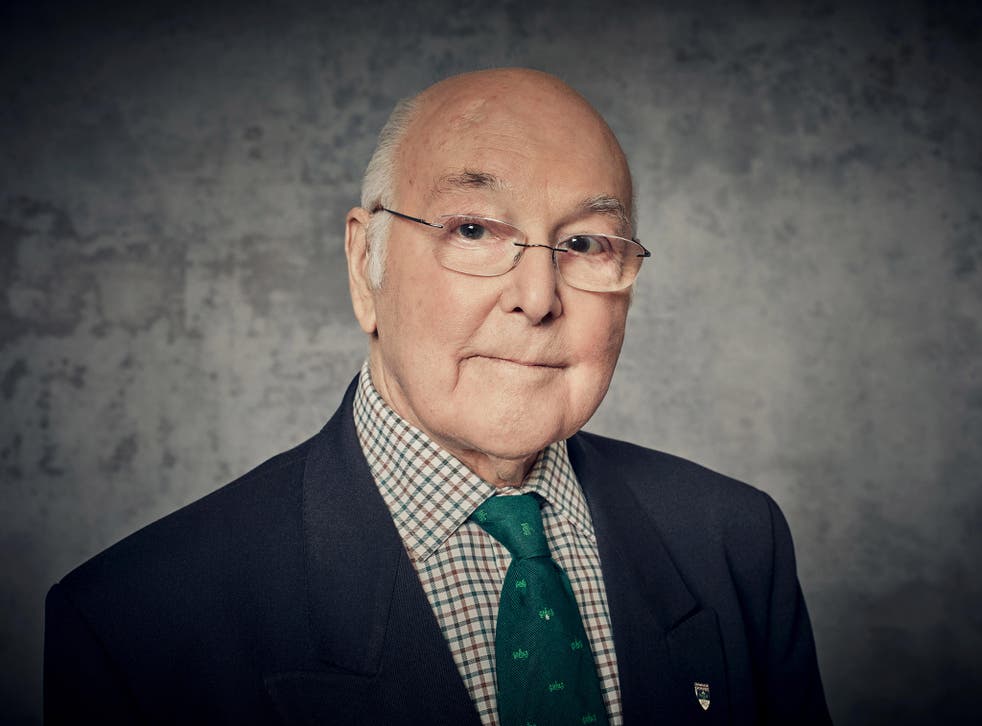 The fallout from the latest chapter in the fight between Lewis Hamilton and Nico Rosberg could well spill over to the British Grand Prix this weekend, given that Mercedes have decided against imposing team orders on their drivers despite last weekend's collision that cost them a one-two finish.
In the four days since Rosberg decided to try and run his teammate off the track on the final lap of the Austrian Grand Prix, Mercedes have been forced to decide how to control the two championship rivals as well as play down claims made by their own non-executive chairman, Niki Lauda, that Hamilton trashed his room in Baku in anger and lied about his relationship with Rosberg.
If anyone thought that the start to the season had been an unpredictable one, then they better hold on tight for the second half of the season.
Rosberg was deemed to be at fault for the crash – at least by the race stewards who sanctioned him with a 10-second time penalty after the race. Rosberg vehemently denied causing the accident, but it must be questioned whether deep down, after seeing the same replays that have been broadcast hundreds of times since the collision, he believes his own story.
Something that may also be lurking beneath his confident exterior is the possibility that Hamilton, a three-time champion, is a little bit better than him. Legendary Formula 1 commentator Murray Walker has watched the rivalry unfold over the past two-and-a-half seasons, and he believes that there may be the slightest bit of self-doubt within the German.
"I don't know, but I would be surprised if Rosberg wasn't thinking all the time not of Ferrari and Red Bull and Force India and Williams and all the rest, but of his teammate because he knows that Lewis Hamilton is the only person on that grid who has a car that is as good as his," Channel 4 pundit Walker says.
"I suspect that deep down in his heart he may realise that Hamilton is actually a bit better than he is, in my opinion. There's very little in it, very little, but when push comes to shove, put Hamilton in the same car as Rosberg and I think he will win."
Austrian Grand Prix in pictures

Show all 19
Last Sunday's accident, which resulted in Rosberg losing the lead of the race, a certain top-two finish and most crucially 13 points to Hamilton in the drivers' championship, was the third time in five races that the pair have collided. In Spain, their first lap accident took both out of the race and was deemed a racing incident, while the opening corner in Canada resulted in Hamilton drifting into Rosberg and forcing him across the grass to plummet down the field.
Walker isn't as quick to blame Rosberg though as the stewards were for the Red Bull Ring fiasco, and insists it's much easier to make a decision when not faced with the raw emotions and conflicts experienced behind the wheel that both will have experienced during that final lap.
"Well it's so easy to pontificate about who is right and who's wrong when you're sitting watching a television set and you're not in the cockpit and it's not your decision," adds the 92-year-old, who also reveals that he still enjoys every single race weekend.
"It's my personal opinion that Rosberg was desperately – and I mean the word desperately – trying to win the race in the very last stages, he knew he was in danger of being passed by Hamilton and he was determined to stop him, and he stopped him in the way he did by running wide, and it's easy to say he shouldn't have done that. If the red mist is in front of you and the victory is at hand, you're going to do what it takes."
Hamilton was booed throughout the podium ceremony due to a mixture of a partisan Austrian-German crowd and a miscommunication on the circuit tannoy that the Briton was to blame. Who looked slightly uncomfortable with the reaction from the fans, though that will be vastly different if he repeats his feat from last year and steps out onto the top step at Silvestone on Sunday afternoon.
He may draw a mixed reception among the wider community, but British motorsport fans have developed a warm affection for Hamilton over the nine years since his first F1 outing at the Northamptonshire track. Yet Walker still believes that the 31-year-old is yet to achieve the same relationship with the Silverstone faithful that his good friend Nigel Mansell achieved in the late 80s and early 90s.
Hamilton can match Mansell's four British Grand Prix victories with success on Sunday, with only Jim Clarke ahead in terms of home victors with his tally of five. Walker though believes Hamilton's bond with the fans is yet to reach the heights of Mansell's Silverstone love affair, though he does admit that the reigning world champion isn't far off.
"Well when I think back over the years I've got so many fond memories from [Giuseppe]Farina winning the first one in 1950 up to last year's," Walker recalls. "I suppose if I had to pick one out in particular, it's one of the ones – and he won several – that my mate Nigel Mansell won because there you had a great showman in a great car with virtually everybody that was watching at Silverstone willing him to win, and he did so. Mansell and Silverstone are inseparable as far as I'm concerned.
"I think there is what I would call a comfortable relationship between Hamilton and the fans. Whenever I talk to anybody I ask 'who do you want to win' and it's all Lewis, it's always Lewis, but it is not as extreme, it is not as fanatical as it was when Nigel was racing.
"Nigel had something about him, this man of the people characteristic in a way that he would sign autographs non-stop, the way he would talk to people and his general personality meant that the crowd loved and respected him more I think than Lewis. But that's not taking away from Lewis, there's no taking away from the fact that Britain is for Hamilton."
Britain certainly is for Hamilton, and as he returns home for his tenth British Grand Prix, there's an air of expectation on his shoulders. If he can go trouble-free through Friday and Saturday, there is nothing stopping him from disappearing into the distance come Sunday, yet if he gives Rosberg the slightest sniff of an advantage, then Mercedes may have one enormous decision on their hands.
Watch the British Grand Prix on 10th July Live on Channel 4, the home of free-to-air Formula 1 in the UK with live coverage of ten Grand Prix this season and highlights of every race weekend. Visit f1.channel4.com for more information.
Register for free to continue reading
Registration is a free and easy way to support our truly independent journalism
By registering, you will also enjoy limited access to Premium articles, exclusive newsletters, commenting, and virtual events with our leading journalists
Already have an account? sign in
Register for free to continue reading
Registration is a free and easy way to support our truly independent journalism
By registering, you will also enjoy limited access to Premium articles, exclusive newsletters, commenting, and virtual events with our leading journalists
Already have an account? sign in
Join our new commenting forum
Join thought-provoking conversations, follow other Independent readers and see their replies