Damon Hill interview: Lewis Hamilton has it tougher as the leader
The 1996 world champion has been there and done it, both as winner and last-ditch loser, so he knows exactly what Lewis Hamilton faces next weekend. One of F1's deepest thinkers shares his psychological insights with David Tremayne
David Tremayne
Friday 14 November 2014 20:34 Comments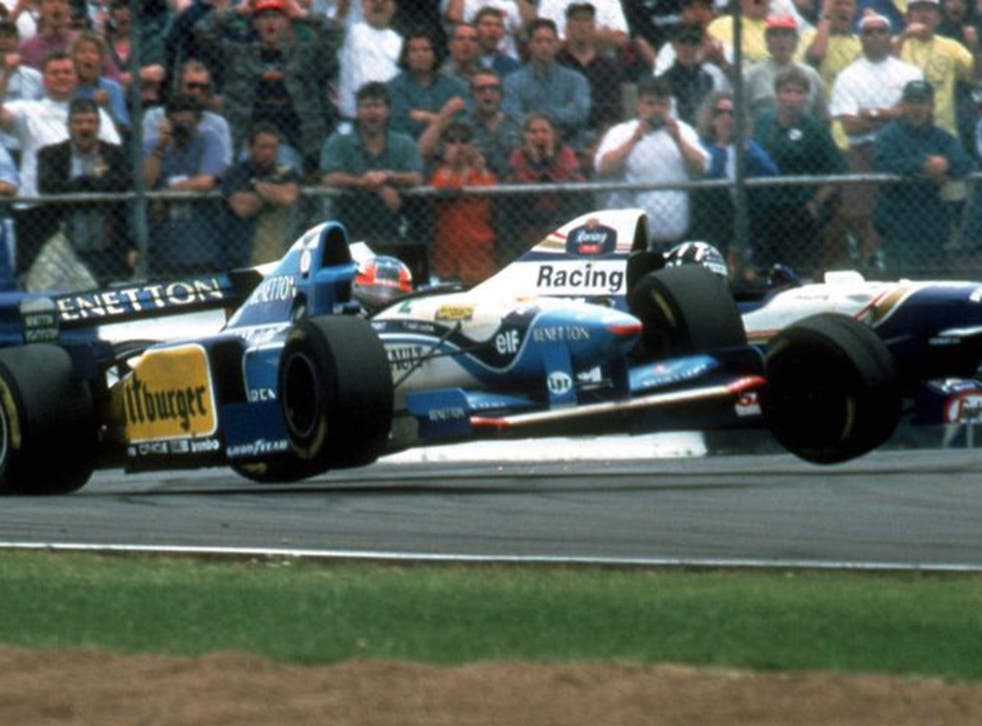 Damon Hill knows exactly how Lewis Hamilton and Nico Rosberg will be feeling as they head to Abu Dhabi next weekend for the finale that will decide which of them ends the season as Formula One world champion. And, like Hamilton, he knows how it feels to fail, and to succeed.
In 1994 he was turfed out of the Australian GP by Michael Schumacher, who had just crashed and apparently ruined his own chances. Two years later Hill emulated his father, Graham, by clinching the crown in Suzuka.
"I don't care who you are or how cool you might think you are, between now and the championship it's really difficult," Hill says. "I think it's always harder for the person who's leading. I think the guy who's hunting has kind of resigned themselves, partly, to the possibility of not winning, whereas the other one's got it all to lose.
"You see it in golf all the time. You try and hang on to a lead for the last four holes in a major, suddenly that makes you start thinking about what you're doing. If you can relax, terrific. If you can actually enjoy it, then you've got, I think, more chance of performing well. That's not to say you don't focus as hard as you've ever done in your life. That's a part of this too."
Often underrated, Hill has always been brutally honest with himself and remains one of the most intelligent and deep-thinking men to have won the crown.
"A competition as big as the Formula One World Championship brings out every last bit of whatever performance you have," he says. "It just does, because the occasion makes you perform. There's no way in the world that I could have performed to that level for anything else, I don't think. It just wouldn't have happened. I couldn't have made myself do it. There's something that conspires in this mist that makes you soak up the moment and be a crucible for it all to take place."
Is it also possible, because of that, that you can be too introspective about it, dwell on all the cracks in your character as well? "Absolutely," Hill agrees. "I think the quote, 'sport doesn't build character, it shows character,' is a good one because it shows our flaws, it shows our weakness. We're all flawed, we've all got weaknesses.
"I've learnt a lot since I stopped racing that I wish I'd known while I was racing. But you don't learn it then. Every generation looks back and thinks, 'Oh I see where they went wrong, that won't happen to me.' So as you're growing up you tend to think, 'No, no, I'm indestructible. I'm not going to fall into that trap.'
"I think you've got to have an open mind and you've got to take on board people you respect's opinions and consider whether that's applying to you. So yes, I think that you can overthink this.
"But if you can somehow have understood certain fundamentals before you get to the crisis moment, or the moment you've been waiting for all your life, then you're better prepared.
"I think someone like Jackie Stewart, the great drivers, they took on board advice from people they respected and they've always wanted to know where they can be better. They never went into it thinking they knew it all, and I think the ones that do that come a cropper somewhere. You can be overconfident. I think it's not wise to think you don't need to learn."
Sometimes, the way to relax when something so crucial to you is at stake is to trick yourself into thinking that losing wouldn't really matter that much…
"I did quite a lot of research into how the mind works when I was racing in Formula Ford and Formula Three," Hill admits. "When you're leading a race and you've got someone breathing down your neck, how do you concentrate? All these things. So I think I'd understood that there were psychological factors and you can learn tricks to help you cope with those distractions.
"Now it's much more advanced than it was back then, but I remember reading something about David Hemery, the hurdler. He experimented with alleviating pressure by thinking of yourself as not having anything to lose and he lost a race because he thought himself into the mindset of someone to whom it actually didn't matter if he lost. So you can go too far.
"It always does matter. So to say to yourself, 'It doesn't matter if I lose,' that's not a good way. It will matter – it will matter more than anything – but at the same time you've got to be prepared for the possibility.
"I would say I realised that losing was a possibility but if I'd done everything I could and I tried my hardest and gave it 100 per cent, then if that did happen I wouldn't feel so bad about it as if I hadn't given everything I'd got. That's the position I got myself to."
As Hamilton and Rosberg go into the arena for the last time in 2014 next weekend, both will have been asked 1,000 times how they are feeling and whether they will win, to the point where they will be sick of it. Hill acknowledges that there is no way to insulate yourself from that.
"You can't do that, especially in this environment, because you've constantly got to feed the media and the interest. I got to the point where I was enjoying being in the moment, do you know? It's a good trick to learn. There's always a bit of luck but there's also what you did for yourself in preparation for what's coming up."
He laughs. "I'll tell you a story, which I think highlights the way you feel. When the astronauts Neil Armstrong and Buzz Aldrin came back from the moon they were put in an isolation box because Nasa didn't know if they had any bugs on the moon and stuff like that. And to keep them entertained they gave them the videotapes of their mission, and they were watching these tapes of themselves landing on the moon and Aldrin turns to Armstrong and says, 'Hey, while we were away we missed the whole thing!'
"When you're in that situation, you can't see what everyone else is seeing. You've got a perspective that's totally different. You'd love to go home and watch it on TV but you're doing it, you can't."
So how will Hamilton and Rosberg be approaching their final showdown?
"You reset the task. The task is to become world champion. If either has a mechanical problem, there's nothing you can do about that. It happens. It would be tragic if Lewis didn't win the World Championship this year, because then he didn't win it because Mercedes let him down, to be honest. There's no question. So we're in a bit of an awkward situation, but there's no good getting cross or blaming anyone else. That's what it is.
"I think the right approach is to just look at it as a race to become world champion. Win this and become world champion. And he doesn't even have to win it, so he's in a curious position."
Sky Sports is showing the last race of the season in Abu Dhabi as part of an autumn of sport on Sky
Register for free to continue reading
Registration is a free and easy way to support our truly independent journalism
By registering, you will also enjoy limited access to Premium articles, exclusive newsletters, commenting, and virtual events with our leading journalists
Already have an account? sign in
Join our new commenting forum
Join thought-provoking conversations, follow other Independent readers and see their replies