Exclusive: Bernie Ecclestone bribery trial to be fitted around his F1 schedule
The 83-year-old billionaire has been in F1's driving seat for nearly 40 years but his position is now under threat
Christian Sylt
Wednesday 05 March 2014 00:39 Comments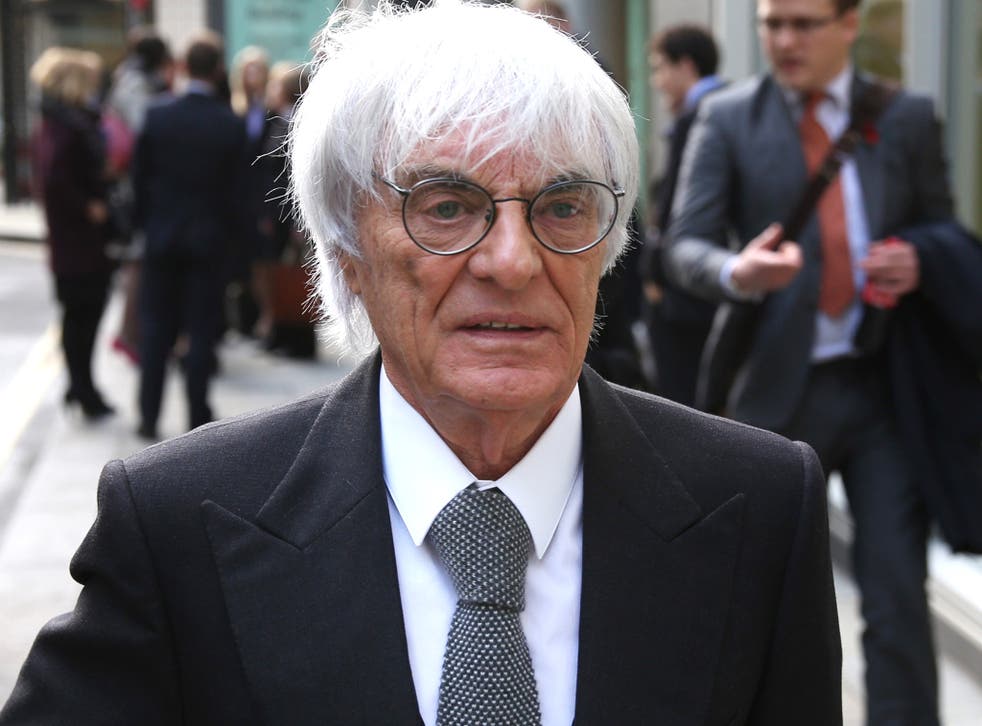 Bernie Ecclestone has revealed that prosecutors have agreed to schedule hearings in his forthcoming bribery trial in Munich just on Tuesdays and Wednesdays so he can continue to run Formula One and travel to races at the same time.
Ecclestone was speaking at length for the first time since a High Court judge ruled he had paid a bribe to steer the sale of F1 to the private equity firm CVC in 2006. He vowed that the truth will come out in the trial and added that F1's reputation has not been dented by the scandal.
Ecclestone has been in F1's driving seat for nearly 40 years but his position is now under threat. When the trial against him was announced in January he resigned as a director of F1's parent company Delta Topco and if he loses in court he could face a prison sentence. Yet that prospect has made him all the more defiant.
"Of course I can run the company at the same time as doing the trial in Germany," the 83-year-old billionaire told The Independent at a meeting in a London hotel.
"I am in court for two days a week on Tuesday and Wednesday. The judge did it so I am able to go to races at the weekend. I will probably go on Monday nights, because I have to be there at 9.30am, stay Tuesday night and come back Wednesday. He said we will get the hearings on Wednesday out of the way before 5pm so I can leave."
However, Ecclestone admitted that he would need help to run F1 while the case is ongoing. He will not hire a second-in-command but instead, "one or two people here that have been a bit shy on working will have to get their act into gear. I'm going to be bloody busy doing so much that I'm going to need some help or something from internally," he said.
Ecclestone's legal difficulties stem from a $44m (£26m) payment made by him and his Bambino family trust between 2006 and 2007. The recipient was Gerhard Gribkowsky, a former executive at German bank BayernLB (BLB) who was responsible for selling its 47.2 per cent stake in F1. Prosecutors believe that the payment was a bribe to steer the sale of the stake to the private equity firm CVC as it had agreed to retain Ecclestone as F1's chief executive.
Bambino and F1's two remaining shareholders, the investment banks JP Morgan and Lehman Brothers, followed BLB and sold to CVC giving it control of F1. Ecclestone denies paying a bribe.
Last month Ecclestone won a related civil case in London's High Court in which he was accused of undervaluing F1 through the alleged bribe because other bidders may have paid more than CVC. Although Ecclestone won the case, the judge, Mr Justice Newey, ruled that "the payments were a bribe... Mr Ecclestone's aim was to be rid of the banks. He was keen that their shares should be transferred to someone more congenial to him."
Register for free to continue reading
Registration is a free and easy way to support our truly independent journalism
By registering, you will also enjoy limited access to Premium articles, exclusive newsletters, commenting, and virtual events with our leading journalists
Already have an account? sign in
Join our new commenting forum
Join thought-provoking conversations, follow other Independent readers and see their replies