F1 2017 heralded as an 'exciting' new era, but that shows just how far the sport has fallen
Formula One is back, apparently, but for all the 'excitement' there has been just one on-track overtake for the lead in four Grand Prix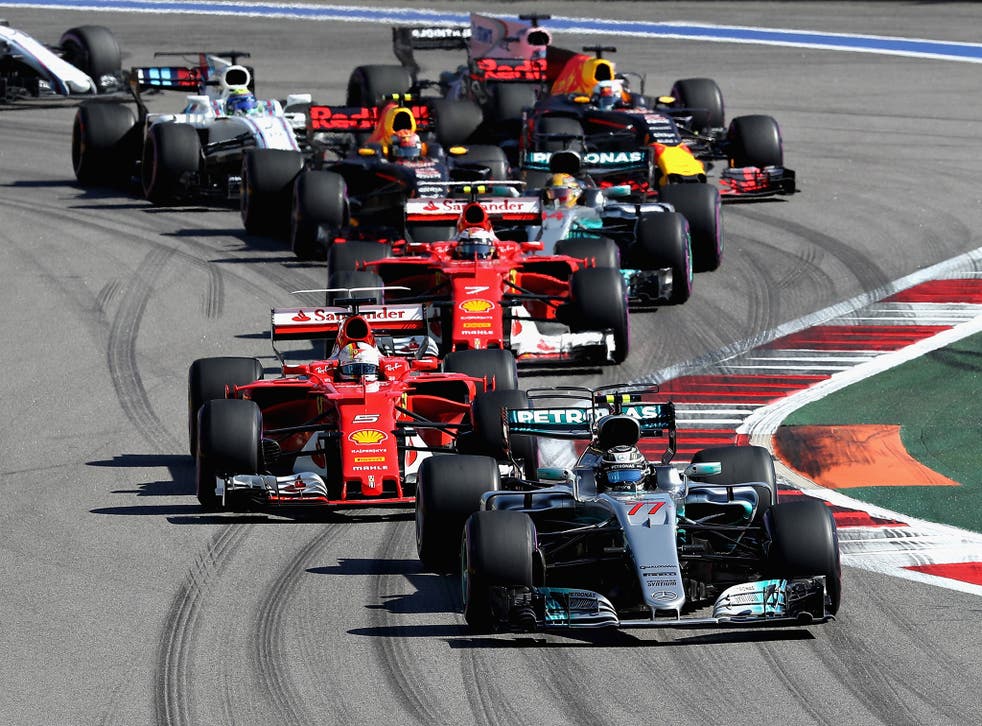 Four races, three different winners and an unpredictable title battle is evidence that Formula One has come back to live this season, and not before time either.
Sunday's Russian Grand Prix saw the arrival the 107th Grand Prix winner in Valtteri Bottas as the Mercedes driver proved that he is much more than just Lewis Hamilton's back-up. The Finn finished more than 36 seconds ahead of Hamilton, beat both Ferraris and jettisoned himself into the title picture, and in the process began to justify Mercedes' decision to select him as Nico Rosberg's replacement at the start of the year.
His victory follows a surprise win for Sebastian Vettel in Melbourne, an impressive response from Hamilton in Shanghai and a smart strategy from Ferrari to carry Vettel to victory in Bahrain.
But is all this excitement just a veil for what is the same old problem?
Beyond Bottas' lightning start off the line to pass both Vettel and Kimi Raikkonen in Sochi, there was not a single overtake for the lead during the entire Grand Prix, and this follows the example set in Australia, China and Bahrain, where the races were decided in the pit lane.
One on-track overtake for the lead of a race hardly spells out entertainment, and the case for F1 going nowhere fast isn't helped at all when you compare the sport to rival classes. MotoGP has seen wheel-to-wheel action already this season, while British Superbikes has offered up three winners in six races and overtakes-galore in its three rounds this year. Of course, overtaking is much, much easier on a machine that's around 30 inches wide as opposed to two metres.
However, the action witnessed in the two rounds of British Touring Cars so far along with the Six Hours of Silverstone in the World Endurance Championship, with five different winners from six races in the ultra-competitive BTCC and Toyota and Porsche going toe-to-toe at Silverstone, along with competitive battles in LMP2, GTE Pro and GTE Am.
Comparing F1 to these classes can sometimes feel unfair, but it shouldn't. F1 is meant to be the pinnacle of motorsport, and quite frankly it isn't. The last three years have been dominated by one team, and the four years before that another, meaning that the only reason why it's apparently a thrilling season is due to the emergence of a second race-winning car. Even for the most die-hard petrolhead, a race of 20 cars where only four have a realistic chance of winning doesn't sound that enticing.
The new owners of F1, Liberty Media, clearly have work to do, although their initial steps look to be in the right direction. However, if they're to save the sport from the waves of criticism it receives each Grand Prix weekend, they need to find a way to improve the competitiveness at the front of the grid. Only then will shelling out the hundreds of pounds that watching F1 costs sound like a worthwhile option compared to a weekend at Brands Hatch watching the best of British cars and motorbikes where the winner can be one of tenfold.
Join our new commenting forum
Join thought-provoking conversations, follow other Independent readers and see their replies