The Independent's journalism is supported by our readers. When you purchase through links on our site, we may earn commission.
F1 Canadian Grand Prix: Red Bull's Daniel Ricciardo stuns Mercedes to claim first GP victory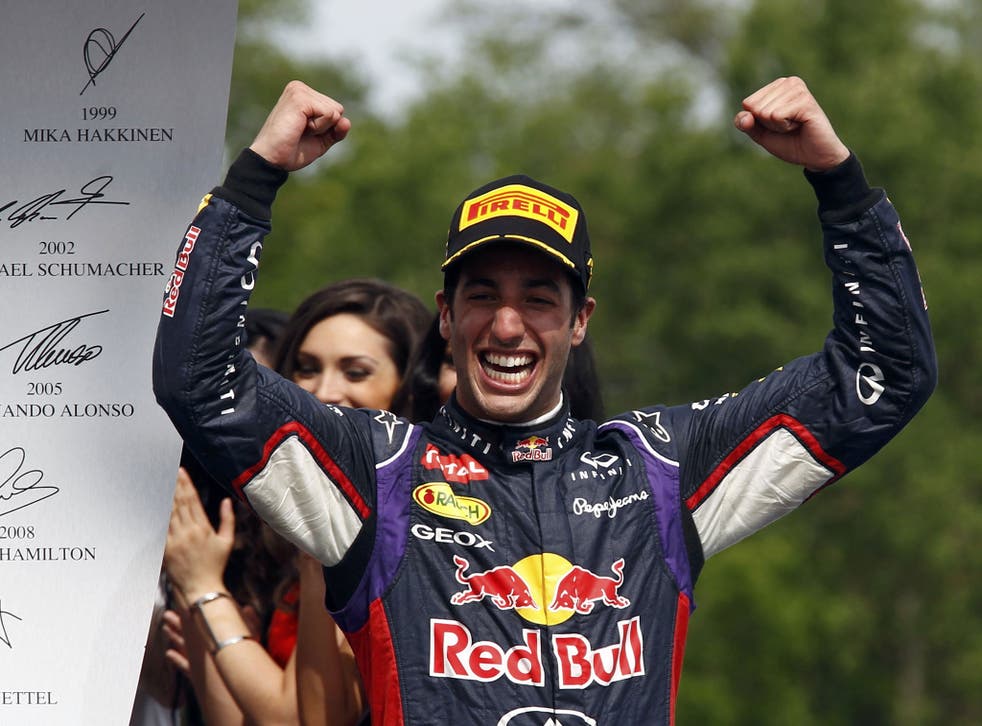 Daniel Ricciardo came of age on Sunday as he overtook Nico Rosberg with three laps to go to score his first grand prix victory at the Circuit Gilles Villeneuve and give Red Bull their first of the season as the Mercedes stranglehold was finally broken.
The nail-biting race really came to life in its closing stages as Rosberg nursed an ailing Mercedes and the top five cars circulated within two seconds of each other in a tense nip and tuck battle. But once Ricciardo had pounced on the valiant Sergio Perez, who had made only one pit stop to his rivals' two and was driving brilliantly to hold second place despite his Force India's fading brakes, Rosberg was vulnerable.
The German had just held on to his pole position advantage at the start as team- mate Lewis Hamilton moved alongside and fractionally ahead as they sped into the first corner, and as Hamilton lost momentum, Sebastian Vettel jumped him for second place.
The race was momentarily slowed when Jules Bianchi, Marussia's hero in Monaco a fortnight ago, lost control, hit the back of team-mate Max Chilton, and took both cars out in a heavy shunt. The safety car was deployed as debris and an oil spill were cleaned up.
By the 10th lap Hamilton had easily blown past Vettel, and then it was another straight fight between the two Mercedes drivers. On the 25th lap Hamilton's pressure nearly paid off when Rosberg locked up going into the final corner and had to go across the run-off area in order to avoid contact. That earned him a warning from the race stewards, and enabled him temporarily to double his lead, but Hamilton fought back until they were less than half a second apart. But then both began to experience loss of power, as their ERS energy recovery systems malfunctioned. Suddenly, Nico Hulkenberg's single-stopping Force India in third place was catching them.
Hamilton snatched the initiative when he and Rosberg made their final stops on the 45th and 44th laps, the lead passed momentarily to Williams' Felipe Massa. But Hamilton's ERS problem overheated his rear brakes and on the 46th lap it was his turn to overshoot the final corner after a mistake braking for the hairpin had enabled Rosberg to draft past again. A lap later it forced Hamilton into retirement.
"Things were looking good for a while and it was a great battle with Nico," he said. "But then we both began to lose power and after my brakes started to overheat there was nothing I could do."
Now it seemed that Rosberg had it made, especially when Massa made his second pit stop on the 48th lap. But the German was down on straightline speed, and gradually Perez and the Red Bulls of Ricciardo and Vettel began to move in, the Australian having passed his team-mate during their final stops. Further back, Hulkenberg was keeping Valtteri Bottas and his recovering team-mate Massa at bay, until Williams instructed the Finn to let the Brazilian by on his fresher rubber on the 57th lap. Then Massa was flying, setting fastest laps as he slashed a six-second deficit until with eight laps to go the top five were nose to tail.
Perez was struggling more and more with his brakes, and on the 65th lap Ricciardo finally got a good run on him to grab second place going into the first corner. With three laps left he breezed by the ailing Rosberg on the outside going into the final corner, to huge cheers.
"I didn't know what was going on," Rosberg admitted. "I'd lost a lot of power and was very slow on the straights and just tried to do qualifying laps. But it just didn't work out against Daniel…"
Further back, Perez continued to hold off Vettel and Massa until the 69th lap, when Vettel also overtook the Force India down the back straight. That set the scene for the final act of drama as Massa tagged the back of Perez as they crossed the start/finish line to begin their final lap. Both cars spun wildly before hitting the wall, thankfully without injury to either driver and with Massa missing Vettel by a hair, and the race ended under the safety car.
That final incident gave Jenson Button a surprise fourth place for McLaren ahead of Hulkenberg and Fernando Alonso, but all eyes were on a jubilant Ricciardo who couldn't believe how his day had ended.
"I'm still a bit in shock!" he admitted with his trademark dazzling smile. Listening to the raucous applause he observed: "This is ridiculous," as if he could not believe it was for him, then added, "But also nice! The race really came to life in the last 15 to 20 laps. We saw Hamilton have problems and that Rosberg was slow on straights, but I was really struggling to pass Perez whose car was very good on the straights. Finally I got a good run out of the last chicane and made a nice move in Turn 1, then I set my sights on Nico and found myself in the right spot to get him with my DRS. It's such an amazing feeling right now! I'm supposed to fly home tonight, but I don't think I want to celebrate on a plane!"
Vettel, beaten again by his new team-mate, was gracious on a crucial day for Red Bull. "Congratulations to Daniel, it's his day. The race came to us at the end, with big help from Mercedes, unlike all the other weekends."
Canadian Grand Prix: Results and standings
1 D Ricciardo (Aus) Red Bull 1hr 39mins 12.830secs
2 N Rosberg (Ger) Mercedes GP 1:39:17.066
3 S Vettel (Ger) Red Bull 1:39:18.077
4 J Button (GB) McLaren 1:39:24.585,
5 N Hulkenberg (Ger) Force India 1:39:25.673
6 F Alonso (Sp) Ferrari 1:39:27.699
7 V Bottas (Fin) Williams 1:39:36.408
8 J-E Vergne (Fr) Scuderia Toro Rosso 1:39:40.856
9 K Magnussen (Den) McLaren 1:39:42.084
10 K Raikkonen (Fin) Ferrari 1:40:06.508
11 S Perez (Mex) Force India at 1 Lap;
12 F Massa (Br) Williams at 1 Lap;
13 A Sutil (Ger) Sauber-Ferrari at 1 Lap;
14 E Gutierrez (Mex) Sauber-Ferrari at 6 Laps.
Not Classified: 15 R Grosjean (Fr) Lotus F1 Team 59 Laps completed; 16 D Kvyat (Rus) Scuderia Toro Rosso 47 Laps completed; 17 L Hamilton (GB) Mercedes GP 46 Laps completed; 18 K Kobayashi (Japan) Caterham 23 Laps completed; 19 P Maldonado (Ven) Lotus F1 Team 21 Laps completed; 20 M Ericsson (Swe) Caterham 7 Laps completed; 21 M Chilton (GB) Marussia 0 Laps completed; 22 J Bianchi (Fr) Marussia 0 Laps completed.
Driver Standings:
1 N Rosberg 140pts
2 L Hamilton 118
3 D Ricciardo 79
4 F Alonso 69
5 S Vettel 60
6 N Hulkenberg 57
7 J Button 43
8 V Bottas 40
9 K Magnussen 23
10 S Perez 20
11 F Massa 18;
12 K Raikkonen 18;
13 R Grosjean 8;
14 J-E Vergne 8;
15 D Kvyat 4;
16 J Bianchi 2;
17 A Sutil 0;
18 M Ericsson 0;
19 E Gutierrez 0;
20 M Chilton 0;
21 K Kobayashi 0;
22 P Maldonado0.
Manufacturers:
1 Mercedes GP 258pts
2 Red Bull 139
3 Ferrari 87,
4 Force India 77
5 McLaren 66;
6 Williams 58;
7 Scuderia Toro Rosso 12;
8 Lotus F1 Team 8;
9 Marussia 2; 10
Sauber-Ferrari 0;
11 Caterham 0.
Register for free to continue reading
Registration is a free and easy way to support our truly independent journalism
By registering, you will also enjoy limited access to Premium articles, exclusive newsletters, commenting, and virtual events with our leading journalists
Already have an account? sign in
Join our new commenting forum
Join thought-provoking conversations, follow other Independent readers and see their replies