F1 Canadian Grand Prix: Lewis Hamilton vows to hunt down Nico Rosberg but admits he'll need better fortune to recover from second DNF this season
Hamilton lost ground to his Mercedes team-mate in the Drvers' Championship and now trails by 22 points
Jack de Menezes
Monday 09 June 2014 08:26 Comments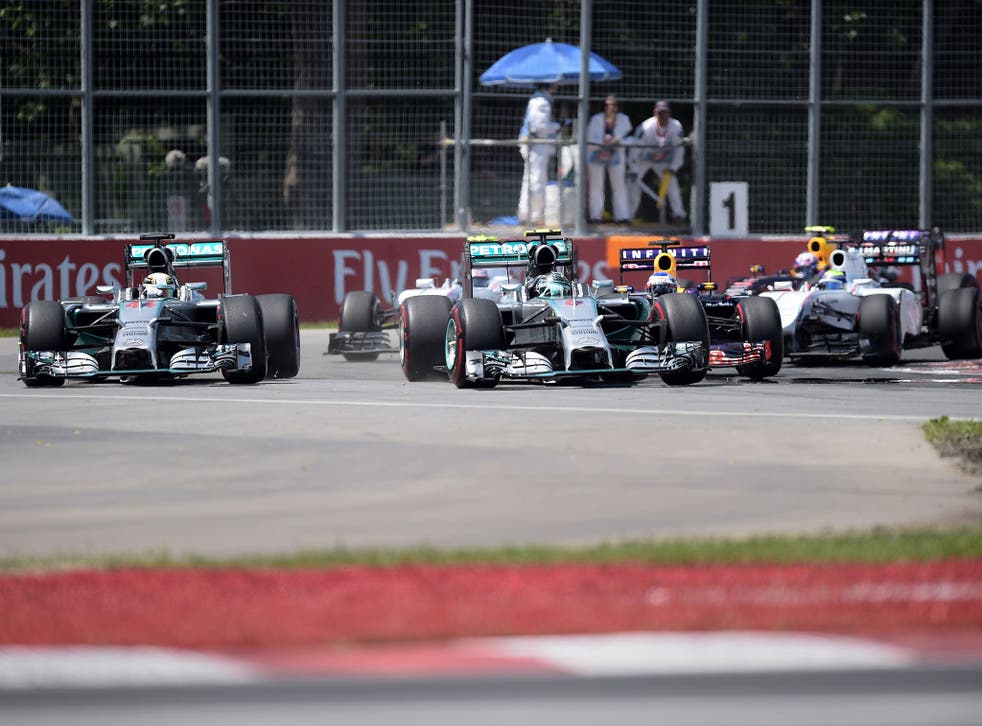 Lewis Hamilton has vowed to reel in Nico Rosberg for a second time in this season's Formula One world title battle after swallowing another bitter pill in Canada.
Dicing with Rosberg for the lead of the Canadian Grand Prix, Hamilton was forced to retire after 47 laps with rear-brake failure sparked by the loss of the ERS - his car's energy recovery system.
Although the ERS in Rosberg's Mercedes also failed, the 28-year-old went on to see the chequered flag, claiming second after being passed by Red Bull's debut winner Daniel Ricciardo two laps from home.
It means Hamilton is 22 points behind Rosberg, a crushing blow after previously clawing back a 25-point deficit from the opening race in Australia where he retired and Rosberg triumphed.
"I did the best I could out there and felt like I was having a strong race, but unfortunately it just wasn't our day," said Hamilton.
"There was nothing I could do about our issues. We were managing the loss of power, but as soon as I finally made the jump on Nico in the second pit stop, my brakes failed.
"There are no emotions other than I couldn't believe my car stopped and the other didn't, but that's the way it goes.
"Two DNFs (did not finish) is not helpful, but there's a long, long way to go. I've caught up before, so I'll catch up again.
"To not finish is disappointing, but there are plenty more races ahead of us this season so let's hope for better fortune."
Previously, Hamilton had to reel off four successive victories to finally edge ahead of Rosberg in the standings.
Given the performance of the Mercedes car, despite the gremlins on show at the Circuit Gilles Villeneuve, Hamilton feels it may take something similarly special.
"Naturally, for the team, I don't want either car not to finish so hopefully we don't have any issues on either car for the rest of the year," added Hamilton.
"That obviously means I'll have even more work to do to make up the lost ground, probably another four wins, and I'll do what I can to get those.
"We've good tracks coming up, and the one for me is I make sure I win at Silverstone (in the British Grand Prix on July 6)."
With the first victory of his F1 career, Ricciardo has moved up to third in the drivers' standings, albeit 71 points behind Rosberg.
After initially saying he was "in shock" with his victory, the 24-year-old Australian was then left naturally beaming with pride.
"It's an amazing feeling," said Ricciardo as he stood on top of the podium.
"It's going to take a little bit to sink in, but I'm so very proud. It was great to hear the Aussie anthem."
The race incorporated two major accidents, the first on lap one as Max Chilton's run of 25 consecutive finishes came to an end when he wiped out Marussia team-mate Jules Bianchi in the turn three-four chicane.
The second was on the final lap as Williams' Felipe Massa ran into the back of Force India's Sergio Perez, resulting in a heavy impact into the barriers for the duo, but with both men given the all clear following a trip to hospital.
Behind Ricciardo and Rosberg, four-times champion Sebastian Vettel completed the podium, with McLaren's Jenson Button taking advantage of the late mayhem to claim fourth.
PA
Register for free to continue reading
Registration is a free and easy way to support our truly independent journalism
By registering, you will also enjoy limited access to Premium articles, exclusive newsletters, commenting, and virtual events with our leading journalists
Already have an account? sign in
Join our new commenting forum
Join thought-provoking conversations, follow other Independent readers and see their replies