F1: Japan victory shows Sebastian Vettel can win in more ways than one after Christian Horner praises his versatility
The Red Bull driver is on the verge of his fourth consecutive world championship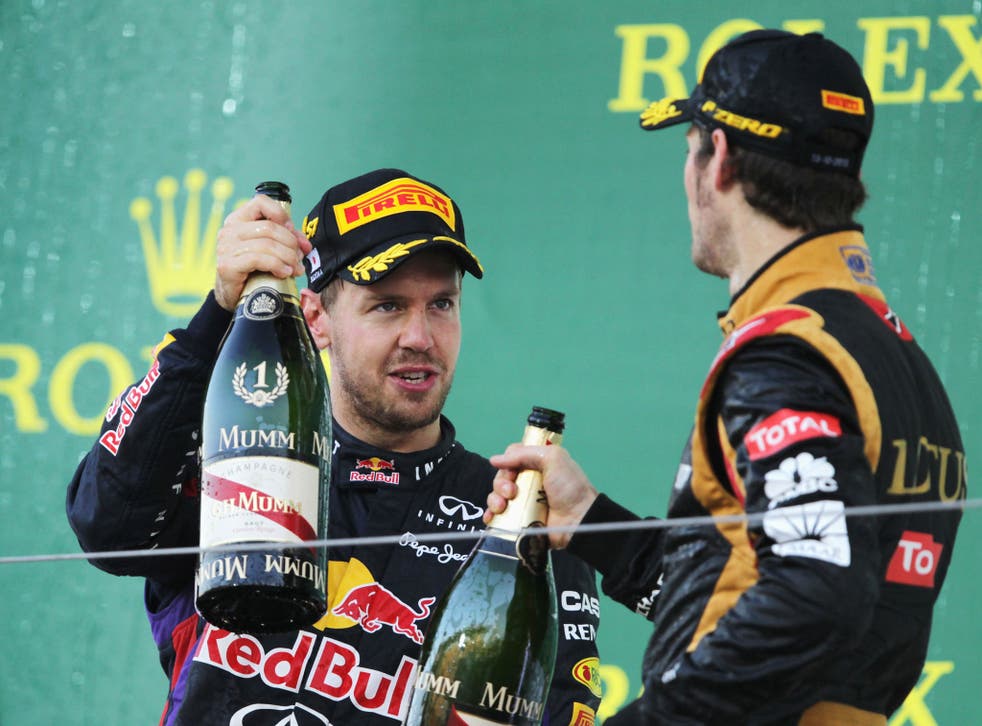 Red Bull team principal Christian Horner believes Sebastian Vettel proved in Japan he has more than one string to his bow when it comes to winning a race.
Vettel triumphed at Suzuka for the fourth time in five years, and at the fifth consecutive grand prix this season, to move within touching distance of his fourth successive Formula One world title.
But instead of blasting away from pole position and opening up a gap, as has become his modus operandi over the years, Red Bull and Vettel had to play a more tactical game.
From second on the grid, Vettel was beaten into the first corner by both the Lotus of Romain Grosjean and his own team-mate Mark Webber.
To complicate matters, Vettel sustained minor front-wing damage after it clipped and punctured the right-rear tyre of Lewis Hamilton's Mercedes.
It meant Vettel had to be patient and let the race and a two-stop strategy come to him, before pulling off the defining overtake when he passed Grosjean for the lead after his second change of tyres.
Assessing a very different victory for Vettel, Horner said: "He had a damaged car, and yet he just managed to adapt.
"He played the thinking game. He watched and he waited in that first stint, and he preserved the tyres.
"He was very smart in the way he handled the race. He created the options for himself by having the range in that first stint.
"He then did the same in the second stint by making the tyres go longer and further than any of the other drivers.
"And then when he had the one opportunity when he needed to nail Grosjean, he did so immediately."
That was in stark contrast to Webber, with the Australian on a three-stop plan.
But on a charge in the closing laps on fresh tyres, when it came to the critical moment to pass Grosjean to set himself up for a run at Vettel, the move failed, and with it his hopes of the win.
It left Vettel to again take the chequered flag and a shot at one of F1's all-time great records - Alberto Ascari's nine successive wins for Ferrari set over the 1952-53 seasons.
Asked whether Vettel could win the last four, Hamilton replied: "If he doesn't have any reliability issues, most likely. He's just walking it."
Horner can also sense Vettel is on the cusp of something special in the sport as he said: "Sebastian has won every race since the summer break, which is an incredible achievement.
"I don't think any of us could have imagined he would have had the success he has had. The way he is driving at the moment is quite supreme.
"But there are still four races to go, and our task is to carry our momentum into those races, with the next two in India and Abu Dhabi a different challenge."
PA
Join our new commenting forum
Join thought-provoking conversations, follow other Independent readers and see their replies