F1: Lewis Hamilton clarifies comments after claiming Sebastian Vettel dominance was boring fans
The German Red Bull driver is set for his fourth world title in a row
Ian Parkes
Tuesday 08 October 2013 13:43 Comments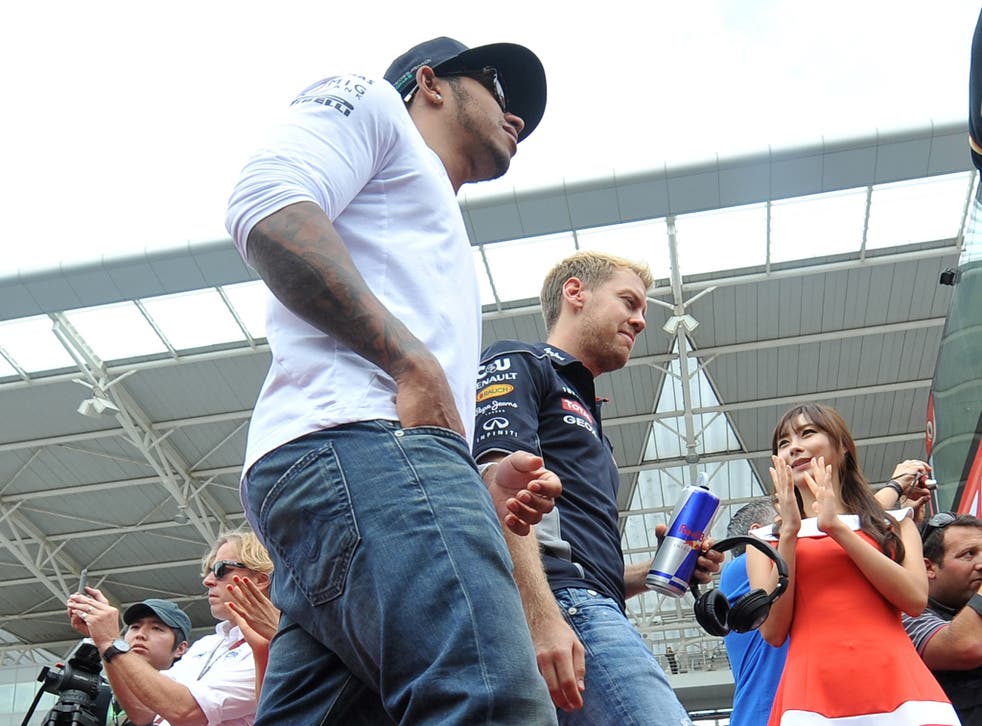 Lewis Hamilton has been forced to clarify comments after suggesting Sebastian Vettel was boring Formula One fans.
Hamilton voiced his frustration in the wake of Sunday's Korean Grand Prix as Vettel won his fourth successive race to stretch his championship lead over Fernando Alonso to 77 points.
With Vettel now on the brink of his fourth consecutive world title ahead of this weekend's race in Japan, Hamilton likened the 26-year-old's domination to that of Michael Schumacher a decade ago.
Following the Korean race, Hamilton said: "Personally I feel for the fans because I remember the period of time when Michael Schumacher was winning.
"I remember waking up in the morning to watch the start of the race and then going to sleep, and then waking up when it ended because I already knew what would happen.
"I am pretty sure a lot of people are doing that today."
In the wake of the stories highlighting his remarks, Hamilton has now posted a series of tweets on his Twitter account.
Hamilton wrote: "Read some of the stories/reports of my comments on Seb. Feel the need to clarify my thoughts. Seb is great champion!!
"Not only that, he is a great human being who is funny and humble. Deserves all the success he is having!
"I admire his dedication & ability to consistently perform without mistakes. This is the mark of a true champion."
But then Hamilton still could not resist making a pointed reference to Vettel's Red Bull that has swept aside its rivals not just these past few weeks, but past few years.
Hamilton added: "Regardless of what you & I may think about his car, at the end of the day he's doing the perfect job.
"I'm just grateful I get to drive in an era with so many great drivers like him. God Bless & have an amazing day!"
PA
Register for free to continue reading
Registration is a free and easy way to support our truly independent journalism
By registering, you will also enjoy limited access to Premium articles, exclusive newsletters, commenting, and virtual events with our leading journalists
Already have an account? sign in
Join our new commenting forum
Join thought-provoking conversations, follow other Independent readers and see their replies