F1 Russian Grand Prix 2015: Lewis Hamilton on verge of third world title after Sochi win as Nico Rosberg retires
An early throttle problem for Rosberg forced him out of the running in an exciting and dramatic race around the Sochi Olympic Park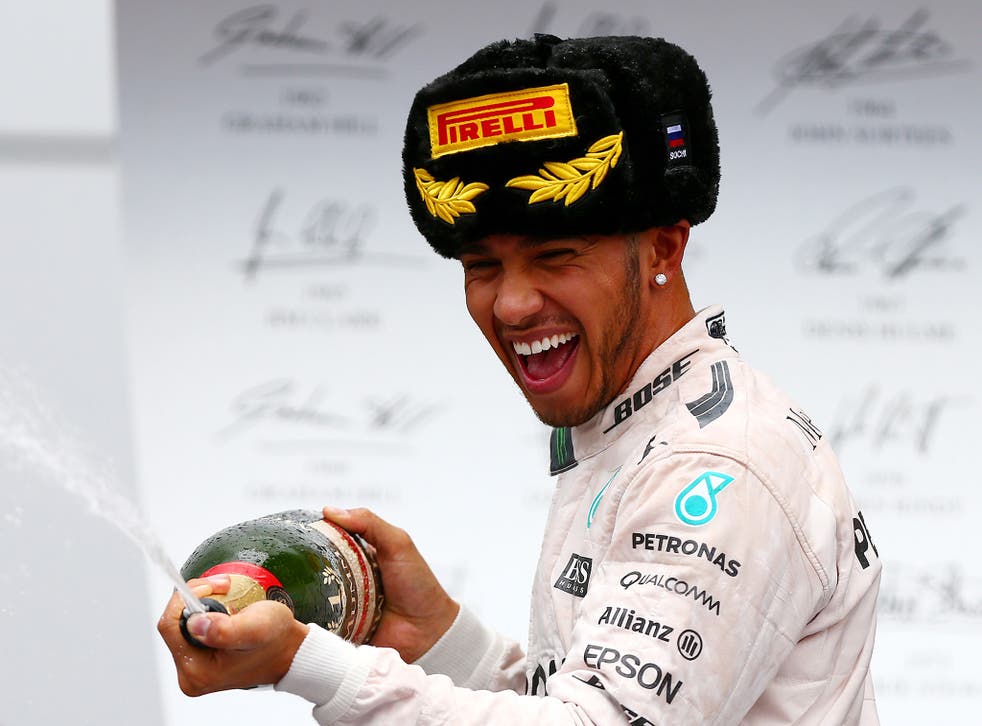 There were times when one could have been forgiven for wondering if Lewis Hamilton was participating in the Russian Grand Prix as his Mercedes appeared only fleetingly on television screens, but as he said after a similar situation in Japan: "I don't care as long as I'm out front!"
And he was, yet again, as he equalled Sebastian Vettel's score of 42 victories and moved ahead of his boyhood idol Ayrton Senna into equal third place overall. Hamilton's ninth win this season means he needs nine more points than Vettel and two more than Rosberg at the next race in Austin, Texas, in a fortnight's time to clinch the drivers' title on a day Mercedes claimed the constructors' version for the second year in succession.
From the moment Hamilton took the lead from team-mate Nico Rosberg, as the latter slid momentarily off the track on lap seven, he had this one in his pocket. When the race started, Rosberg kept his nose in front from pole. Hamilton drew alongside him on the long run down to Turn 2, but wasn't far enough ahead to be able to turn in.
He was pushing Rosberg hard, however, when the German hit trouble. His throttle was not closing fully when he backed off, driving his car wide in the corners. The problem could not be resolved, so he became the third retirement, a first-lap spin by Nico Hulkenberg having already resulted in a brief safety car intervention after his Force India had been hit by Marcus Ericsson's Sauber.
There was another safety car deployment on the 12th lap when Romain Grosjean crashed his Lotus heavily, although the Frenchman was unharmed. Hamilton kept his cool and had opened a lead of 13 seconds over Ferrari's Sebastian Vettel after the quadruple world champion had battled to outwit his team-mate, Kimi Raikkonen.

"I came out in front, so I probably enjoyed it little bit more than him [Raikkonen]," Vettel chuckled. "I tried outside in Turn 1 and that didn't work, so I paced myself. Then there was another safety car, so on the restart I tried it on inside and it was very, very close. But Kimi was fair and just gave me enough room."
Thus freed, Vettel was able to jump Valtteri Bottas' Williams in the pit stops and in the second half of the race he kept the pressure on Hamilton from a distance. Initially, Hamilton responded, but he began to sense a problem on his car – the team described it as "suspect performance" from the rear wing – and was obliged to focus more on that towards the end as the gap suddenly began shrinking.
Having been congratulated on his victory by President Vladimir Putin, Hamilton explained: "I don't think it was the DRS, but something was happening to the rear end of the car. That's the reason my pace started to decrease. But despite that, for me those last five laps were just about taking it all in, looking after the car, absorbing things and thinking that you never know how often you will be in this sort of dream situation. I was patting the side of the car and asking it to just do those final laps."
His victory gives him 302 points, with Vettel, now his closest challenger, on 236 and Rosberg staying on 229.
There was drama at the end of the race, too. Sergio Perez had made a set of soft tyres last 40 laps after making an opportunistic pit stop under the second safety car, but as they were losing their grip, Bottas and Raikkonen were closing in. A podium place was at stake, but Perez couldn't quite nurse his Force India home for it. Bottas finally overtook him on the last lap, with Raikkonen following through. But then the Ferrari driver made a rash dive inside the Williams, punching it off the road and damaging his own car. Suddenly, Perez was back on the podium, no more than he deserved. "If I couldn't make the podium, I thought, let's at least get good points," the Mexican said. "But then, on the last lap, they had contact, so it was great to come back and give the team a second podium."
The other stand-out drive came from Carlos Sainz. The 21-year-old made a brave return after his huge shunt in practice on Saturday morning and was a feisty points contender until brake problems forced him to retire.
Race stewards later dropped Raikkonen to eighth with a 30sec penalty for his collision with Bottas. The loss of six points was sufficient to give Mercedes the three more they needed than Ferrari to clinch the constructors' crown. It was a slightly anti-climactic ending, but you'd have been hard pressed to find anyone bothered about that in the happy Silver Arrows camp last night in Sochi.
Final Positions after Race (53 Laps):
1 Lewis Hamilton (Gbr) Mercedes GP 1hr 37mins 11.024secs,
2 Sebastian Vettel(Ger)Ferrari 1:37:16.977,
3 Sergio Perez(Mex)Force India 1:37:39.942,
4 Felipe Massa(Bra)Williams 1:37:49.855,
5 Kimi Raikkonen(Fin)Ferrari 1:37:53.382,
6 Daniil Kvyat(Rus)Red Bull 1:37:58.590,
7 Felipe Nasr(Bra)Sauber-Ferrari 1:38:07.532,
8 Pastor Maldonado(Ven)Lotus F1 Team 1:38:12.112,
9 Jenson Button(Gbr)McLaren 1:38:30.491,
10 Fernando Alonso(Spa)McLaren 1:38:37.234,
11 Max Verstappen(Ned)Scuderia Toro Rosso 1:38:39.448,
12 Valtteri Bottas(Fin)Williams at 1 Lap,
13 Roberto Merhi(Spa)Manor Marussia F1 at 1 Lap,
14 Will Stevens(Gbr) Manor Marussia F1 at 2 Laps
Not Classified: 15 Daniel Ricciardo (Aus) Red Bull 47 Laps completed, 16 Carlos Sainz(Spa)Scuderia Toro Rosso 45 Laps completed, 17 Romain Grosjean(Fra)Lotus F1 Team 11 Laps completed, 18 Nico Rosberg(Ger)Mercedes GP 7 Laps completed, 19 Nico Hulkenberg(Ger)Force India 0 Laps completed, 20 Marcus Ericsson(Swe)Sauber-Ferrari 0 Laps completed
More to follow...
Join our new commenting forum
Join thought-provoking conversations, follow other Independent readers and see their replies