F1 Singapore Grand Prix: Nico Rosberg happy with radio-silence rule but Lewis Hamilton not so sure
FIA will ban performance-aiding radio from this weekend
David Tremayne
Thursday 18 September 2014 23:08 Comments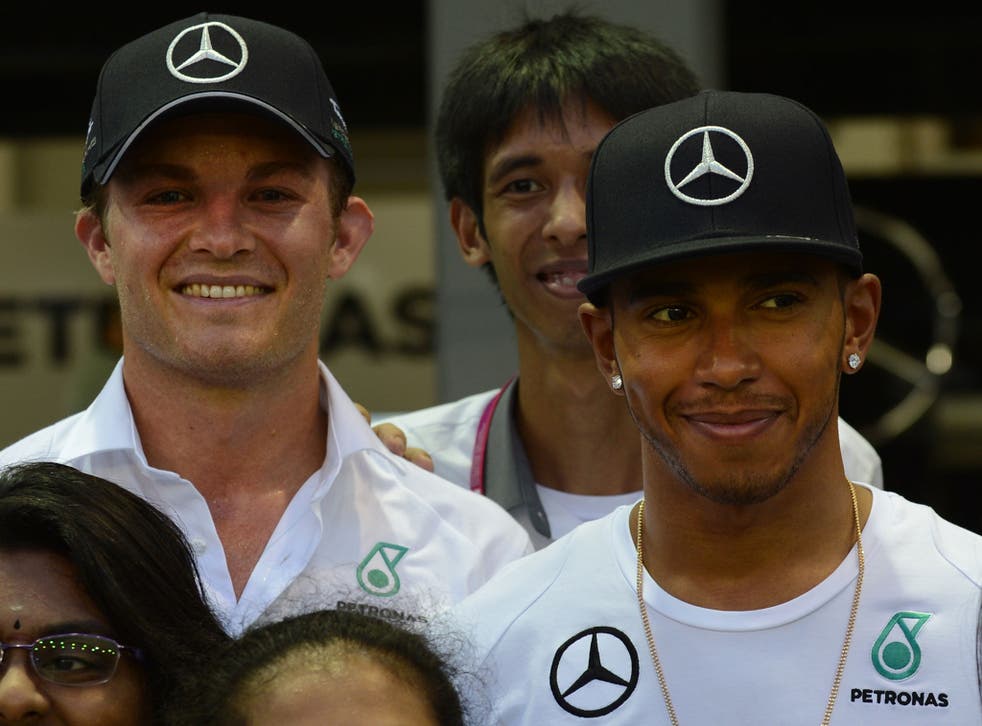 Nico Rosberg and Lewis Hamilton both put on brave faces on Thursday, saying they believe they will not be disadvantaged by the FIA's ban on performance-aiding radio communications between drivers and their engineers which comes into effect for this weekend's Singapore Grand Prix.
However, both have relied heavily on that all season and part of Hamilton's response revealed some concern about the change. "I quite like the idea," he said, "but in some ways it makes it harder. Like how are we to know what engine strategy to use?"
Following the Italian Grand Prix at Monza Formula One race director, Charlie Whiting, issued a directive that the governing body would take a hardline interpretation of Article 20.1 of the sporting regulations which requires the driver to drive the car "alone and unaided".
Crucially, teams may no longer give one of their drivers information of where their other driver may be gaining ground, and the driver must decide for himself which power unit, gearbox and/or differential settings to use. They won't be told other critical information either, such as the need for fuel saving, tyre temperatures or brake wear.
Conventional wisdom based on the sound bites broadcast on television suggests that Hamilton could be the loser. The Englishman is frequently heard seeking information on where to brake or which line to take into corners. Insiders suggest, however, that his German team-mate frequently needs help about which gear to use in each corner, and is the one who is more often advised of the need to save fuel.
It is all a part of their psychological battle, but is also a topic which has been the subject of increasing dissatisfaction from those who believe that such reliance has diminished the art of the racing driver. Now Hamilton and Rosberg, like all drivers, will have to make his own decisions, but the points leader in the drivers' championship appears more supportive of the change.
"In my opinion it's definitely a good thing, because it's just more pure racing," Rosberg said. "Until now we did so much based on what the engineers told us to do on the radio. Now it's up to us."
Hamilton was more circumspect: "It's going to be really important that we're on the same strategy, always," he said. "There's been a couple of times when Nico has been on a different strategy to me that gives either more or less power and those things disadvantage you. But so long as we don't have any problems there, the rest of it we'll manage.
"I hope it's a plus for me. I remember way back in karts we didn't have any data, so nobody could ever see where I was quick, anything I did, any trick I had. So maybe it's a bit of a step back in that direction. I quite like it that we're left to do it ourselves."
Formula One supremo Bernie Ecclestone admitted the change was his idea. "I was the one who started it off," he said. "I think none of the drivers want it [radio communication]. They are all happy that it has gone. They drive the cars, they should know what is wrong or right. They don't need someone on the pit wall telling them what to do."
Ecclestone also hinted that there could be further changes to enhance the purity of the driving, including a ban on live telemetry on the cars.
"We have a regulation in force that drivers must drive the car unaided," he said. "They have been aided, and still are. Even if we get rid of this ship to shore, as I call it, there are still a lot of aids that they should not have."
Register for free to continue reading
Registration is a free and easy way to support our truly independent journalism
By registering, you will also enjoy limited access to Premium articles, exclusive newsletters, commenting, and virtual events with our leading journalists
Already have an account? sign in
Join our new commenting forum
Join thought-provoking conversations, follow other Independent readers and see their replies