Fernando Alonso fortunate to walk away from 'scary' collision at Australian Grand Prix
The McLaren driver was involved in a stunning crash on the 18th lap
David Tremayne
Sunday 20 March 2016 18:37 Comments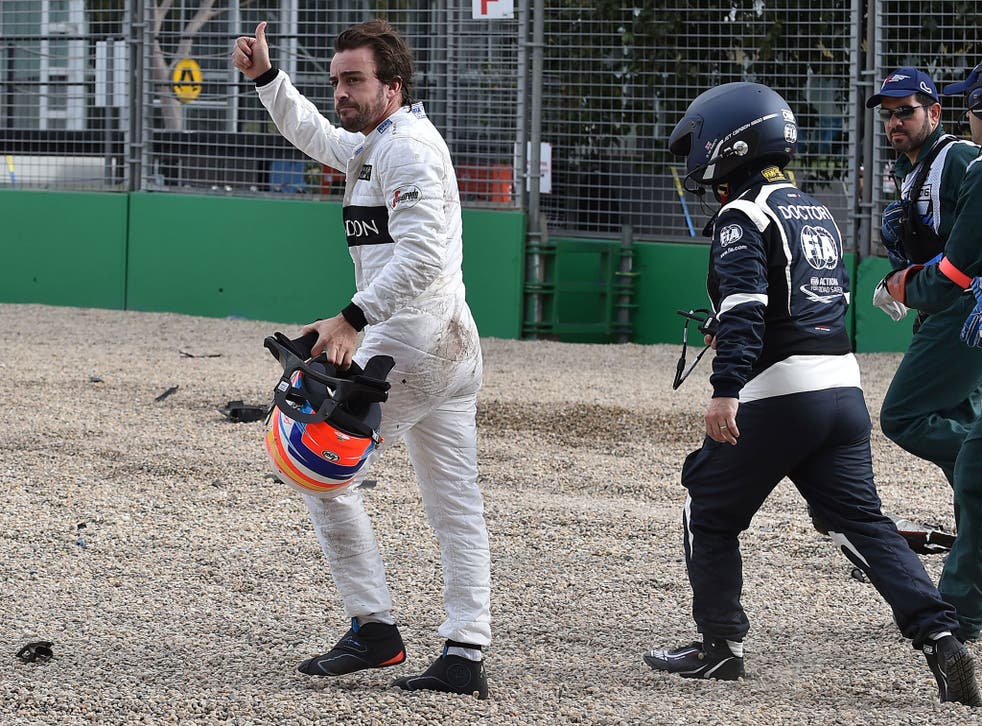 Fernando Alonso said he felt "lucky to be alive" after walking away from a spectacular crash that left his obliterated McLaren scattered across the Albert Park circuit and brought a temporary halt to yesterday's race.
Alonso's right wheel clipped Esteban Gutierrez's Haas at high speed going into turn three of the 18th lap and the impact sent the Spaniard's McLaren careening into a barrier, smashing it to pieces, before it flipped, rolled and flew end over end into another barrier.
The two-time world champion emerged from the wreckage and walked gingerly over to the Mexican Gutierrez, and the pair embraced.
"I'm OK, I'm trying to put everything in place again," the 34-year-old said in the paddock after Nico Rosberg had won the race.
"It was a scary crash. Lucky to be here and happy to be here, and thankful to be here – thanks to the safety crew, probably, I'm alive.
"We lost the power unit and the car because there was a lot of damage, but I'm super happy to be talking."
Race control said that Alonso's contact with Gutierrez would be investigated but the Spaniard said neither driver was to blame
"It's tough, you can only see the rear wing, you don't have the full view of the track," Alonso said. "And same for him, he can't see what the other guy is doing. So we are both happy."
Gutierrez said: "Thankfully, we are all right. It was a very, very scary moment. I jumped out as quick as I could and ran to him. It was a really big relief he was OK. It was a real moment of shock for both of us. I just went to him to see if everything was fine with him."
It was a disappointing day all round for McLaren, with Alonso's team-mate Jenson Button finishing 14th out of the 16 finishers.
Register for free to continue reading
Registration is a free and easy way to support our truly independent journalism
By registering, you will also enjoy limited access to Premium articles, exclusive newsletters, commenting, and virtual events with our leading journalists
Already have an account? sign in
Join our new commenting forum
Join thought-provoking conversations, follow other Independent readers and see their replies