Ferrari bring Luca di Montezemolo's faded court crashing down with announcement that Fernando Alonso will leave Maranello
Star driver's exit and blast from new president mark end of ex-president's aristocratic reign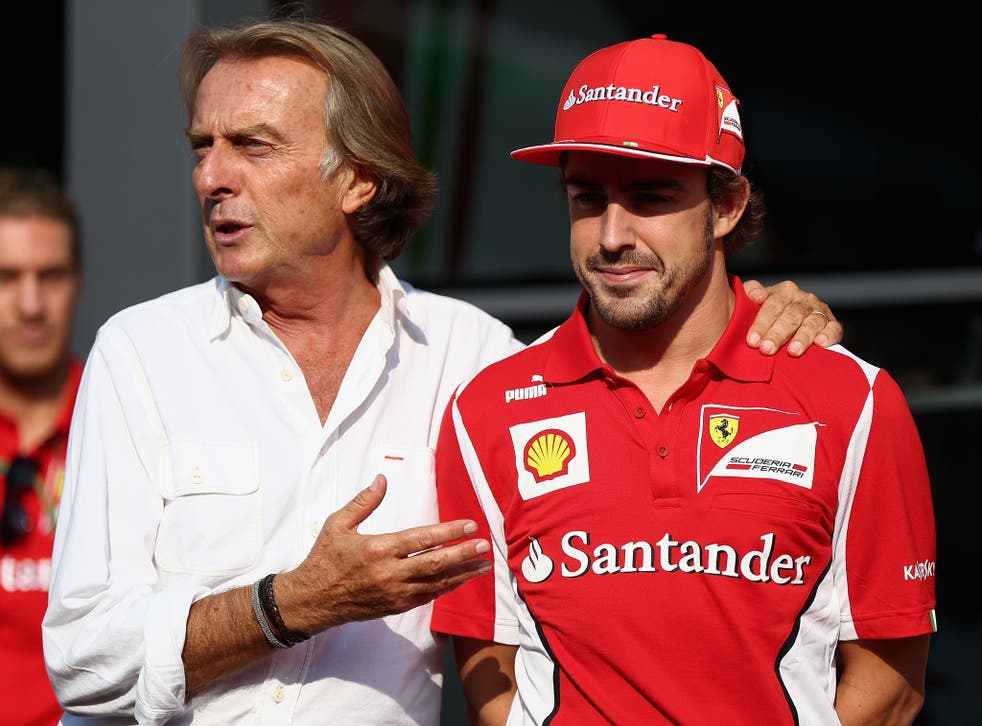 The words were propelled by flame thrower. A day after Ferrari's patrician ex-president, Luca di Montezemolo, left office, revealing on national television in Italy what we already knew, that Fernando Alonso would be following him out the door, his replacement, Sergio Marchionne, delivered his molten mission statement.
"We've got to kick some ass and we've got to do it quickly," Marchionne said. "It takes what it takes. We might screw up, but we've got nothing to lose, right? Let's risk something."
How had it come to this? It is perhaps in the nature of empires that the seeds of downfall are sown at the height of power. The great Alonso was seen by Di Montezemolo as a guarantee of the continuation of the dynasty that he rebuilt, the driver with whom the team would rise again to the imperious station carved out with Michael Schumacher at the wheel.
It is hard to countenance that five years after his unveiling, Alonso should be leaving like this, his departure hastened by his own hand with the early severance of a contract that had a year still to run.
Di Montezemolo's remarks were both a succinct approximation of the truth and a veiled dig at an organisation that no longer saw him as the man with the silver bullet.
"Alonso is leaving for two reasons: one, he wants another environment; two, because he is at an age [33] when he cannot wait to win again," Di Montezemolo said, confirming what was widely understood. It was as if he could not say goodbye to all that he once controlled without claiming ownership of one last, vital slip of information, the habit of having the last word clearly dying hard on his lips.
Great statesman imagine they might leave at a time of their choosing, when their work is done, yet so few do because it is never over. Di Montezemolo faced the same difficulty that confronts all powerful regimes, the problem of renewal. The alignment of the arch-politician Jean Todt, the master enabler and strategist Ross Brawn, the gifted engine designer Rory Byrne and the genius Schumacher delivered a period of unprecedented success and ultimately a degree of complacency that went undetected by Di Montezemolo.
There was always a whiff of hubris about a man whose aristocratic pretentions extended to carrying his hand inside his buttoned blazer in the manner of Prince Charles. His annual December lunches at Maranello to summarise the season for the benefit of the global media had become an exercise in passing the buck.
Another season of failure would be the fault of somebody, but never him. Six years of fruitless striving, seven in the drivers' championship following Kimi Raikkonen's last title win for the Scuderia, a rather fortunate donation from McLaren following the Ferrari-gate scandal that detonated in the middle of 2007, were never properly acknowledged as the result of excellence elsewhere on the grid, rather the consequence of individual shortcomings within betraying the magnificent whole.
And so in the post-Schumacher era, Di Montezemolo sacked, in no particular order, a raft of key figures including team principal Stefano Domenicali, race engineer Chris Dyer, aerodynamicist Aldo Costa and engine designer Luca Marmorini, never once questioning his own contribution to the team's demise.
It was noticeable how those in the court of Di Montezemolo would defer absolutely in his company, his habit of referring to engineering staff by their family name an example of his affected hauteur. It was said that the period of success delivered by Schumacher was in large part the success of Todt in keeping Di Montezemolo at arm's length.
Little did go wrong once the Schumacher ball started rolling in 2000 with the first of five consecutive drivers' championships, but the last thing the team needed when things got twitchy, as they did in 2003 when the Michelin-shod Williams threatened doom, was his royal highness throwing his weight around.
Di Montezemolo's fall coincided with a shift in company policy regarding the production of road cars. He did not agree with the emphasis on increased production, believing the brand was at risk of dilution through over-population.
"A Ferrari is like a beautiful woman, she must be worth waiting for and desired. I base my ideas on what I learned from Enzo Ferrari, if we produce less cars, we will not flood the market and it makes our used cars more desirable too," he said in an address just last year.
Eighteen months on, that philosophy no longer has currency. And if increased profit is the name of the game you have to wonder how long the organisation will continue to chuck the best part of €300m at a project that cannot even deliver a top-six finish at its home grand prix.
The team's dismal showing at Monza last month was a Rubicon crossed for Marchione. You wondered also if his call to arms might be a last throw of the dice for the oldest and grandest marque of them all.
"I keep getting reminded racing is not a science, that a number of factors influence performance, and then I go to Monza and see the first six cars are not Ferrari or powered by a Ferrari engine, and my blood pressure just popped. A non-winning Ferrari on the Formula One track is not Ferrari. I can live with periods of bad luck, but it cannot become a structural element of the brand."
Register for free to continue reading
Registration is a free and easy way to support our truly independent journalism
By registering, you will also enjoy limited access to Premium articles, exclusive newsletters, commenting, and virtual events with our leading journalists
Already have an account? sign in
Register for free to continue reading
Registration is a free and easy way to support our truly independent journalism
By registering, you will also enjoy limited access to Premium articles, exclusive newsletters, commenting, and virtual events with our leading journalists
Already have an account? sign in
Join our new commenting forum
Join thought-provoking conversations, follow other Independent readers and see their replies