Fighting to survive: Could this be the last Korean GP?
Ecclestone might cut financially troubled race while logistics may end New Jersey's 2014 hopes
David Tremayne
Saturday 05 October 2013 13:03 Comments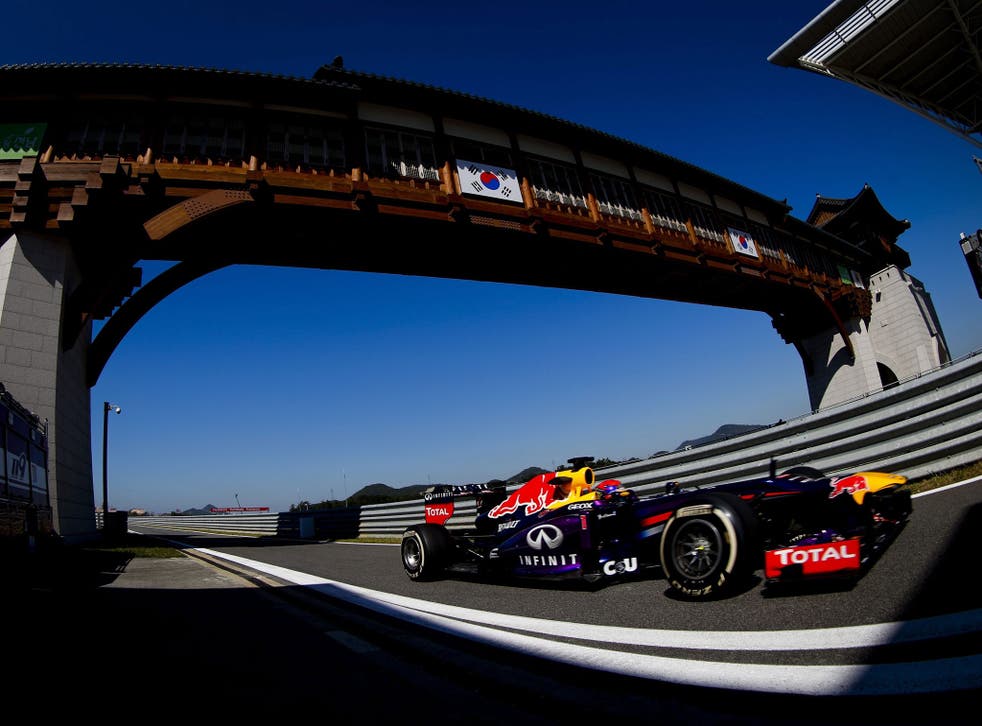 As the rows over Formula One's proposed 22-race calendar for next year continue to rage in the paddock, it is ironic that the latest location for the arguments should be here in South Korea – one of the grands prix deemed least likely to make the cut.
An official sign on entry to the Korean International Circuit reads "Thank you Mr Ecclestone for the 2013 Korean Grand Prix," but cynics think something this toadying is unlikely to facilitate is the cut in fees that the financially imperilled circuit owners are seeking. They want a race next year to be as far back in the season as possible to give them time to raise the necessary cash, whereas Bernie Ecclestone currently has it twinned with China in April.
As things stand, the 2014 season will be the longest in Formula One's 63-year history, expanding it beyond the 20 races believed to have been agreed as part of the individual bilateral economic agreements signed between the teams and Ecclestone. But both Korea and the proposed new race in New Jersey are perceived to be vulnerable, and with India being dropped because of the country's intransigent attitude to taxation, it is likely that there will be 20 races, with Austria and Mexico returning and Russia joining in.
If a race in New Jersey remains on the 2014 calendar on the weekend after Monaco, the teams face an near impossible logistical challenge. The current calendar, which has an asterisk against three races, including the race on the US East Coast, features a novel "triple header" of Monaco, New Jersey and Canada on successive weekends from 25 May to 8 June.
"It's something almost impossible, to be honest," Ferrari's Massimo Rivola told a news conference here when asked about the prospect. "But... we will see the real calendar and then we figure it out."
The freight for a long-haul race like Canada has traditionally been sent on the Saturday of the previous week to allow plenty of time to clear customs and for teams to set up garages and prepare cars for Friday practice.
Sauber's Beat Zehnder said any later shipment would have a knock-on effect. "I think we would have to start packing up on Saturday in Monaco to make it to Jersey," he said. "If you're only able to send your freight on a Monday or a Tuesday, it compromises your weekend quite a bit."
Of the races likely to be included in the calendar, Austria's A1-Ring is owned by Red Bull magnate Dietrich Mateschitz and thus makes perfect sense; Sergey Sirotkin has joined Sauber as part of a bold new sponsorship package, and thus Russia makes a strong contender. And with Sergio Perez and Esteban Gutierrez currently racing for McLaren and Sauber respectively, Mexico also looks good. However, Perez's position with McLaren could be tenuous even for next year, let alone in 2015 when Honda return and are likely to insist on another big name – Fernando Alonso's was most memorably mentioned in Singapore – to join Jenson Button.
Formula One is an internecine affair. It is postulated that Ferrari are still trying to keep Sauber driver Nico Hulkenberg on ice just in case Alonso does decamp early to McLaren – but also that the talented young German might fit the bill on a short-term contract should McLaren decide to drop Perez.
While certainties might be few and far between on the political front, Lewis Hamilton, Sebastian Vettel and Nico Rosberg will all be staying put for next year and they were the dominant runners yesterday. Hamilton headed both practices for Mercedes, from Vettel, by 0.037 seconds in the morning and by 0.108sec in the afternoon.
"I was very happy with how it went today and it's the first time I can remember that second practice has really gone well for me," Hamilton said, sounding far more cheerful than he had been on Thursday. "The day just went smoothly. You need a good downforce package, too, and the car is feeling good. We can still make improvements overnight, and I have some things I want to do with the set-up, but it's been a good start."
The odds favour another win by Vettel after his triumphs in the last three races. He too spoke of room for improvement and predicted a close battle in qualifying.
Register for free to continue reading
Registration is a free and easy way to support our truly independent journalism
By registering, you will also enjoy limited access to Premium articles, exclusive newsletters, commenting, and virtual events with our leading journalists
Already have an account? sign in
Join our new commenting forum
Join thought-provoking conversations, follow other Independent readers and see their replies