Former GT Academy winner Jann Mardenborough takes his latest step towards Formula 1 as he joins Arden's GP3 team
The GP3 series supports the F1 events throughout the season and Mardenborough, who moved into racing after winning a nationwide Playstation tournament, has eyes firmly set on reaching the top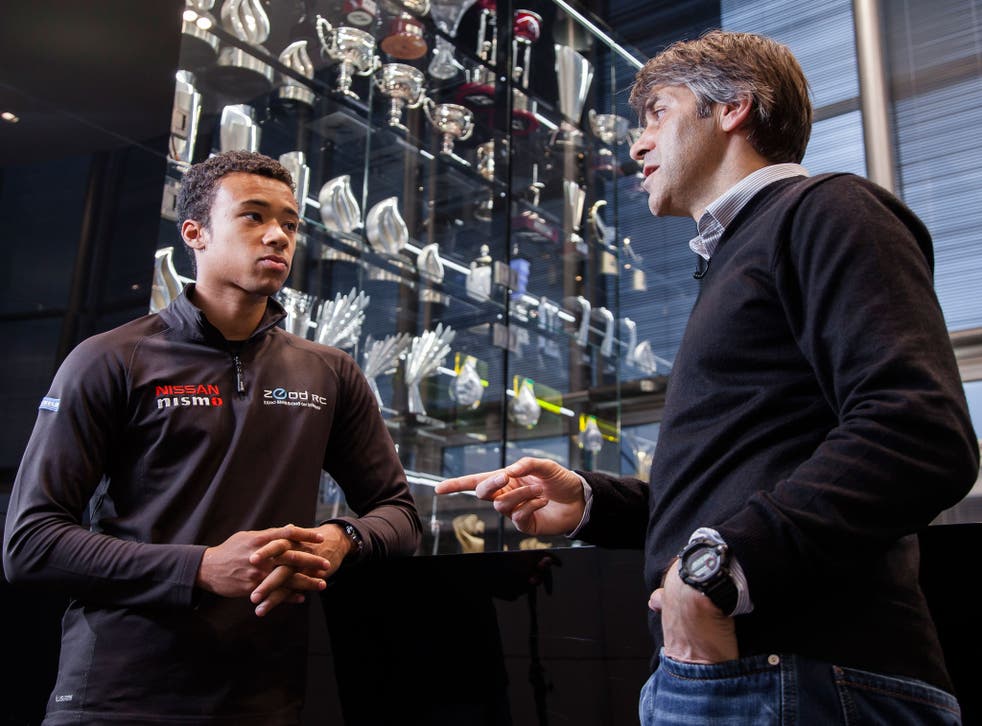 Jann Mardenborough, the boy racer who moved into motor sport after winning a nationwide Playstation tournament, will take a big step towards his ultimate dream by making his debut in Formula 1 feeder series GP3 this year.
The former GT Academy winner announced today that he has signed with the championship winning Arden International team in a series that shadows the F1 circuit through its European stages. The breakthrough will mean Mardenborough can show off his talents to the big bosses of Ferrari and McLaren while current constructor champions Red Bull, home of four-time F1 champion Sebastien Vettel, have also asked Mardenborough to join their driver development programme.
Speaking to The Independent having just returned from New Zealand, where he finished second in the Toyota Racing Series with three wins and seven podiums from 15 races, the 22-year-old spoke of his delight at joining Arden, whose team principal is also the Red Bull Racing boss Christian Horner.
"I first tested the GP3 car back in November and really liked it," said Mardenborough. "The team is very experienced with guys like Julian and Andy Rouse who have raced themselves and know what drivers are going through on the track. Everyone's very focused on what they're doing."
Prior to competing in New Zealand, the Darlington-born driver, now living in Cardiff, had been competing in Formula 3. To give an idea of the jump he is making, he will now be sitting in a GP3 car that has double the horsepower of his previous single-seater engine.
F1 2014 car launch - The era of the 'anteaters'

Show all 17
Since its inaugural year in 2010, three drivers have gone on to compete, or are competing in Formula 1, including former champions Esteban Gutiérrez and Valtteri Bottas for Sauber and Williams respectively, and Jean-Éric Vergne for Toro Rosso. Mardenborough, who has come a long way in a short space of time since winning the 2011 GT Academy, descibes it as "a perfect shop window" for getting people's attention.
"GP3 has a big reach on TV as well, it's watched by people all over the world," he said. "I want to be challenging for the podiums and improving every single race. I've got the right team behind me and will be listening to them all the time. I feel ready for GP3. Formula 3 has taught me so many things, both in the car and out of the car, both mentally and physically. It was a great stage in my development and I'm sure the skills I've learnt there will help me in GP3 and beyond."
In the last two seasons Mardenborough has competed and excelled in a variety of vehicles: from GT cars, Le Mans Prototypes to single-seaters. His podium finish at Le Mans in 2013 came two years to the day after he reached the final stages of the Nissan-sponsored GT Academy in 2011. He is now joining a team with a championship winning pedigree with a proven track record of sending drivers into Formula 1.
Russian racer Daniil Kyvat, who won the GP3 title with Arden last year, will be the fourth from the series to make his F1 debut, aged just 19, racing for Toro Rosso when the season begins in Melbourne next month. Former three-time Grand Prix winner Johnny Herbert, who has been a mentor to Mardenborough since 2011, said his time to breakthrough is now.
"When you have a chance you have to grab it by the horns," the ex-Benetton driver told the Independent. "That's where you stand out. Jann's 22 now, so he's at that age where you feel if he is going to make it all the way to Formula 1, something has to happen soon. I don't see Jann having any problem moving up to GP3 from Formula 3 though - and it is a massive jump - because you can see from his Le Mans performances that he has the sheer speed. He impressed a lot of people there.
"Now he has the chance to do the same in front of the F1 world. He has the Formula 3 experience and racing the Toyota Series in New Zealand will stand him in good stead. Jann has to really dig his heels in and give it all."
Mardenborough, whose father Steve was a professional footballer for lower-league clubs, has a background far removed from Jenson Button and Lewis Hamilton's, whose parents were able to spend the vast sums of money needed to support the future stars through karting tournaments - the traditional route for F1 champions. Instead, Mardenborough has become the poster boy for all those who believe excelling at a computer game can one day result in a professional racing contact.
Herbert said: "I have been mightily impressed with what Jann has achieved since winning GT Academy. For someone with Jann's experience doing so well is very rare to see. Last year he raced in the European F3 series which is hell of a tough challenge during your first season; the fact that it was Jann's first season in any kind of single-seaters is incredible.
"Whilst he has had a very successful first year in GT racing and he has now got an amazing result at Le Mans 24 Hours under his belt, he is competing against drivers that have grown up with seasons of karting and single-seater experience behind them. The only question that remains unanswered is 'Can a gamer make it all the way to F1?'"
Register for free to continue reading
Registration is a free and easy way to support our truly independent journalism
By registering, you will also enjoy limited access to Premium articles, exclusive newsletters, commenting, and virtual events with our leading journalists
Already have an account? sign in
Register for free to continue reading
Registration is a free and easy way to support our truly independent journalism
By registering, you will also enjoy limited access to Premium articles, exclusive newsletters, commenting, and virtual events with our leading journalists
Already have an account? sign in
Join our new commenting forum
Join thought-provoking conversations, follow other Independent readers and see their replies