Formula 1 2016: David Coulthard's love of life helps Channel 4 give F1 a breath of fresh air
Channel 4 were given two months to put together a team that could restore interest in Formula 1. So far, the signs are good, but with exclusive pay-per-view rights on the horizon, what are the terrestrial broadcasters doing to leave F1 in better state than when they received it?
Jack de Menezes Comments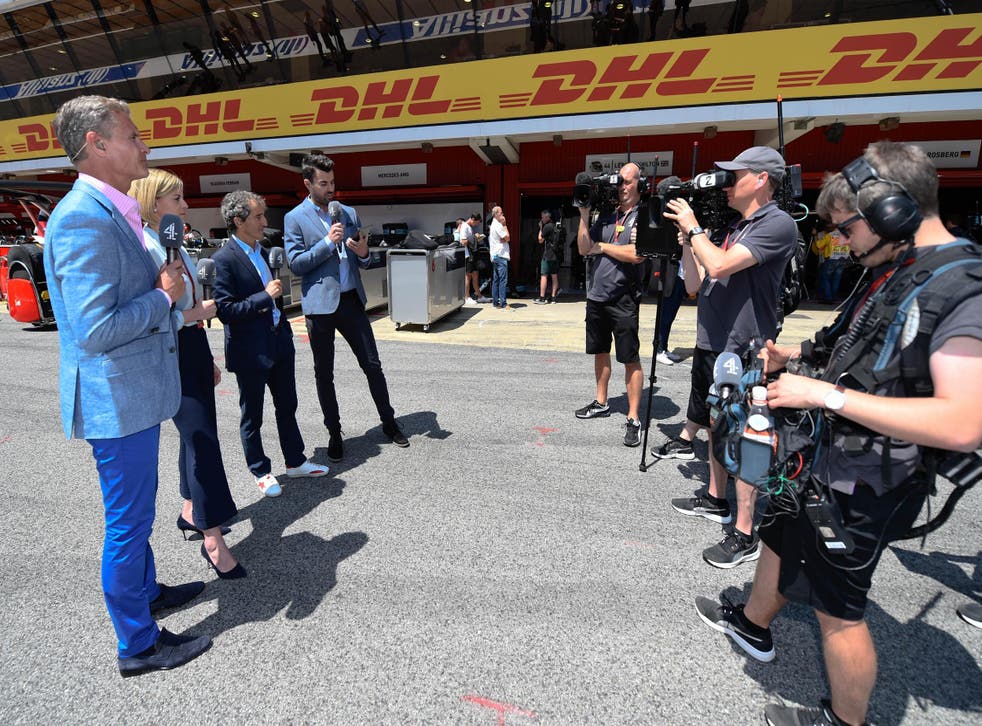 Take a long look at Lewis Hamilton or Nico Rosberg and you'll understand that the pressures of fighting for a Formula 1 championship are not easy. From March until November, both men look tense, nervous and even exhausted, and at times it can all become too much to handle and things boil over.
Take the first lap of the Spanish Grand Prix last weekend for example. Hamilton knew his starts off the line have not been up to scratch this season, while Rosberg knew that the run from lights out to the first corner would prove to be his best opportunity to pass his Mercedes team-mate and win a fifth consecutive grand prix of the season.
The culmination of all these factors and the desire of each driver not to give an inch was a Mercedes W07 scrapheap at turn four, opening the door for Red Bull and Ferrari to seize advantage and Max Verstappen to make history by winning his first grand prix at the tender age of 18. It's one thing being in Catalunya to witness all of this, but how do you document it in an exciting and informative way to millions of people around the world?
That's the question that faced Channel 4 in January when it was announced that they would take on the terrestrial rights to Formula 1 for the next three years, just two months before the first race of the season in Australia. Continuing with the plan to show 10 live race weekends plus highlights of all 20 grand prixs during the 2016 season, the Spanish Grand Prix represented the second live race weekend of the season, and it certainly didn't disappoint.
However, by going up against Sky Sports and being immediately handicapped by only having live rights to half of the season, Channel 4 needed something in their locker to offer viewers something that their rivals can't.
Enter David Coulthard, and in particular Whisper Films, the sports producer co-owned by the former grand prix winner along with presenter Jake Humphrey and managing director Sunil Patel. Together, Channel 4 and Whisper have assembled a team that blends a fun and likeable approach with first-hand experience and informative analysis – provided by not only Coulthard but Susie Wolff and Karun Chandhok – but once the people are in place, you still need to deliver the goods when it comes to a race weekend.
Spanish Grand Prix - in pictures

Show all 15
Making this even harder was the fact that the initial deadline set for the Australian Grand Prix gave them little more than two months for it all to come together. Mark Wilkin, Channel 4's Formula 1 editor, explains to the Independent how it all came about.
"It's been good," says Wilkin. "It's been very quick. We only got word of doing it in January so we had to put a team together very quickly, but we do have a lot of experience in the team within Formula 1. Formula 1 is difficult to cover technically, it's difficult to cover when theres lots of regulations and you're also travelling around the world, so there's all kinds of complications that you need to overcome for it all to come together.
"But it's an experienced team, who know what they're doing and know how to do it and I think it's shown that we've got a pretty good idea of what we're doing. It's fantastic to work with Channel 4 who are really enthusiastic about what we're doing, that's been the shining light during the whole thing."
In Coulthard, Channel 4 can boast a 13-time grand prix winner who enjoyed 13 seasons with McLaren and Red Bull as well as making his name with Williams. The enthusiasm Scot is just as energetic off the screen as he is on it, but it's his relationship with presenter Steve Jones that has really helped Channel 4's coverage get off the ground. While Jones may not be known for his work in sport, he's able to draw the best out of Coulthard and fellow guests to ensure the viewer feels like they're part of the broadcast – something that isn't easy to do at all.
Part of this is allowing their natural humour to shine through, where other broadcasters may decide it's not the right approach to take, especially in a sport as serious as Formula 1. But Wilkin believes this is crucial in order to make the package the best it can be.
"It's hard to define the difference between the BBC and Channel 4, but it's the lightness of tone," he says. "The BBC isn't this or it isn't that, but it's the tone and feel that we can do. If there's a humorous angle, let's go down that route and rather than say 'let's not use those bits', let's include them.
"It's the experience of that and DC's experience of that in allowing the natural likeliness and humour to be included. That's what you saw with the chemistry between Susie, DC and Steve and it's fantastic. You can't make that, it has to be natural. When you put teams together that's what you want and what you expect to get, but it's happened very quickly."
Of course, just like Formula One, learning is all part of the process. Jones found this out when speaking with four-time world champion Alain Prost, who joined Channel 4's coverage in Barcelona, that it remains nigh-on impossible to stop the Frenchman from speaking once he gets going.
One person who has learnt rapidly though is Wolff, the former Williams test driver who became the first women to compete during a race weekend in 22 years when she took part in Friday practice at the British Grand Prix two years ago. As Wolff admits, going from one side of the microphone to the other is a completely different experience, but her ability to draw on her career in the cockpit – on which the curtain came down at the end of 2015 – has helped through her first two grand prix broadcasts.
"I really like being part of it, it's something that came together very late in my plans for this year but it happened very quickly and I have to say that the first race I did which was in Bahrain was an eye-opener" Wolff admits. "To see what it takes on the other side and how it works, from being the person who actually answered the questions.
"I'm not sure I would have done it without that know-how because for me, that know-how is that I drove this car last year and that gives me a huge advantage for when I go in to the production guys with the knowledge of this Formula One car because there's so much that has gone in to build it. This is my environment and it's so much easier to talk about because the knowledge is just there.
"I came into this very much with a racing driver's attitude. I'm not a journalist, I'm not a presenter so I'm not going to be able to walk in here and give feedback, but as a racing driver you constantly get feedback and I don't see it as criticism, I see it as something that can help me improve, so some things in Bahrain like where to hold my microphone is great, tell me these things."
Wolff's enthusiasm shines through her words and is matched only by Coulthard, who at times may as well be the focal point of the paddock such is his aurora among those lucky enough to go into the depths of the team garages and hospitality areas.
Of course, there's no looking beyond the fact that Formula 1 coverage will go to pay-per-view television exclusively from 2019, which by all accounts is set to have a huge impact on the sports interest, viewership and approach in Britain. It's a shame given the exodus of the Champions League, international cricket, The British Open and other sporting events that have deserted terrestrial, but if Channel 4 can continue to attract new fans through a different approach that gives motorsport a breath of fresh air, perhaps they'll leave Formula 1 in a much better state than when they picked it up.
Channel 4 is the new home of free-to-air Formula 1® in the UK with live coverage of 10 Grand Prix this season and comprehensive highlights of every race weekend. Visit www.f1.channel4.com for more information.
Register for free to continue reading
Registration is a free and easy way to support our truly independent journalism
By registering, you will also enjoy limited access to Premium articles, exclusive newsletters, commenting, and virtual events with our leading journalists
Already have an account? sign in
Join our new commenting forum
Join thought-provoking conversations, follow other Independent readers and see their replies