Combative Lewis Hamilton claims he will not miss Nico Rosberg and pleads for new social media regulations
The three-time World Champion was speaking at the launch of the new Mercedes W08 at Silverstone and claimed he will not miss Rosberg, who retired at the end of last season
Thursday 23 February 2017 17:42
comments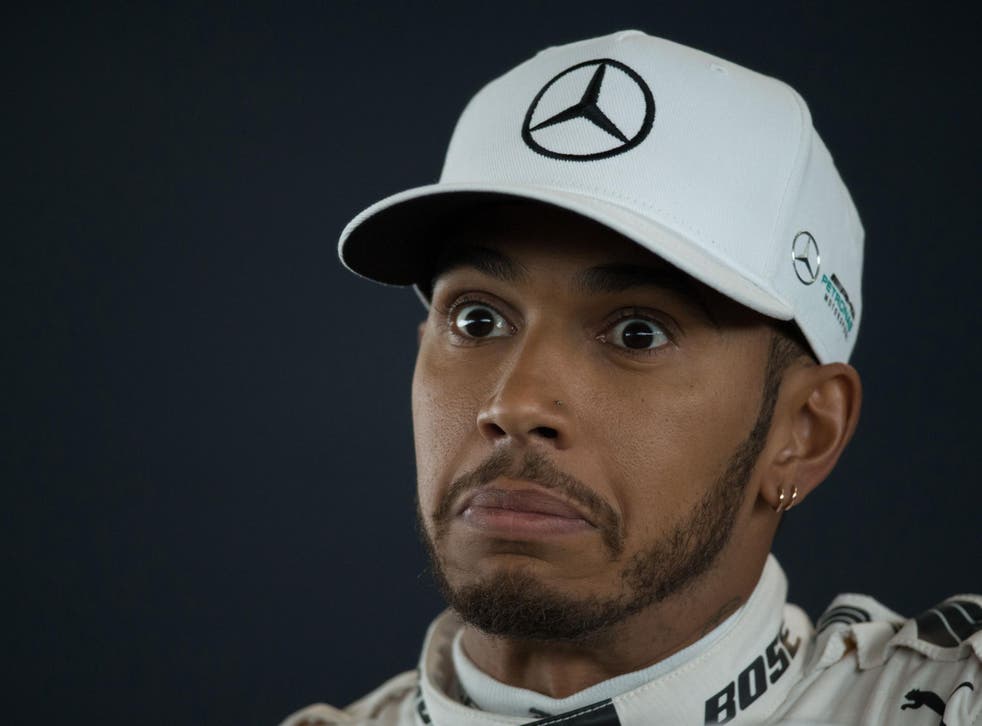 Lewis Hamilton has admitted he will not miss Nico Rosberg and has called on Formula 1's new owners to relax the rules on the use of social media in a typically combative appearance at the launch of the new Mercedes W08 car.
Hamilton is embarking on a new era at Mercedes following Rosberg's shock decision to retire from Formula One just five days after he clinched the title.
Teaming up with Hamilton, 32, will be Valtteri Bottas - the Finnish driver who has joined from Williams - but he is untested at the highest level.
The pair joined forces at a wet and windy Silverstone on Thursday to take the wraps off the Mercedes car they hope will continue to be the dominant force in the sport.
And the unveiling marked a fresh start for both Hamilton and his Mercedes team. The Briton's relationship with Rosberg deteriorated so dramatically in the three years they fought for the title they were barely on speaking terms when the German announced his retirement.
"I don't think I have ever missed a team-mate in my life because there is always one that takes his place," said Hamilton as he reflected on Rosberg's departure. "It definitely will feel strange, and it already is, but you soon get past it.
"One day I will leave and another driver will come along. You don't forget, but get used to what you have. Right now my feelings from last year are not lingering. I have started a new slate and moved on.
"The experience of last year has helped me strengthen. I feel I am stronger. I feel more complete as a driver. I feel like I am the best prepared I have ever been. I didn't win the world championship last year and I want to change that."
Hamilton won more races than Rosberg last season and rounded out the year with four consecutive victories, but his championship defence was blighted by a number of mechanical issues.
Rosberg ended his long-running losing streak to Hamilton by virtue of following his team-mate home at the intense and controversial title decider in Abu Dhabi last November.
"It has been a long, hard slog for him," Hamilton added. "He finally got it and maybe he wanted to keep it just as it is and not risk retiring at the end of this year not being in the same position. I don't think like that. I win the championship and I want to fight for it again.
"I can emphathise, and really understand in some ways, the feeling of wanting to stop and do something different. Every now and then I have a thought of what I will do after Formula One. Then I see that car and I am like, 'I think I am going to stay'.
"I don't know how long I will stay, but I am still competitive, still hungry and still driving at my best."
Hamilton also called on Liberty Media – who took over the sport last month in a £6.4bn takeover which ousted Bernie Ecclestone – to modernise the "outdated" sport.
The three-time World Champion believes one way Liberty Media can do this is through relaxing the current rules on social media, which Hamilton has frequently got himself in trouble for flouting.
"If you look at football, social media is so much greater, they utilise social media a lot better in football, in the NBA, in the NFL," Hamilton said at Silverstone.
"In F1 every time, for example, I would have posted a picture or a video, I would have got a warning from the FIA, or notice telling you to take it down.
"This year I am hoping that they will change that rule, and allow social media for all of us, because social media is obviously an incredible medium for the world to communicate with.
"It is a super easy free tool to grow for the sport, for us to use, to share it, to engage with other people.
"There are people who are following me who have not been F1 fans for a long, long time, but one of their friends who happens to follow me or one of the other drivers has said to follow, and [they have] since started to watch the races."
The new Mercedes, which both Hamilton and Bottas sampled at Silverstone, is wider, lower and heavier to reflect the change in technical regulations over the winter.
Mercedes, who have won 51 of the last 59 races, will start the season expected to continue their dominance. Bottas therefore must be viewed as Hamilton's closest rival for the title.
"I don't know Valtteri very well and right now there is no competition between us," Hamilton added. "When he sees me at my most intense moment and vice-versa it will be an interesting scenario for us.
"He wants to beat me as much as I want to beat him. I would not expect anything but the best from him. I want him to be at his best."
Join our new commenting forum
Join thought-provoking conversations, follow other Independent readers and see their replies