Austrian Grand Prix results: Max Verstappen wins at the home of Red Bull as Lewis Hamilton retires
Mercedes suffered a double-retirment with Valtteri Bottas forced to stop early as Ferrari made up significant ground in both championship battles
David Tremayne
Red Bull Ring, Spielburg
Sunday 01 July 2018 18:39 Comments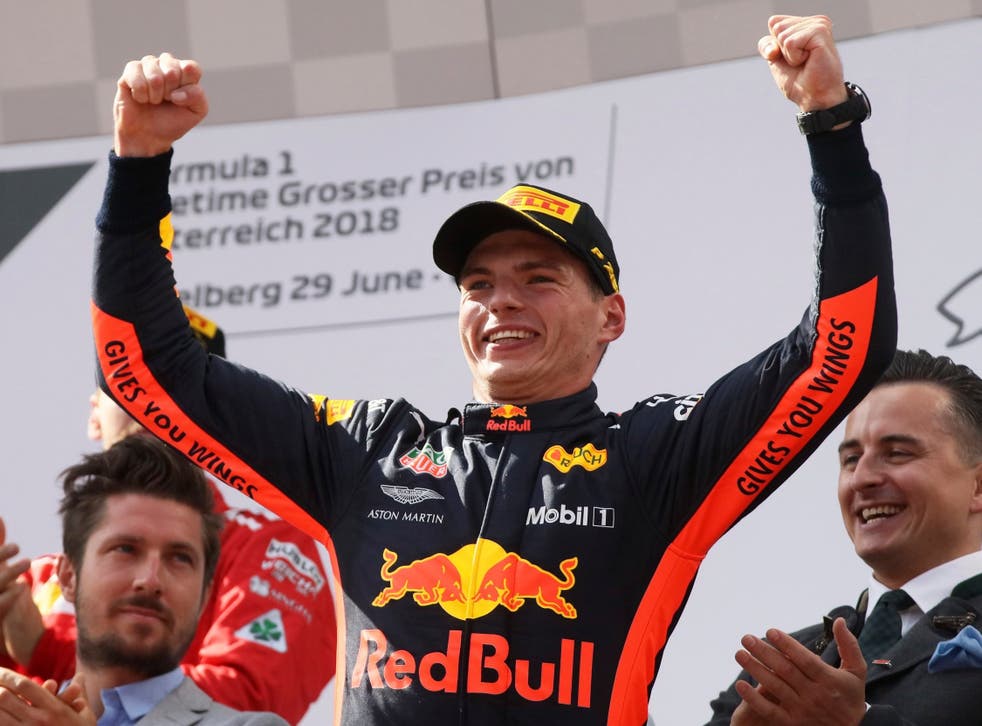 In the old days the Austrian Grand Prix had a habit of throwing up unusual results. Max Verstappen winning doesn't quite fit that description, but the way in which he scored his first triumph of the year and Red Bull's first-ever success at owner Dietrich Mateschitz's Red Bull Ring certainly had the thousands of orange-clad Dutch fans on their toes as he nursed fading rear tyres to beat the charging Ferraris of Kimi Raikkonen and Sebastian Vettel on a day when neither Mercedes finished.
At the start it had seemed a very different story.
Raikkonen, on the softest ultrasoft Pirelli tyres, had burst between slow-starting polesitter Valtteri Bottas and team-mate Lewis Hamilton, and they approached the first corner three abreast. But as Hamilton ducked to the inside to take the lead, Raikkonen clung to second place and Bottas, like Vettel further back, got hung out to dry.
Raikkonen's energetic efforts to wrest the lead from Hamilton in Turn 3 led to the Ferrari running wide, and as Bottas dodged back through to snatch second, Verstappen pushed ahead of Raikkonen to take what would prove to be crucial track position.
Soon the Mercedes were pulling away on their more durable supersoft tyres, but the first cracks in their armour appeared on the 14th lap when Bottas – surely the season's unluckiest driver – pulled off with loss of hydraulic pressure in his gearbox.
That trigged a virtual safety car, and prompted a rash of pit stops. Verstappen, Raikkonen, Daniel Ricciardo and Vettel were among those who came in to switch to the most durable, soft-compound tyres. But once again Mercedes kept Hamilton out.
That decision would cost him dear, and later team strategist James Vowles put his hands up and took responsibility for it. As Verstappen rejoined in second place, just over 13 seconds adrift of the Mercedes, it was clear that Hamilton would lose position if and when he subsequently stopped. He should have retained an advantage on his supersoft tyres, but it was all too soon evident that he was struggling.
Told he needed to find eight seconds to be sure of keeping the lead when he did pit, he bluntly informed his team that there was zero chance of that. "There's no time left in these tyres," he told them.
That was when Vowles came on the radio for the first time.
"Lewis, it's James. It's my mistake, but give us what you can."
Hamilton clung on until the 25th lap, and that was when things fell apart for Mercedes as he pitted for soft tyres and dropped to fourth, behind Verstappen, Ricciardo and the recovered Raikkonen, but ahead of Vettel, who had lost time being stacked behind Raikkonen when they pitted together.
Now Verstappen was out in front by almost five seconds after 30 of the 71 laps, and gradually he pulled further away from his team-mate, who had passed Raikkonen. But a dark circumferential stripe was soon visible on Ricciardo's left rear tyre, and as it got worse Raikkonen closed in and took second place back when the Australian pitted for more supersofts on lap 38.
That put Hamilton back to third, but he had already been complaining of a loss of power and was overtaken by Vettel going into Turn 3 on the 39th lap.
Now Ferrari looked strong, while Hamilton was struggling again. He steadily lost ground and pitted again for another set of supersoft tyres, on the 52nd lap. He resumed still in fourth place, but 11 laps later a second Mercedes rolled to a silent halt. This time the cause was fading fuel pressure. It was Hamilton's first mechanical retirement since Malaysia 2016 (when a blown engine cost him the world championship), and Mercedes' first double non-finish since he and Nico Rosberg had crashed that year in Spain.
"I'm not going to lie, it's all areas we're going to have to work on," he said afterwards. "The car has been great, we were quickest. But then to have two different faults is very unusual.
"We can't afford to throw away points. We need to find a bulletproof method to move forward for strategy because if our car had kept going it was an easy win for us, we were comfortably ahead.
"Everyone in the team is going to be feeling the pain, but we've had such great reliability for so many years. As painful as it is, we are professionals and we have to take the rough with the smooth. This is definitely the worst weekend I can remember us having for a long, long time but I have every confidence in my team."
It was a costly day for the German manufacturer, as Vettel retook the lead in the world championship for drivers, by a point, from Hamilton, and they fell to second in the constructors', 10 points down on Ferrari.
Besides the two Mercedes, Ricciardo also failed to finish after a mechanical failure stopped his Red Bull after 54 laps.
The excitement was far from over, for lap by lap Raikkonen was closing on Verstappen, who was nursing his tyres, as Vettel was slowly catching both. The final laps were nail-biting for the 20,000 Dutch fans as their man tiptoed around, but though Raikkonen set the fastest lap on his final tour, the Red Bull was still 1.5 seconds ahead, while Vettel was still a further 1.6 seconds adrift.
Relishing a brilliant drive in which his tyre management was the crucial factor, Verstappen explained: "The tyres are very sensitive and damage to them can happen in first five laps if you are too aggressive with them.
"The win was a bit unexpected after our long-run pace on Friday, but in the first stint I was able to keep up quite well. I had a little bump with Kimi early on. It was hard racing but good racing and he is experienced enough to deal with that. It was only a little touch, but also good for the sport.
"Then I saw Valtteri disappear and pitting was the right thing, the team made a great call on that. Towards the end it was difficult to tell if I would win because Kimi and Sebastian were catching me, and maybe they would have another half second at the end of the race. With three or four laps to go I was feeling more comfortable it was going to happen, but maybe the blister opens up...I could see my rear tyres opening up and just had to drive around the issue. Luckily I could manage it well to the end. So my fourth victory was a good one.
"Holland is not playing in the World Cup so it was a bit easier for so many fans to come here, but it was still great to see their support all weekend, to see all that orange. This is Austria, still 10 or 11 hours away from Holland, so it's amazing that they came all that way."
Final Positions after Race (71 Laps):
1 Max Verstappen (Ned) Red Bull 1hr 21mins 56.024secs
2 Kimi Raikkonen (Fin) Ferrari 1:21:57.528
3 Sebastian Vettel (Ger) Ferrari 1:21:59.205
4 Romain Grosjean (Fra) Haas F1 at 1 Lap
5 Kevin Magnussen (Den) Haas F1 at 1 Lap
6 Esteban Ocon (Fra) Force India at 1 Lap
7 Sergio Perez (Mex) Force India at 1 Lap
8 Fernando Alonso (Spa) McLaren at 1 Lap
9 Charles Leclerc (Mon) Sauber-Ferrari at 1 Lap
10 Marcus Ericsson (Swe) Sauber-Ferrari at 1 Lap
11 Pierre Gasly (Fra) Scuderia Toro Rosso at 1 Lap
12 Carlos Sainz (Spa) Renault at 1 Lap
13 Lance Stroll (Can) Williams at 2 Laps
14 Sergey Sirotkin (Rus) Williams at 2 Laps
15 Stoffel Vandoorne (Bel) McLaren at 6 Laps
Not Classified:
16 Lewis Hamilton (Gbr) Mercedes GP 62 Laps completed
17 Brendon Hartley (Nzl) Scuderia Toro Rosso 54 Laps completed
18 Daniel Ricciardo (Aus) Red Bull 53 Laps completed
19 Valtteri Bottas (Fin) Mercedes GP 13 Laps completed
20 Nico Hulkenberg (Ger) Renault 11 Laps completed
Register for free to continue reading
Registration is a free and easy way to support our truly independent journalism
By registering, you will also enjoy limited access to Premium articles, exclusive newsletters, commenting, and virtual events with our leading journalists
Already have an account? sign in
Join our new commenting forum
Join thought-provoking conversations, follow other Independent readers and see their replies