Lewis Hamilton ready to sign F1's most lucrative deal in history as Mercedes and Ferrari unveil new Halo designs
The two leading constructors unveiled their 2018 chargers on Thursday, but Mercedes boss Toto Wolff admitted he would like to 'take a chainsaw' to the new Halo safety device
Jack de Menezes
Thursday 22 February 2018 17:21 Comments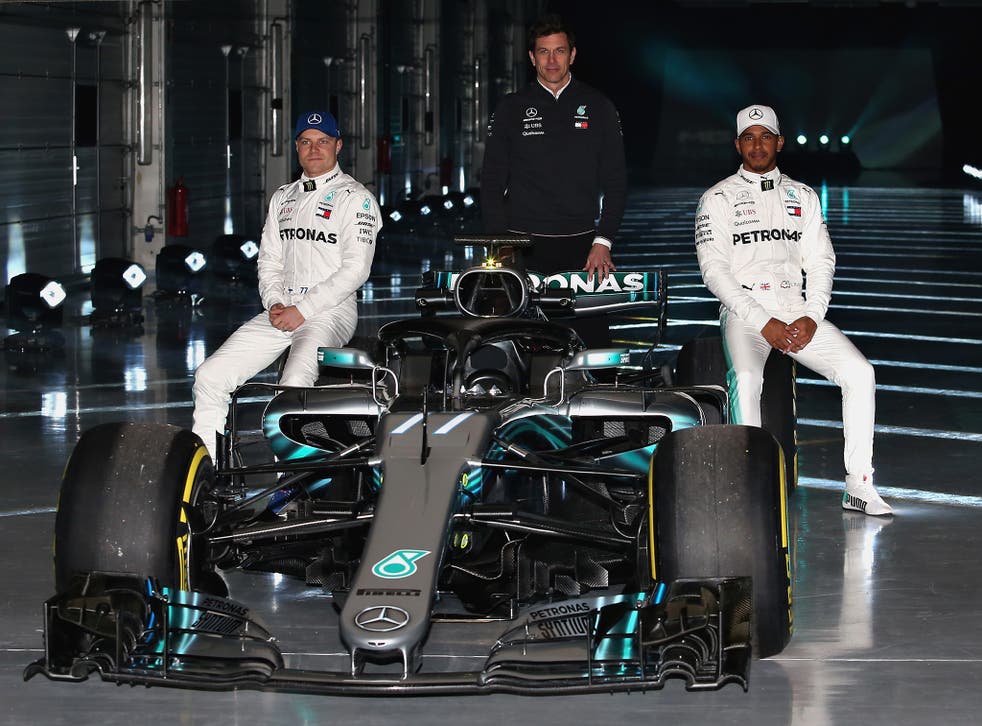 Lewis Hamilton is ready to sign the most lucrative driver contract in Formula One history within the next month as he readies his bid to become only the third man to win the world championship five times, with his new Mercedes pay-packet believed to earn him up to £40m-per-year.
The 33-year-old hopes to sign his new contract extension that will see him remain with the four-time consecutive constructor champions until the end of the 2020 season, with his current deal due to expire at the end of the year. Having taken the winter off – including a social media blackout after his controversial comments regarding his nephew last Christmas – Hamilton will sit down with the Mercedes hierarchy to finalise talks with finalise the highest-paid deal in the sport's history.
"We've been talking for a while but I don't like to do it over the phone and I wasn't back here until February," Hamilton said at Silverstone on Thursday as Mercedes unveiled their W09 charger for the 2018 season. "I have spoken with [Mercedes executive director] Toto Wolff, and we spoke about how we are committed to each other.
"I know there's no one else better and Toto knows there's no one else better than me, so he is not looking anywhere else.
"It is just the details, so hopefully it's done before the start of the season, before the first race, but there's no rush, and no panic.
"I am not feeling pressure from other drivers and Toto has no reason to believe I am speaking to anyone else. In the six years I have been here, I have not spoken to another team and that shows how committed I am."
Lewis Hamilton tells nephew 'boys don't wear princess dresses'
But while talk of this year's Mercedes design – including the new for 2018 Halo safety device – filled the Northamptonshire air, so did talk of his social media faux pas. Hamilton posted a video of himself telling his young nephew that he cannot wear a dress, a comment that prompted a fierce backlash from critics and resulted in Hamilton apologising before deleting all of his content on Twitter and Instagram since the end of last season.
On Thursday, he claimed that a plan for a new approach was always in the pipeline, but fans should not expect a similar level of insight into his life this year. "We had already planned at the end of the year to start a clean slate, and it just so happened that it was an opportunistic time to change it," Hamilton added.
"Moving forward, there is a balance you have to strike. I have been very open with my life for several years and it is always difficult to make a change because I have enjoyed being open.
"But we are living in strange times where things are magnified a lot more than they were in previous years. It is a critical time for the world.
"I will continue to show the world what I am doing, but it is about being more strategic in what I do show and don't show. Social media is still the gateway to connect to fans, so it will be a part of my life. As to how deep I will go, we will see."
While Hamilton was addressing questions about his performances off the track, his 2017 rival Sebastian Vettel was busy facing ones about Ferrari's display on it, having managed to throw away the title last season when unreliability wrecked Vettel's chance to fight Hamilton and clinch what would've been his fifth drivers' championship.
The likelihood this year is that one of them will join Michael Schumacher and Juan Manuel Fangio as just the third five-time champion – unless the likes of Valterri Bottas, Kimi Raikkonen or the Red Bulls of Daniel Ricciardo and Max Verstappen pull off the almightiest of upsets – and after 11 years without a title, Vettel is well aware of the pressure that's on the team to deliver.
"To stand here now is very special for all of us," said Vettel at Ferrari's launch of the SF-71H in Maranello. "The team are waiting for us to say how the car feels so we can't wait to get on to the track and see how it performs and how it behaves.
"That is the answer we all want to get, and we will go from there. For sure there has been a lot of effort on the new car and the attention to detail is impressive.
"The real magic happens underneath but every little detail matters, every part can make a difference, and this year's car is a big step from last year's one."
With McLaren due to unveil their car on Friday, only Toro Rosso will be left to launch their 2018 edition, with fans slowly getting to grips about the new Halo design that runs above the drivers' cockpit. But despite the FIA's insistence that the safety device is here to stay, Mercedes boss Toto Wolff, was far from enthusiastic about its arrival.
"I'm not impressed with the whole (halo) thing, and if you give me a chainsaw, I would take it off," Wolff said. "What we have implemented is aesthetically not appealing and we need to really tackle that and come up with a solution that simply looks better.
"It's a massive weight on top of the car, you screw up the centre of gravity massively with that thing."
How badly it affects performances will finally come to light when pre-season testing begins on Monday, with the season getting underway on the weekend of 23-25 March at the Australian Grand Prix.
Register for free to continue reading
Registration is a free and easy way to support our truly independent journalism
By registering, you will also enjoy limited access to Premium articles, exclusive newsletters, commenting, and virtual events with our leading journalists
Already have an account? sign in
Join our new commenting forum
Join thought-provoking conversations, follow other Independent readers and see their replies