Lewis Hamilton on life, death, religion and the hope that his fairy tale F1 story can inspire his fans to great things
In a sport where death can be round the corner, Hamilton admits that his quest to become a five-time world champion is not one worth dying for - but also something he cannot control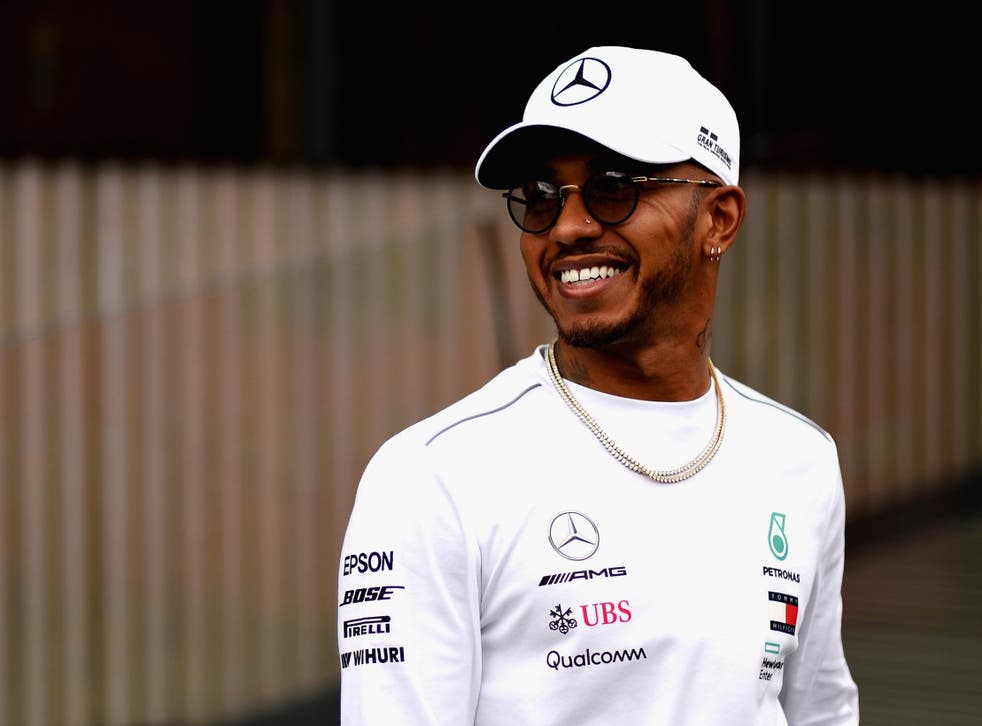 Many participants in dangerous sports habitually downplay the risk, the more so in motor racing when death could be your co-driver. It's long been a spectre, the taboo subject that is never addressed in polite society. But as you would expect from a warrior with a big heart, Lewis Hamilton doesn't mind venturing into such potentially uncomfortable territory.
Speaking on the first weekly Beyond the Grid podcast on the official F1.com website which goes live today, and available on other media download apps, he opens up as never before ahead of his home race.
Does he still love F1?
"Yes, I love racing."
But is it worth dying for?
"No, I wouldn't say F1 is worth dying for. Your dream, passion, ambition and goals can be worth dying for."
Illustrating this perhaps unexpected response, he tells this story.
"Affecting someone's life in a positive way… I've had people coming up to me… A woman ran up to me when I went to this musical one time and she was like, 'Oh my god, I just wanted to tell you, in 2007 I was going through cancer and chemo, and you got me through it.' And I'm like 'How?' And she said, 'Well, every weekend I saw you get in that car and the way you drove, the way you spoke, I connected with you and I was powering through it with you.'
"I was like wow, I had no idea. She was standing there six or seven years later, and she'd got through it, and she said she couldn't have got through it without you. It's hard to grasp that and to imagine what she is going through, but she grabbed on to something and that was maybe this young kid coming from nowhere but facing adversity, somehow fighting through it. She somehow put those together.
"That's definitely worth fighting for, that's definitely worth dying for, if you can touch one kid and put them on course for their potential… that's definitely worth fighting for."
That, and other things that you believe in. Such as religion. Again, it's a touchy subject for some. Like reading out your poetry or song lyrics. Emotional things that you feel in your heart, and which therefore expose your vulnerable side to the very people who may be all too prepared to use your candour and honesty as a weapon with which to attack and ridicule you.
Hamilton well remembers the time he crashed his McLaren at the Nurburgring, in his rookie season, when a tyre failed and he hit the barriers hard, head-on. And how deals with such extreme eventualities.
"You don't have time to pray. Anything can happen any day, but I feel God has his hand over me. You are just bracing… But still, nothing is a given and there's nothing that's written that says I am going to live until 100 years old, or that I will live to see my next birthday. So, I tell you what, I am just going to make sure I get everything in between now and the next day."
The life of a racing driver is a whirlwind of travel, physical training and commitment, interspersed with whatever can be fitted in to provide relaxation or further motivation. But Hamilton also finds time for his faith, which is so important to him.
"You have to make time for things and every morning I have breakfast and before I eat, I pray. Every time I eat, actually, I pray. So, whether it's a couple of seconds, a minute or whatever you are praying for, take that moment. Everyone is talking, and I say, 'Sorry, one second' and you just make the time.
"One Sunday, for example, I couldn't wait because I'm going to church. Wake up, get to church and then I have meetings afterwards. I go with a couple of my close friends, we meet, we go for breakfast and then we go to church together. We leave most often feeling enlightened and empowered, it's like a re-centring. Sometimes you leave, and you are like 'I didn't get that today', but most of the time you leave and you are like 'Wow, I know where I am going'."
That sense of empowerment is motivating.
"Whenever my time is up, I like to imagine the Pearly Gates and I'd be like 'I didn't get through everything I wanted to do but I gave it a good shot and got through most…' So I'm trying to learn things, challenging myself. For example, I did my diving test because I love the ocean and I am fascinated by sea life. As a kid, because I'm dyslexic I struggled at school, so I like challenging my mind, learning new things, surpassing certain tests… I love doing risky stuff even if there is a bit of pain sometimes in it. I just love that thrill factor, so that is never going to change, whether you are bungee jumping, sky diving, doing these great things which I know not everyone gets to do.
"When I posted things, whether I've been flying private or something, it was never ever to put it in someone's face. It was more to show people what's possible. I grew up in Stevenage on a council estate, living on my dad's couch. If anything, it was really, really to try and show that it is possible. But, in today's society, I think everyone wants everything now. As we all do, when I was young I was like 'I want to be an F1 driver now' and it took 20 bloody years to get there. It's really just to show to people there are possibilities…"
And, hopefully, to inspire them to chase their own dreams.
"That's what it's meant to be. Look, I am in a different place in my life, I am in F1. Yes I have money and I have a much different platform to lead myself from. But I tell you what, I am not just going to squander my money, sit around doing nothing. I want to keep moving, meet new people, learn new things. I'm not going to be good at everything, but I can damn sure give it my best go."
He's been criticised for his interests in fashion and music, for spending what some see as too much time on them in between races, when they say he should be focused on the next one. But it's never that easy, and the leisure time is a crucial part of recovery and recharging.
"Formula One has given me a life, given me a purpose, which is pretty special," he says, then adds, unexpectedly: "But F1 has also broken me… it's broken me and built me, broken me and built me.
"When you go through it, you put so much into it, it breaks your heart and kills you when you fail, when you stumble, when everyone's watching when you stumble. But, when you get back up and when you succeed, it lifts you up. You fall and you break a bone, you heal and you keep going.
"It's the passion for what you do and the will to succeed. It's just something that's hard to express, but everyone has it in some shape or form.
"I don't know if I can say I love the highs and lows because the lows are the worst and I'm generally quite an emotional person. So, I'd say there are athletes and drivers, and performers, that… there are some that have if you imagine… not a heartbeat line, but a line that's oscillating up and down, up and down. Say that's an emotional line, there are some who are off the charts and some who are more balanced. I'd say probably the best performers like Serena and Muhammad Ali, they are more calm and the calmer you can get the better it can be for you. But, particularly at the beginning of my career, I was peaks up and down which is hard to keep focused. If you can learn to breathe and calm that squiggly oscillating line in emotion you can then focus a lot better. It's almost the same as if you are shooting at a target but you are moving around, if you can breathe and calm it down you will get it much more on target.
"I think Formula One has helped me grow and I have gained a lot more confidence within myself. What it has given me is the platform to be able to do things I want to do, live the life I could only have dreamed of. But, it's also given me the opportunity to work with huge teams of people, big companies, travel around the world, see different cultures, dibble and dabble in different lingos and try different foods."
And, he hopes in the immediate short-term this weekend, to beat the record he shares with past greats Jim Clark and Alain Prost, of five victories in his beloved British Grand Prix.
Join our new commenting forum
Join thought-provoking conversations, follow other Independent readers and see their replies