Formula 1
Lewis Hamilton cements his legacy as a true great that will stand the test of time
After once again proving untouchable, Hamilton's fifth world championship ensures he will belong along the names of Schumacher, Fangio and Senna, writes Jack de Menezes
Sunday 28 October 2018 22:04 Comments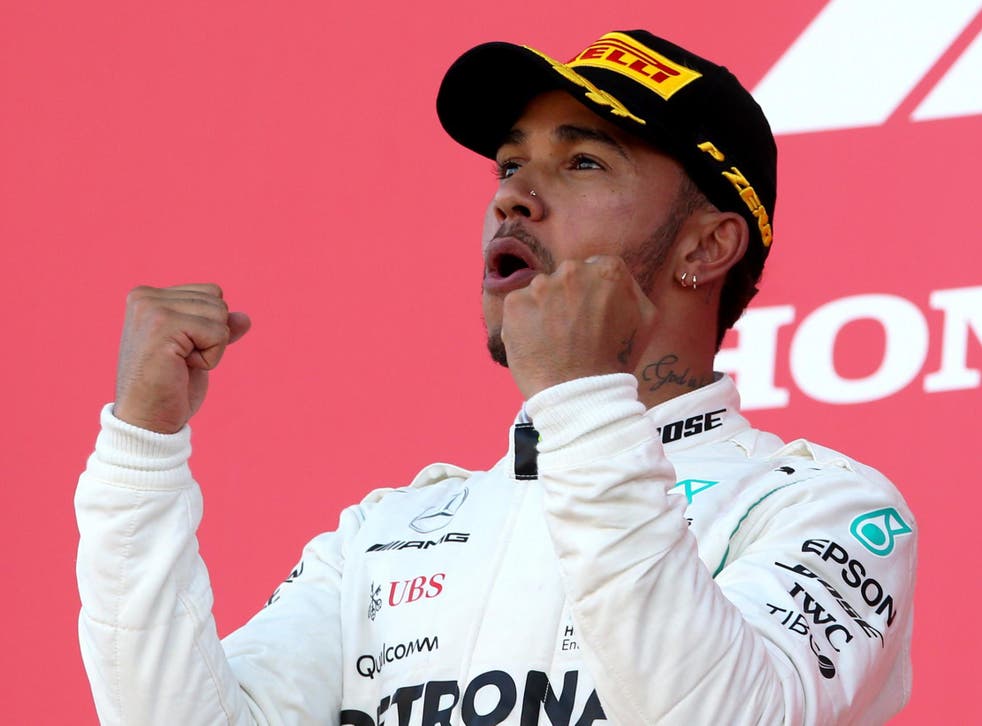 At the end of the 2006 season, it seemed inconceivable that another driver would get close to Michael Schumacher's record of seven drivers' championships. Even the great man himself couldn't emulate his own success when he returned with Mercedes, but as Lewis Hamilton celebrates yet another world title, it seems only a matter of when, not if, he will surpass Schumacher's record.
Even five years ago, Hamilton's relentless run of success could not have been predicted. After four years of domination from Sebastian Vettel and Red Bull, Hamilton found himself under pressure to justify leaving championship contenders McLaren for the untried Mercedes outfit.
But after Sunday's latest triumph, Hamilton now sits level with Juan Manuel Fangio, "the Godfather of F1" as he put it on Thursday, and he has Schumacher's record - as well as his 91 race wins - firmly in his sights.
F1 US Grand Prix in pictures

Show all 17
This time around there won't be the normal championship reaction often accompanies one of Hamilton's title wins - the question of 'why isn't he loved more for his success' that is asked over and over again without answer. Instead, this triumph asks what will his legacy be on the track long after he's gone.
It was Fernando Alonso who put Hamilton fifth in his top five drivers of all time. Schumacher, Fangio, Ayrton Senna and Alain Prost joined him, and it's pretty hard to argue against his list. Jim Clark has a case to be included, as does Alonso himself, but when the very best are taken into account, Hamilton has certainly put himself among the greats.
Hamilton already has the most pole positions of any driver in history, and after claiming win No 72 in Austin, the smart money is on him chasing down Schumacher's landmark by the end of 2020 given that he's won at least nine races in every season for the past five years. Critics will point to there being far more races on the calendar now than in the Senna-Prost era or back in Fangio's day, yet Hamilton's win ratio stacks up among the best. Only Fangio, Clark and Alberto Ascari have greater percentages among drivers who have won more than two races, leaving Schumacher and Vettel trailing in his dust.
Another part of Hamilton's legacy will be his incredible ability to take his driving to the next level. His maiden title triumph in 2008 came with a final-corner move to snatch the championship away from Felipe Massa by the skin of his teeth, yet every one since has come with an increasing level of dominance that can only be admired. His job this season may have been made that little bit easier by Ferrari's complete inability to maintain Vettel's challenge, but throughout the second half of this season Hamilton has been simply untouchable - his fightback at Silverstone, taking the fight to Ferrari at Monza, the qualifying lap in Singagpore, his imperious drive in Japan.
That's why this one, for Hamilton, will probably taste the best. Yet it has also been the best to watch from an individual point of view, and having witnessed a driver who has been able to find 'the zone' more than any other driver before him, it's safe to say Hamilton's legacy has already been cemented as a true great.
Register for free to continue reading
Registration is a free and easy way to support our truly independent journalism
By registering, you will also enjoy limited access to Premium articles, exclusive newsletters, commenting, and virtual events with our leading journalists
Already have an account? sign in
Join our new commenting forum
Join thought-provoking conversations, follow other Independent readers and see their replies