Tuscan Grand Prix: Mugello comes back to life as unknown quantity offers Ferrari some much-needed respite
Ferrari-owned home of Italian MotoGP welcomes Formula One for the first time in an effort to capitalise on the most unpredictable race in a generation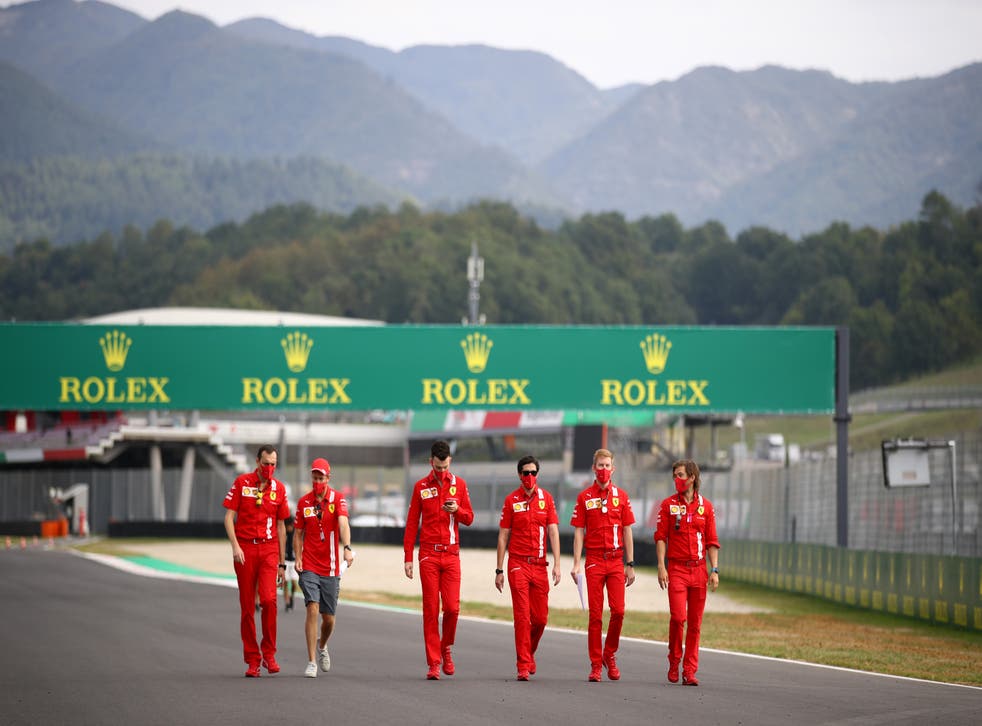 It will take some going to follow up one of the most unpredictable races in recent memory, but heading to a track where Formula One has never been before is not a bad place to start.
F1 will bring Mugello back to life this weekend with the inaugural Tuscan Grand Prix. Known as one of the must-visit events on the motorsport calendar, the undulating circuit is the home of Italian MotoGP, famous for hosting Valentino Rossi's army of passionate fans who bring every race to life in a sea of yellow.
But this year it fell silent, with MotoGP cancelling its Mugello round following the coronavirus pandemic, and it fell to F1 to pick up the pieces.
Based in the heart of Tuscany, Mugello is unlikely to offer thrilling wheel-to-wheel overtaking. It is, after all, a motorcycling circuit, owned by Ferrari from their nearby base in Maranello. This weekend could easily have kicked off amid fears that a procession will dominate Sunday's action in what is the latest step for Lewis Hamilton in his relentless run to a seventh world championship.
That isn't the case though, thanks to last weekend's Italian Grand Prix and the sudden announcement that Sebastian Vettel is swapping a Ferrari for an Aston Martin, at Sergio Perez's expense.
Pierre Gasly's stunning victory at Monza last Sunday has injected F1 with a much-needed lease of life, following what had been a Hamilton-dominated campaign up to the eight round of the season. With the big three taken out of the running, a fascinating battle ensued between Gasly and Carlos Sainz of McLaren, with the latter running agonisingly out of time in the pursuit of his maiden victory. Had there been a 54th lap at Monza, it would likely have been the Spaniard celebrating his first win instead of Gasly.
That upset victory alone would be enough to peak the interest ahead of this weekend, but Thursday's sudden driver reshuffle adds an additional layer onto matters in Tuscany. Ferrari will 'celebrate' their 1,000th race in F1, though the only real positive about this weekend is that it surely can't get much worse than Monza. Can it?
A double-retirement forced through Vettel's brake failure and Charles Leclerc's hoffici crash at the Parabolica capped one of Ferrari's worst weekends in its 70-year history in F1, having qualified 13th and 17th and failed to get either car past the halfway stage of the race. With back-to-back races on home soil, Ferrari desperately need a result at a race where they will be the focus of attentions - not only is this their anniversary Grand Prix but they own the track too - and at least the high downforce nature of Mugello should swing the pendulum a bit more towards the Prancing Horse, though not by much.
It will be intriguing to see whether securing a seat on the 2021 grid will bring the best out of Vettel though. Hours after Perez's confirmation that he will be released by Racing Point at the end of the season, the team confirmed Vettel's appointment alongside Lance Stroll when they switch to Aston Martin F1 next season. Perez was led to believe he had a contract in place for 2021, but a release clause exercised by Racing Point allowed them to replace the Mexican with free agent Vettel.
Although the Ferrari SF1000 has proven nothing short of dreadful this season, there is no doubting that Leclerc has outperformed Vettel. Will a peace of mind over 2021 see the four-time world champion return to his former self, or have Racing Point just made a terrible decision?
It is more than enough to detract from what still remains a one-sided championship battle, where Hamilton emerged from his worst result of the season with his 47-point advantage over second place still intact. Max Verstappen's retirement combined with Valtteri Bottas's below-par performance let Hamilton off the hook, and unless his rivals seizes a rare opportunity thrown up by the six-time champion to reignite the title battle, Ferrari's travails may prove the most interesting aspect of the entire season.
Join our new commenting forum
Join thought-provoking conversations, follow other Independent readers and see their replies