German Grand Prix: Lewis Hamilton seals dominant victory as Nico Rosberg endures nightmare afternoon
Hamilton heads into the summer break with a 19-point advantage over Rosberg as Daniel Ricciardo and Max Verstappen complete podium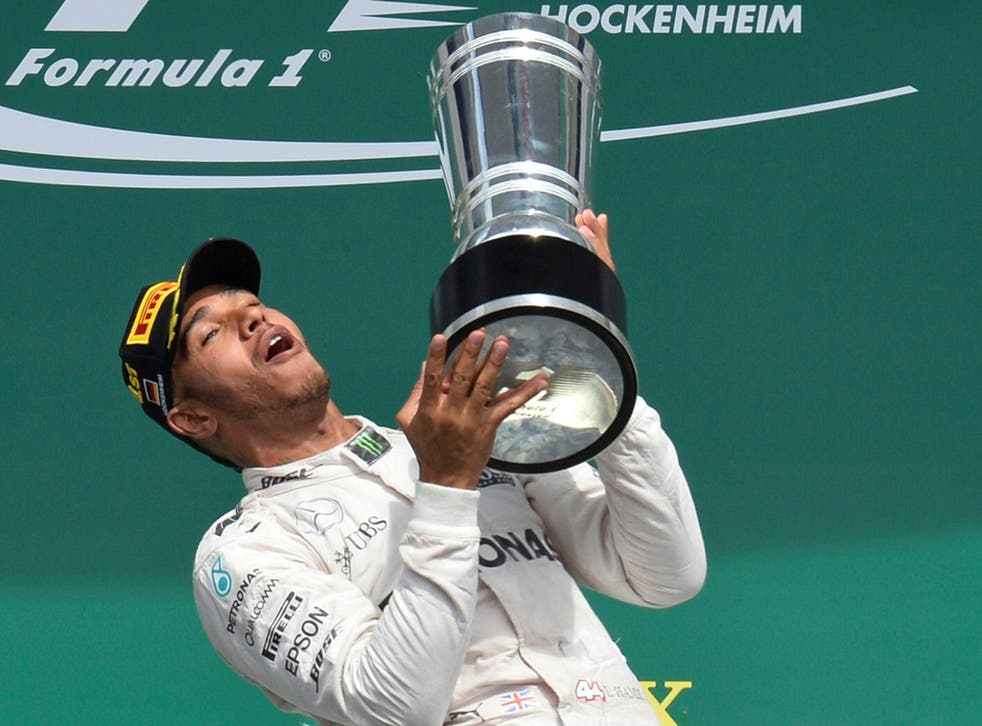 Lewis Hamilton sealed a dominant performance at Hockenheim with his third German Grand Prix victory after capitalising on Nico Rosberg's disastrous start from pole position, meaning the three-time world champion heads into the summer break with an impressive 19-point championship advantage over his Mercedes teammate after an incredible 62-point swing since their first-lap accident in Barcelona.
Hamilton believed that Lady Luck was against him at the start of the season when a series of technical failures and incidents left him 43 points adrift of Rosberg heading to the Spanish Grand Prix, where the two Silver Arrows made it as far as four corners before taking each other off.
Since then, Hamilton has won six of the seven grand prixs on offer, and has turned that deficit into a healthy gap that will come in handy when the championship resumes at Spa-Francorchamps in three weeks' time, given he is expected to take an engine penalty for using an unsanctioned sixth power unit.
German Grand Prix 2016 - in pictures

Show all 33
The 31-year-old reigning champion admitted this week that the full extent of what happened after the crash in Barcelona will come to light "one day". However, it looked like the pendulum was swinging back in Rosberg's favour as he returned home to Hockenheim, having dominated practice and beaten Hamilton to pole position on Saturday after overcoming an electrical glitch that threatened his session.
Yet that good fortune deserted him as soon as the lights went out. As Hamilton rocketed off the line, Rosberg lit up the rear wheels, costing him time and allowing the Red Bulls of Max Verstappen and Daniel Ricciardo past to relegate him to fourth before the first corner.
As far as Hamilton was concerned, his race was done from that point on, as he led every one of the 67 laps to come home seven seconds ahead of Ricciardo, who utilised a better strategy and management of his tyres to pass Verstappen via a team order after the Dutchman beat him off the line.
Hamilton was keen to thank the good turnout at Hockenheim after the race, as the German slot returned to the calendar for 2016 having dropped off last season due to dwindling interest and financial pressures.
"First please let me start with a big thank to the fans," a beaming Hamilton said on the podium, with the absence of the boos that greeted him in Austria clearly leaving him somewhat surprised. "Germany, this is a great turnout and thanks for coming, great sportsmanship. I've got a lot of fans here.
"I've got to say thank you to the team, I got a great start and then managed the tyres. Today I didn't make any mistakes so in my heart I'm happy. I came to do a job, and yesterday wasn't perfect but you learn from your mistakes."
If Hamilton's race was straightforward, the battle for second was anything but. Ricciardo initially looked to be well placed as both he and Hamilton embarked on a two-stop strategy to Verstappen and Rosberg's three-stop plan, but it soon emerged that the tyres weren't lasting as was initially hoped.
When Rosberg pitted for a second time, Red Bull reacted by stopping Verstappen to avoid the undercut. It worked for all of six corners, as Rosberg lunged from a long way behind to force his Mercedes underneath the Red Bull into the turn six hairpin that would subsequently ruin Rosberg's recovery drive. He completed the pass, but only by putting Verstappen into a position where he had to drive off the track in defence.
The pass not only put Rosberg ahead, but also saw him move up to second when Ricciardo surprisingly pitted to switch to a three-stop strategy. However, Rosberg received a five-second time penalty to be served at his final stop for pushing Verstappen off track, with the general consensus being that the move had been hard but fair.
Rosberg made his feelings known to the stewards on the team radio, and the blow was compounded when the Mercedes stopwatch failed to work when he pitted, resulting in a much longer stop that took him out of podium contention.
"Really tough one today, really difficult," Rosberg said afterwards. "The start, I just don't know. I got a lot of wheel spin and don't know what happened. None of it was good."
On his move to pass Verstappen, Rosberg said: "I thought it was a good battle and that's it. I was very surprised I got a penalty and I didn't agree with it. It's just one more of those things, some days it goes completely wrong and sometimes it comes together, but I don't think it [the failed stopwatch] made a difference.
"I was ahead of them [Red Bulls] before the penalty. It's the penalty that cost me dearly definitely."
Ferrari's race proved to be yet another disappointment as fifth-placed Sebastian Vettel failed to get himself into mix after passing teammate Kimi Raikkonen off the start, with the frustration boiling over for Vettel as the four-time champion overruled the team when told to pit, instead choosing to stay out.
Nico Hulkenberg made up for a one-place grid penalty to finish seventh after passing Valterri Bottas late on, with the Williams struggling so much with old tyres after the Oxford-based outfit failed to switch to a three-stop strategy that he was also jumped by Jenson Button two laps from the chequered flag.
Button's promotion to eighth made up for Fernando Alonso losing out to Sergio Perez in the battle for the final points position, with the Spaniard struggling with fuel saving in the closing laps, but there was enough there for McLaren to take heart from in that the Honda engine continues to get better with each race that goes by.
As Hamilton heads to the short summer break, he admitted that he'll be taking it easy to ensure he relaxes as much as possible, though his laid back approach in recent months has already led to a dramatic turnaround in the championship standings.
"I won't be going sky diving but I'll definitely be relaxing with my dogs and my family and friends," said the championship leader, although Rosberg was unsurprisingly less pleased. "19 points is not tough at all," said Rosberg. "Tough is losing the race like I did today, that's tough to take. Luckily I've got my family to help me."
Register for free to continue reading
Registration is a free and easy way to support our truly independent journalism
By registering, you will also enjoy limited access to Premium articles, exclusive newsletters, commenting, and virtual events with our leading journalists
Already have an account? sign in
Register for free to continue reading
Registration is a free and easy way to support our truly independent journalism
By registering, you will also enjoy limited access to Premium articles, exclusive newsletters, commenting, and virtual events with our leading journalists
Already have an account? sign in
Join our new commenting forum
Join thought-provoking conversations, follow other Independent readers and see their replies